WhatRunsWhere Review
WhatRunsWhere is exactly what the name suggests it is, it tells you what is running when and where. It is basically a competitive intelligence service for online advertising and media buying. In short this is the one stop for knowing what kind of ads are making the most of the money and where are they placed on the internet. Think of WhatRunsWhere as your personal spy which crunches all the numbers and data and give a good idea of what the competition is up to so that you can gain the upper hand.
In this day and age, online advertising and marketing is a cut throat business, if you are not up to date you are out of the game. Advertisers only want to display ads on the websites which are trendy and attract more traffic than the competition, this is the basic requirement for getting ads. WhatRunsWhere makes sure that you know what type of ads are trending and will attract users. WhatRunsWhere will help you make sound decisions when it comes to media buying leaving all the chaos and mayhem behind. By using WhatRunsWhere you will be able to make good decisions which are not only intelligent but are also profitable.
You can discover new traffic sources with the aid of WhatRunsWhere and also keep an eye on what your competition is doing. WhatRunsWhere prepares you for well informed decisions which will not only increase your profits but also make you successful.
Top features of WhatRunsWhere
There are many features of WhatRunsWhere which we absolutely love, here are some of them which stood apart: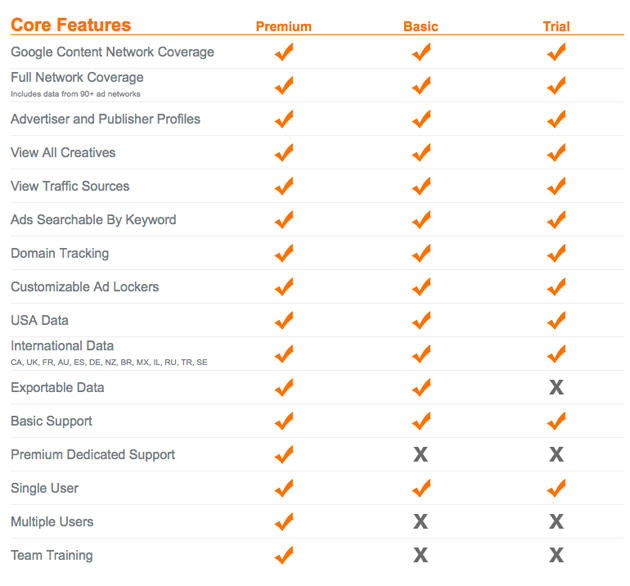 Huge amount of data- WhatRunsWhere has data which is expansive and current. This means that they keep an eye on almost every aspect of the marketing going on in today's day and age. They cover 90 ad networks and 15 countries on display, text and mobile. This makes their data exceedingly well maintained and fresh. After all you do need to stay current with the trends otherwise there is no need for a marketing spy like WhatRunsWhere.
Deep Searches – WhatRunsWhere provides you with a lot of options to work with and tweak. If you want some specific searches done, WhatRunsWhere has you covered on that. If you want to target a single competitor, WhatRunsWhere can do that for you too. Search results can be filtered according to the keyword, size, advertising network, date range and country.
New traffic sources – The world of online marketing is always evolving and using WhatRunsWhere will enable to spot the changes in a timely manner. Right now Facebook is the main go getter for traffic but no one knows when the trend will shift. It's always better to be prepared to cash in opportunities.

Ad research – With WhatRunsWhere you can research ads so that you can come up with new potent ideas for split tests and limit risk. Also saving money while testing campaigning is never a bad thing.
Traffic Sources – WhatRunsWhere has an extensive list of traffic sources from which they compile their data, this includes Google/Doubleclick, ValueClick, Tribal Fusion, 47 Media, Pulsepoint, Rubicon, AdBrite, Technorati, Blue Lithium, BuySellAds, Zedo, Xtend Media, Undertone Ads including many more.
Data Points – Zedo, Xtend Media, Undertone Ads, has domain profiles which are calculate don the bases of percentages, for example traffic sources by percentage or top placements. They also have Placement profiles which include top banner, top ads etc. WhatRunsWhere also has creative placements like text, image and flash.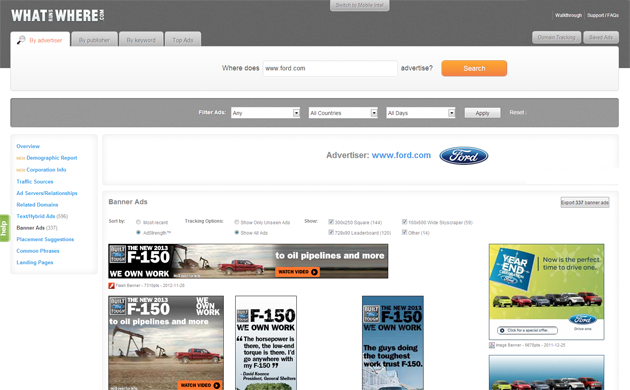 Disadvantages of WhatRunsWhere
WhatRunsWhere strongest point is also its weakness. WhatRunsWhere accumulates a very large amount of data on almost every aspect of online marketing and advertising, this makes it a very big entity to consume. If you love crunching numbers, then WhatRunsWhere will make you a very happy person. But if you don't have time or patience to swift through tons of data, WhatRunsWhere may seem a bit overwhelming at a times.
That being said WhatRunsWhere is an excellent service and we have yet to face any bugs or problems with it.
Price
You can start the trail version WhatRunsWhere for only $1 per day for 7 days. By then you would have made a sound decision whether to continue using WhatRunsWhere or not. If you chose to use their services their basic plan costs $279 per month and will yield you all the features you expect from a service like this. If you need a bit more support and have a team ready to crunch numbers for you, then you should consider the premium package which will cost $700 per month but will come with three user accounts.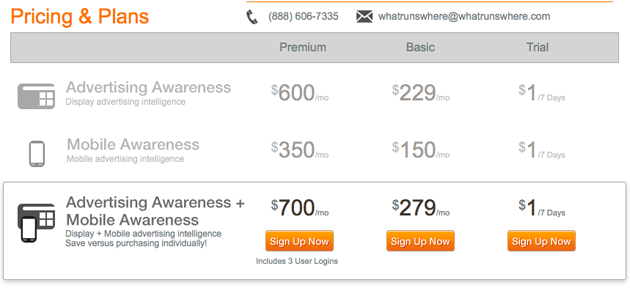 A point to be noted here is that the trail version doesn't facilitate exportable data. The premium package of WhatRunsWhere will also allow you to contact dedicated support which is great if you need any help. This expensive version will also allow you to train your team with input from WhatRunsWhere.
Customer Support
WhatRunsWhere provides every user with support via live chat and email. Usually they are available for quick answering on the basic and trail versions but the tickets may take some time getting answered. If you are a premium owner however you will have a dedicated line waiting for you and you can contact them anytime.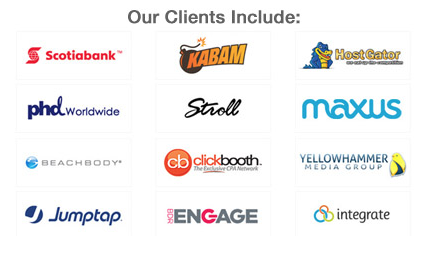 Conclusion
WhatRunsWhere is a very well designed marketing tool which will definitely yield great results. It is recommended for those who want the best of the best whether it is designing a new ad or contemplating on making a media purchase. WhatRunsWhere helps you make sound and solid decisions which are based on technical and factual data not speculations or projections.
Although it is indeed a bit expensive but if you are doing well for yourself and can afford the high fee, WhatRunsWhere will make sure you gain more in the long run. After all you can never get the upper hand in the marketing race if you do not try a new approach, and WhatRunsWhere is all about new approaches and methods.