iOption Review
There seems to be two distinct markets when it comes to binary options.  The first market consists of fresh traders that are new to the fast paced world of this particular type of investing, while the second market is comprised of seasoned traders that have taken several laps around the track.  And as a rule of thumb, a binary options company typically attracts one group or the other – there is seldom any overlapping between the two camps.  However, iOption is a notable exception to this rule, and there are several excellent reasons as to why this is the case.
iOption Basics
Headquartered in the British Virgin Islands, iOption has flourished rapidly since it was founded in 2012, growing from a small local broker to an international trading brokerage in less than two years' time.  Their platform is solely built for binary options trading performed in real time, and it is specifically built under the guise that anyone can jump right in and use their services, whether the trader is new to binary options trading or has been active in this type of investing for years.
iOption's Top Features
The primary feature that makes iOption such an alluring company for both newcomers and veterans to utilize has to do with diversity.  And this word has multiple meanings when you dealing with the company.  The first instance of diversity found with iOption is their solid assets list, as they enable their customers to trade on four major markets:
Stocks – Examples of the stocks offered include Citi, Coca Cola, Goldman Sachs, and Google
Commodities – Examples of the commodities offered include coffee, gold, silver, and sugar
Currencies – Examples of the currencies offered include AUD/USD, EUR/USD, USD/CAD, and USD/JPY
Indices – Examples of the indices offered include ASX, Dow Jones, Dubai Financial Market, and the General Index

The second example of the diversity that is offered here includes the platforms that they can offer traders.  Indeed, the element of diversity here plays a major role as to why it is looked upon as an attractive option for traders across the board.  IOption boasts a simple, user-friendly platform that is straightforward and stripped down to enable newbies to get their feet wet in a very comfortable and stress-free environment.  At the same time, it appeases veterans by offering an elevated, more complex platform that carries various analyses and other trading systems such as boundary trading – options that not only would not faze the seasoned trader, but provide them a depth of tools that less experienced traders may struggle to use.
Both forms of diversity give new and seasoned traders alike plenty of wiggle room to make the kind of trades they wish to make on their own terms, whether these terms lead them to merely trade on a blue chip stock or to dig into the market patters pertaining to a particular commodity over a certain stretch of time.  Rather than forcing traders to reach to a certain level, which could lead to discomfort, iOption reaches to meet at the trader level, which ultimately leads to quite the comfortable trading experience.

Another big, advantage to using iOption is that its platform is entirely web-based.  What this means, is that a trader can log on from any place in the world at any time and start trading.  In other words, the platform goes where the trader goes.  This also means that the trader does not have to download any software onto his or her computer.  What's more, iOption's site is designed to be used on the go by traders via mobile internet devices.
iOption Payout and Pricing Information
The payouts iOption offers can be as high as 85% on any given trade, albeit this figure greatly depends upon the type of asset that the trader selects. The minimum deposit that is required by iOption to start trading is $250, and the minimum trade amount is $10.  While these are not the cheapest minimums that are out there on the market, these figures do remain pretty consistent with the pricing that is currently on the market.  Plus, iOption does give traders that feel particularly strong about an asset the chance to deploy a "One Touch" option, where traders have the opportunity to trade over the weekend and keep their market position over the course of a whole week until their designated target goal is reached.  While this has a good deal of risk – if the trader does not hit this goal, his or her investment will be lost – the level of reward that is offered by iOption is rather alluring, as it gives the trader the chance to make up to a 400% return.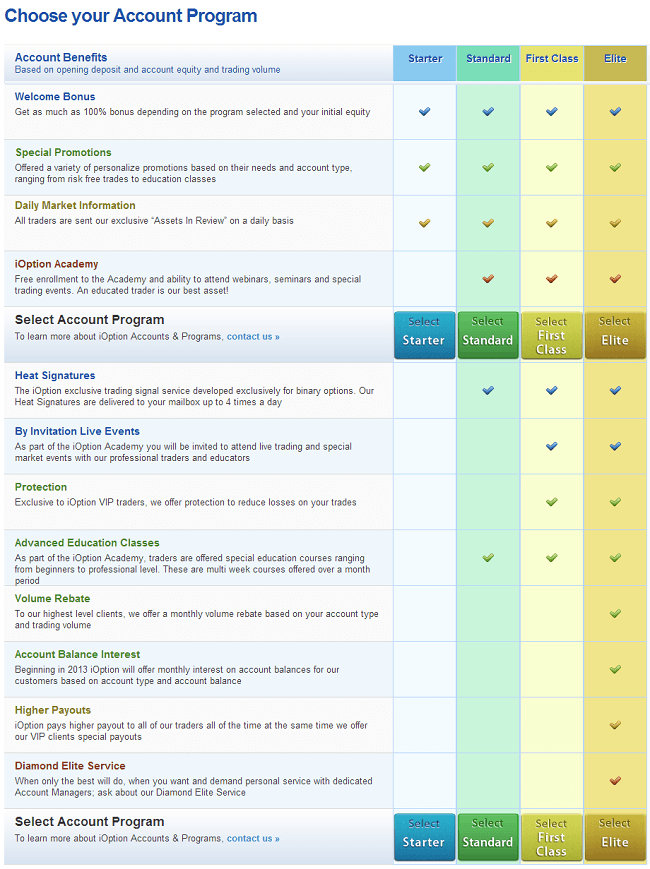 iOption Downsides
While iOption does have the uncanny knack of attracting the novice and the experienced to use their services, it is not without its downsides.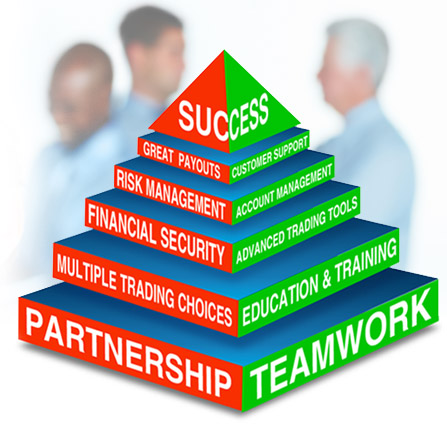 One of the primary potentially negative elements to note concerns their payment options.  In essence, iOption only offers withdrawal of profits via credit card, wire transfer, or Moneybookers E-wallet.  Some traders – especially veteran types that may be used to dealing with a wider variety of payment options to choose from – may find this small list of options to be a bit of a problem.  Additionally, the withdrawal process itself has been purported to be a rather slow one at first, as the first withdrawal may take up to as many as seven business days in order to complete.  That said, this slow process does somewhat accelerate to two business days once the withdrawal process is fully set up.
Additionally, some traders may find the lack of a demo account for them to play around with as a means to get comfortable with the site and its methodologies to be an issue.   Of course, it should be noted that this lack of demo account is not to be confused with the instructional demo that iOption does offer to traders.
Finally, while the core of the trading platform is easy to read and understand, some traders may find the platform itself to be a little too cluttered for their tastes.
iOption's Customer Support Options
iOption does provide a host of customer service channels to its traders.  These options manifest themselves in many ways, ranging from e-mails and web-based open ticket support to live chat options and international phone support, that latter of which can be accessed through a list of phone numbers that iOption provides.

Additionally, iOption does offer an interactive online demo that breaks down each element of the platform.  All the trader has to do is to roll over a designated "hot spot," and he or she will discover concise information on what a particular part of the platform means.  This bit of support is especially handy if the trader is brand new to binary options and is intimidated by what he or she can do.
What Makes iOption a Solid Choice
Even though iOption does have a few drawbacks – most notably in the payout department – the company still makes a rock solid choice for new traders and season veterans alike.  The fact that its platform can be deciphered by newcomers yet still be complex to curry the interests of experienced traders is a pretty impressive feather in its cap.  Plus, iOption's pure online, software-free presence coupled with the fact that it is built to be easily utilized on mobile internet devices demonstrates a forward-thinking sensibility that also shows that they are paying attention to how people – and specifically traders – may get their investing done.  The combination of platform versatility and mobile device adherence makes iOption a worthy choice to check out, regardless of what level of expertise the trader may possess.