StockPair.com
Update March 2014: StockPair has just received regulatory approval within the EU, from the state of Cyprus. It's CySec (Cyprus Securities and Exchange Commission) license can easily be viewed online at http://www.cysec.gov.cy. This approval adds an important layer of legitimacy to StockPair's operations and offers greater security for the money clients invest with Stockpair.
At its core, binary options trading is a pretty simple process. After all, the success that can be derived from its world comes down to whether or not a trader can accurately predict the success of a trade during a certain period of time. It is something that tends to be high on the risk/reward scale; as such, it is something that really doesn't need a lot of confusing whistles and bells to interfere with a trader's desire to turn an investment into a profit. Stripped down simplicity is the driving force behind StockPair.com; a company that thrives by giving traders that use its product a no-frills, highly secure environment whose investment options run a little differently than the average binary options company.
StockPair.com Basics
StockPair.com has been part of the binary option game since 2010. Its headquarters are located in Dublin, Ireland. In addition to the typical binary option platform, StockPair.com breaks down its asset choices down to stock pairs. In other words, they utilize a trading platform that pits a pair of stocks together, leaving the trader to predict which stock is going to expire at a higher or a lower rate.
In terms of payment methods, StockPair.com offers the following transfers options to traders:
Credit Cards
Wire Transfers
Moneybookers

StockPair.com's Best Features
The fact that StockPair.com utilizes a trading platform that essentially allows the trader to compare two stocks at the same time speaks volumes about its outright simplicity. This could be extremely attractive to a trader that has expressed some curiosity about getting involved in the binary options game but felt that it is too complex or intimidating. What's more, traders that are used to trading on the Forex market may feel quite at home with StockPair.com's way of doing things.

Another bonus to StockPair.com's method is the ease in which a trader can keep an eye on stock movement. Because the method only deals with pairs of stock at a time, a trader can remain hyper-focused on the movements of a particular stock as opposed to getting distracted by other items that are part of various other platforms.
And StockPair.com recognizes that even a platform as simplistic as theirs may still cause questions to arise amongst novice traders. In order to help in this regard, the company does provide a free practice trading account and simulator as a means to get the trader fully comfortable with how the process works before he or she gets fully involved in the process.
The Assets, Prices and Payouts of StockPair.com
Just because StockPair.com runs a basic, stripped down trading platform, it doesn't mean that their asset options are lacking. Indeed, the company does offer over 150 assets to choose from, including blue chip names like Apple, eBay, Google, and Starbucks in addition to other popular indices like NASDAQ and the Down Jones as well as commodities like gold and silver.
In terms of pricing, a trader can make a minimum deposit of $200 in order to start trading on their platform. Additionally, the company offers a quartet of premium account options that offer a wealth of strategic tools and assistance, ranging from Silver (minimum deposit: $1,000) to VIP (minimum deposit: $50,000). The broad spectrum of pricing options allows the company to effectively cater to a broad spectrum of traders, from newbies to seasoned veterans.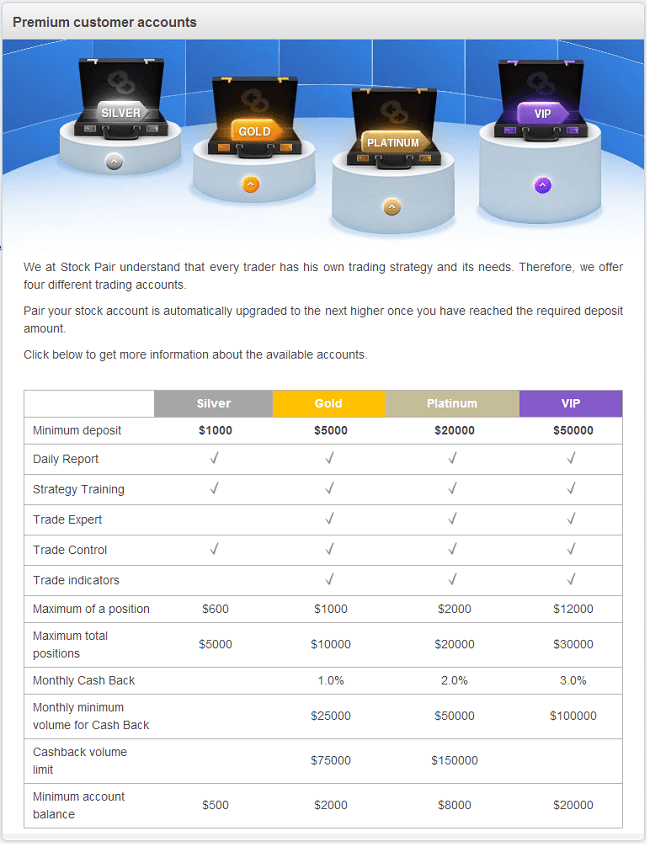 Whether a trader invests a little or a lot, the payout potential that can be potentially enjoyed by traders here are rather alluring. StockPair.com offers two types of pair options for traders. The first one is fixed pair options, whose payout potential is measured by an asset's relative performance between the time of purchase and the expiration time. The second one is floating pair options, which means that the asset's payout potential is measured by their performance during a predefined period; an interim that could last from a day to a month. While the former method offers a payout as high as 86%, the latter option has the potential to reach a payout of up to 350%. The process of getting the payout to the trader is relatively sold, as it takes anywhere between three to seven business days in order for a trader's account to be properly credited.
This high payout potential is particularly enticing when the stripped down platform and its ability to allow the trader to particularly zero in on an asset's performance comes into play. Perhaps this is why StockPair.com doesn't have to necessarily resort to offering much in the way of bonuses or incentives to its traders – the combination of high potential payouts and a simple platform speak rather eloquently on their own.

Downsides to Using StockPair.com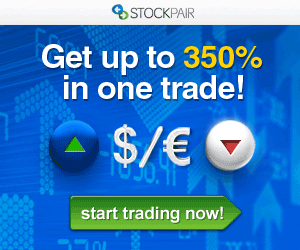 Considering that StockPair.com offers a stripped down, simple platform, there are those that may still feel that the company's minimum deposit balance of $200 may be a little too steep. This is particularly the case since some of their competition does allow for a wider, more complex array of options to be available for the trader for a lower deposit. Also, it should be noted that the simplicity is counterbalanced by the fact that StockPair.com does not offer a refund for any trades that end up out of the money – in other words, there is not insurance option for a trader if he or she ends up choosing poorly.
Additionally, StockPair.com does tend to hold a "9 to 5" mentality with some of their methods. They do not offer any trading options when the markets are closed. Additionally, the customer support that they do offer is only available during trading hours. In this age where investing can be done at any time, in any place, and from anywhere, this old school approach to customer service may rub some the wrong way.
The Support Options from StockPair.com
One of the strongest tools that StockPair.com has to offer is their free practice trading account and simulator. Considering how volatile the world of binary options can be, the fact that tool exists cannot be overstated. Indeed, it plays a critical role into helping a trader get over any potential fear he or she may have about making that one unintended move that accidently costs him or her money. Additionally, the website does offer a sturdy risk management section that helps to guide traders on the binary options world – a nice touch, especially for those new to the trading game.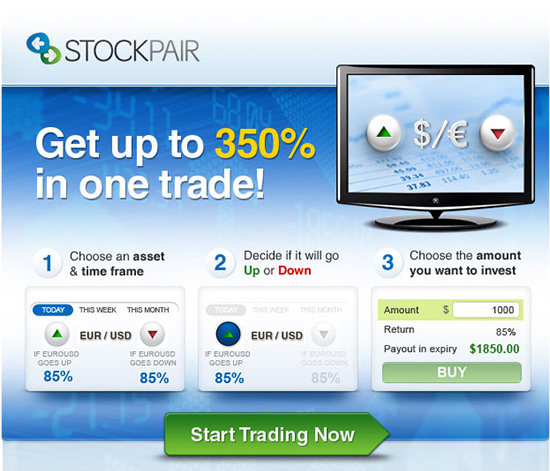 And even though there are limitations on StockPair.com's customer support, it should be noted that the support that the company does dole out is excellent. The company's staff is extremely knowledgeable with the ins and outs of the binary options process, and generally provides traders with terrific advice on keeping the trade process simple and not unnecessarily complicated. The support staff is accessible via phone call or e-mail.
Conclusion
On the surface, StockPair.com looks like a simple little company whose platform and options seem rather basic an almost rudimentary in comparison to some of the other competition that exists. However, underneath that easy facade is a lot of complexity that helps to ensure such methods of simple yet potentially lucrative trading keep up such an appearance. This complexity manifests itself through various tools and means of support that make the brand new trader feel at ease with binary options – something that is of the essence in this particular realm. Indeed, if you are a trader that is either unsure or a little nervous about getting involved in the world of binary options, taking the time to explore StockPair.com has great potential to put you at ease.