UFXMarkets Review
One of the youngest markets in existence today is the forex market. Forex gets its name from combining foreign exchange. It has the largest daily trading volumes and continues to be the fastest growing trade. Forex trading turns over about $4 trillion in US dollars on a daily basis. That makes it about 30 times busier than the joined volumes of all stock traded in the US. There are many options available for trading on the forex market due to its popularity. To help you choose the best one for you, we are going to review some of these. UFXMarkets gets our treatment in this entry.
About UFXMarkets
UFXMarkets is operated by the Cyprus based investment bank ReliantCo Investments Limited. They are regulated and licensed by the Cyprus Securities and Exchange Commission. In addition, UFXMarkets is also regulated by the Markets in Financial Instruments Directive, so it can provide services in the European Economic Area and is registered with the largest regulatory bodies in Europe, including the Federal Financial Supervisory Authority in Germany, the Banque de France, and the Financial Services Authority in the United Kingdom. This should be a comfort to traders looking for a company that is on the up and up.
UFXMarkets was founded in 2007 by a group of financial professionals and experts with years specializing in internet technology and online financial trading. They pride themselves on helping their clients achieve financial success in the forex trading. They do this by providing highly competitive trading conditions, superior customer support, and one on one coaching.
Per their core values, UFXMarkets strives to keep their customers well informed to help them make the best decisions in the high gain, high risk, and volatile forex market. To do this, they include trading tips, daily market updates, user-friendly trading software, and insightful daily outlook videos with all account types.

Top Features of UFXMarkets
UFXMarkets provides traders with access to over 45 currency pairs. With as little as $100, new clients can open accounts. As a market maker, UFXMarkets does not charge commissions. They make their money using the bid/ask spreads. In addition to forex trading, they also offer a number of other instruments including indices, commodities, CFDs, and stocks.

UFXMarkets offers both the ParagonEx and MetaTrader 4 trading platforms. MetaTrader 4 is one of the most popular forex trading platforms on the market. All Platinum accounts come standard with MetaTrader 4. ParagonEx is a web trading platform. That means you do not need to download anything. You can just access it by going to ufxmarkets.com. Trade UFX is a mobile trading app that UFXMarkets offers. It works well on both the iPhone and Android devices.
Advanced SSL by VeriSign is used to protect data transfers and authenticate users keeping trading secure. And, at the application level and server level, there is firewall protection.
UFXMarkets provides free personal forex coaching to all of its account holders. When you first sign up for an account, they assign you an account manager. The account manage guides you in reading market trends, helps you create personalized trading strategy, and makes sure you know precisely how to use the trading platform. Basically, he trains you to be a professional trader.
To help its traders succeed, UFXMarkets have some of the most competitive trading conditions in forex. There are guaranteed stop losses that ensure there is no slippage. Leverage is up to 1:200. Their spreads are fixed and low, and they do not change with the market conditions. This makes for stable trading conditions with minimal surprises.
Other features you can find on UFXMarkets: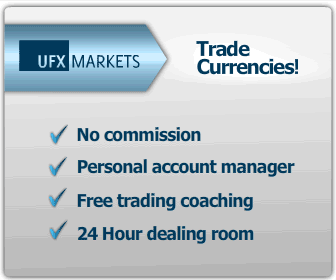 For advanced account holders, detailed trading analysis
Dedicated customer service representatives available 24 hours per day, seven days a week
Many methods for funding accounts
Access to accurate SMS trading signals
Daily trading tips and ideas
User friendly trading services
Simple registration and sign up processes
UFXMarkets Prices/Spreads
UFXMarkets has account types to fit anyone's needs whether you are a veteran trader switching to them or you are just starting out. The Demo Account allows you to learn how to trade currencies in a safe, risk free trading environment. You are given $10,000 in virtual money with no obligation to upgrade to a paid account.
There are six different types of paid accounts. The Micro Account has the smallest minimum deposit requirement. To get a Micro Account, you can deposit between $100 and $499. This account keeps risk at a minimum while giving users real trading experience. Without compromising the trading experience, the Micro Account lets users have reduced risk and significant flexibility by offering minimum deal sizes of $1,000 and 200:1 leverage. Also available with this account are the daily report and review through email and access to trading tutorials and the video library.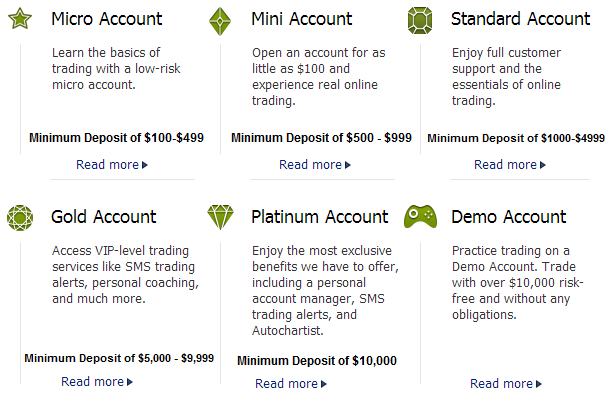 The Mini Account is the next step up and is available with minimum deposits of $500 to $999. This is another starter account that limits risk by allowing new users to trade at lower volumes. The minimum trade size is $5,000. With this account comes remote assistance, dealing room support, and daily tips and recommendations.
The Standard Account requires a deposit of $1,000 to $4,999. This is the most popular account type offered by Forex. It comes with the full customer support package: remote assistance, special promotional offers, and personal coaching. There are also better spreads and greater flexibility in trading with this account. Minimum trade sizes are $10,000.
With a deposit of between $5,000 and $9,999, you receive a Gold Account. This account has even better tools designed to help customers who are more advanced in forex trading. Gold traders have a personal dealer who gives them trading ideas, VIP promotional offers, and market updates. The spreads for this account are the lowest UFXMarkets has to offer at 2 pips. Minimum deals are $25K.
The Platinum Account is UFXMarkets best offering. It builds upon the Gold Account benefits by including a VIP account manager, customized reports and analysis, and access to all platform features. The minimum deal size available for the Platinum Account is $50K.

Finally, UFXMarkets offers special accounts just for Muslims. The Islamic Account caters to the principles of Islamic law with regards to interest and banking activity. This account type builds upon the benefits of the Standard Account.
The Downsides of Using UFXMarkets
The biggest downside to UFXMarkets, and to all online forex trading brokers, is that it is not available to people who live in the United States due to American federal trade regulations. There, of course, are ways around this, but that is always risky. When combing the discussion forums that deal with forex trading, this was about the only complaint people had.
UFXMarkets Customer Support
UFXMarkets offers customer support 24 hours per day, seven days a week via a contact form, many international numbers, email, and live chat. In addition, they also have a wide range of languages in which they can provide support. We called them a couple times to get answers about the user interface. The customer service representative was knowledgeable and friendly.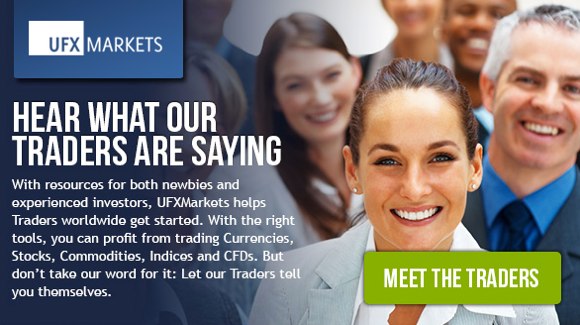 Conclusion
Overall, UFXMarkets is one of the best in the industry. Their spreads are competitive, and they beat out the competition in their more expensive accounts. With their registration with so many regulatory bodies, you can rest assured that your money is secure. With 45 of the most popular currency pairs available for exchange and other trading instruments, UFXMarkets provides plenty of reasons to use their services. We strongly recommend them to veterans to forex market trading and those who are just starting out alike.