LiteForex Review
The forex, short for foreign exchange, market is one of the youngest and fastest growing markets today. It has the largest daily trade volumes of any market with a daily turnover of $4 trillion. This makes it 30 times larger than the joined volumes of all of the stocks traded in the US combined. Due to its popularity, there are a number of brokers available online for forex trading. We are reviewing some of these to help you choose the best one for your money. Read on to learn about LiteForex.
About LiteForex
LiteForex was founded in 2005 with the goal of making the Forex market easy, accessible, profitable, and safe for anyone in the world. LiteForex is run by the company LiteForex Investment Limited, Inc. and is regulated by the Business Corporation Act in the Marshall Islands, where they are located.
LiteForex offers first of its kind cent account services with initial deposits of only $1. This has helped them garner over half a million traders. LiteForex is one of the world's leading brokerage companies. They are all inclusive by providing competitive features for traders of every level. LiteForex was listed as one of the top 100 companies by World Finance, and they have representative office all over the world.
LiteForex's work is guided by four principles: offer effective solutions for traders using the forex market, make it so anyone can access the forex market, provide clients with comprehensive support, and utilize only the best specialists.

Top Features of LiteForex
One of the most important features an online forex broker has to offer is its trading platform. LiteForex offers two of the best options available. One of those options is the MetaTrader 4, the most popular package used today. They also have the updated MetaTrader 5 trading terminal. These powerful systems will both help you out by speeding up order execution, giving you in depth research capabilities, and elevating your trading abilities.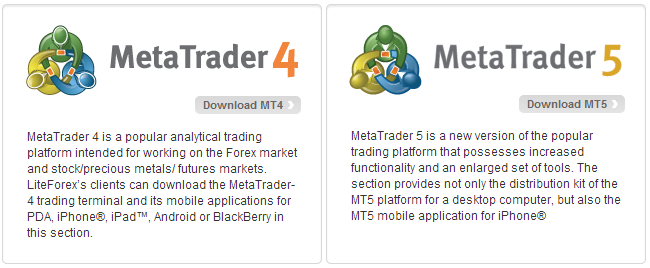 Included with these platforms is instant execution technology. This feature ensures that you sell and buy at the precise price displayed on your computer. We strongly suggest using software with this ability because without it there could be slight delays that cause you to get less attractive prices. It is because of features like this that the MetaTrader 4 and MetaTrader 5 top any lists of best forex trading platforms.
With each of their account types, LiteForex offers a variety of trading tools. One of these tools is the economic calendar. This provides information on the most important economic events and indicators influencing market movements. It is updated in real time. The economic calendar is indispensable for traders who base their strategy on fundamental analysis.
LiteForex provides in depth analysis multiple times a day to help professional forex traders stay informed and maximize their earnings. The trader's calculator is a forex market trading instrument that helps with determining potential profits and risks, cost of a point, margins, and more. The calculator automatically takes into account all of the necessary characteristics of a trading account. This makes it incredibly easy to use. You just select an account type for conducting a trade, and then choose leverage size, instrument, currency, and low volume.

There is also a Fibonacci calculator traders can use for technical analysis. It uses resistance and support levels to reveal important retracements and breakdowns of a currency trend. The Fibonacci calculator can help you make stable profits and organize your trading. There is also a history tool that allows you look at the trading history for all of the trading instruments, so you can better determine what the future may hold.
LiteForex Prices/Spreads
LiteForex offers six account types. The trademark account that helped them rise to prominence is the LITE account. This account has a minimum deposit of $1 and has a fixed spread from 3 pips. Leverage is up to 1:1000. It uses MetaTrader 4 and MetaTrader 5. The lots range in size from .1 to 100 with minimum steps of .01. There is also a maximum of 300 orders.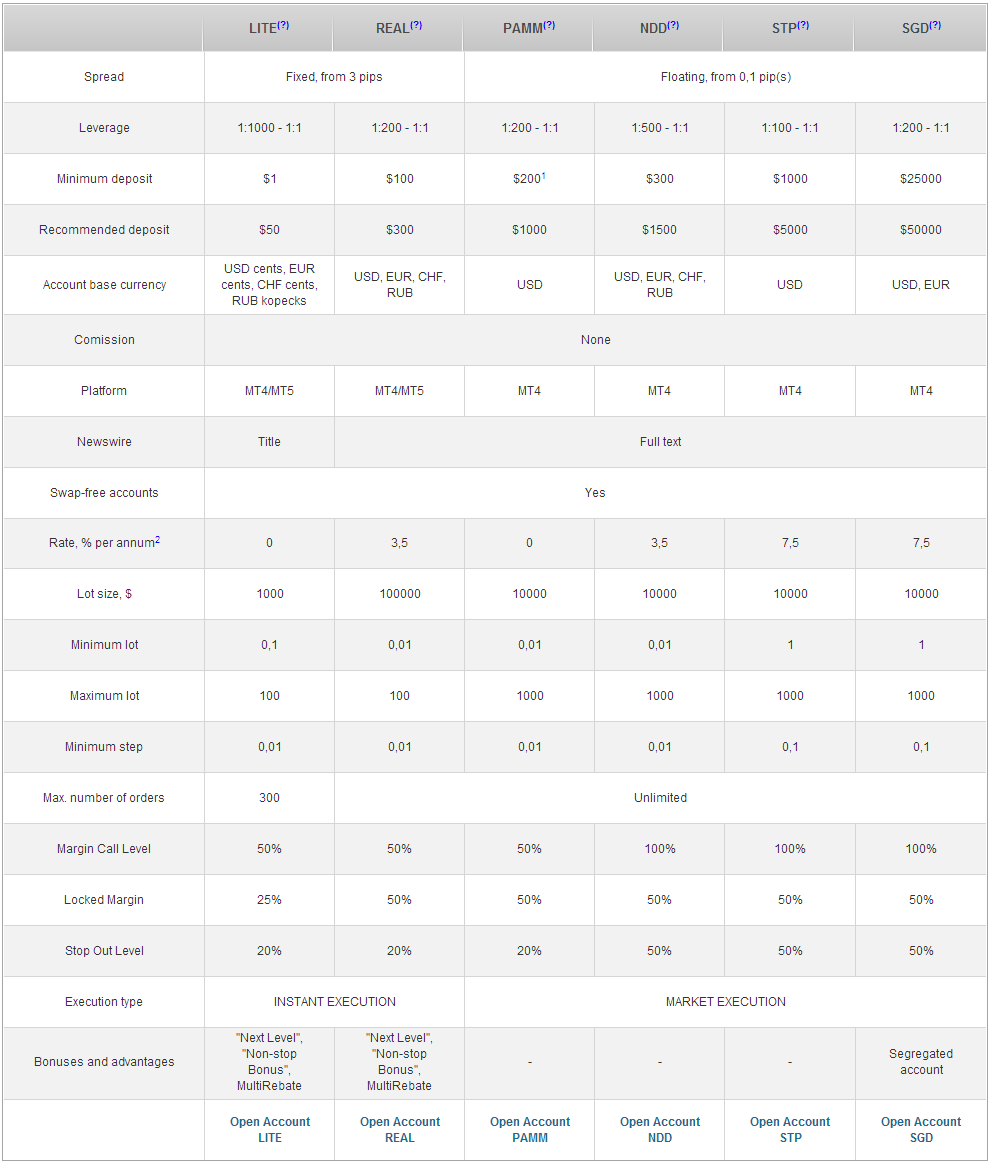 The next account type is the REAL account. This requires a minimum deposit of $100. And, like the LITE account, there is a fixed spread from 3 pips. Leverage is up to 1:200, and it also uses the MetaTrader 4 and MetaTrader 5 platforms. It includes a newswire with full text market updates. Lots range in size from .01 to 100 with minimum steps of .01.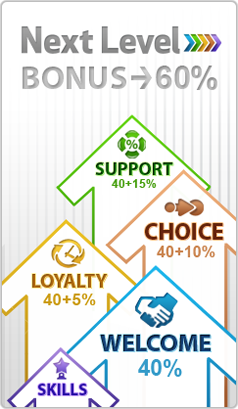 The PAMM account includes:
An automated accounting system
Unlimited numbers of investors
Full monitoring of PAMM accounts
Possibility to invest anytime
All trading strategies
Transaction volume auto-adjustments
Unauthorized access funds protection
Withdrawals at any time without penalties
For Investor accounts, the minimum deposit for the PAMM account is $10. For Manager Accounts, it is $200.
NDD accounts are one of LiteForex's most popular accounts. The minimum deposit for these is $300. The account includes swap-free accounts, a per annum interest rate of 3.5%, a floating spread from zero points, market execution, non-dealing desk, zero percent fees, quotes with increased accuracy, 1:500 leverage.
The next account on the totem pole is the STP account. The minimum deposit to get the benefits of this account is $1,000. It includes the non-dealing desk, execution in under half a second, unlimited transactions, 100 percent deposit insurance, no fees, interbank liquidity in MetaTrader 4, market execution, and any kind of strategy.
LiteForex's top of the line account is the SGD account. To get the best LiteForex has to offer, the minimum deposit is $25,000. You can withdraw profits without closing the account, use the whole amount in operations, get quotes with increased accuracy, pay zero commission, interest rates of 7.5 percent, use the euro or the dollar as your account currency, separate keeping of money, and market execution.
The Downsides of Using LiteForex
LiteForex is a solid company with a long track record in the online forex trading industry. We were not able to find anything that really turned us off to them. After searching the online forums where forex traders congregate, there was only positive feedback when it came to LiteForex.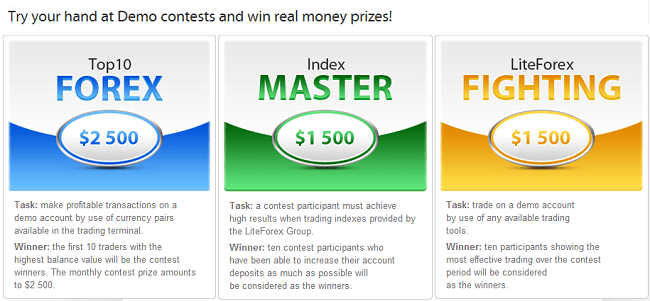 LiteForex Customer Support
High quality customer support is a must when searching for the best online forex broker for your personal use. You want to know that any problems that may crop up will be corrected in a timely manner. You cannot afford to have to deal with system downtimes when a matter of minutes can mean thousands in profits.
That said, LiteForex keeps these concerns well in mind and provides superior customer service. There are agents available 24 hours a day, five days per week. When the market is open, they are available via live chat, web form, and over the phone. They also provide services in Greek, Russian, Portuguese, German, Spanish, Malaysian, Turkish, Mandarin Chinese, French, and English.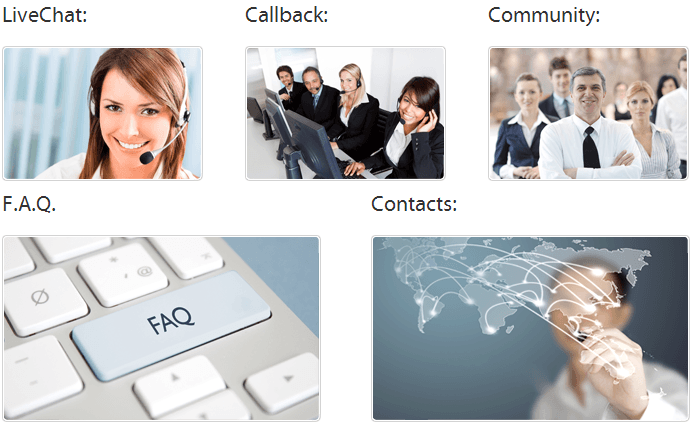 We called right as the markets were about to close for the weekend. We were treated by a cheerful and knowledgeable customer service agent who was more than happy to answer our questions. She made sure we had all the answer we needed before letting us off the phone. She also pointed us to the documentation covering her answers.
Conclusion
LiteForex has been an industry leader for many years. After trying out their services, it is easy to see why. We recommend LiteForex to the most seasoned and experienced traders as well as those who are just learning about it. They offer a wealth of resources to help traders of any level.