1and1 Review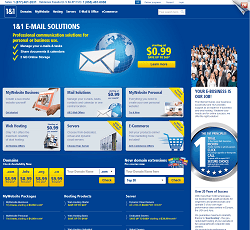 Before you can build a website, you need a domain and a hosting provider. The domain is like your address — like the signpost that identifies your home on the Web. The hosting meanwhile is like the actual house that contains all your furniture and belongings. Without both, you cannot have a website, just like you cannot have a home!
To get started, you need to choose a quality domain name and hosting service provider. Today our goal is to talk about one such provider that goes by the name 1and1.

About 1and1
1and1 is a 25-year-old Web hosting provider that provides hosting solutions and services to over 13 million customers all across the globe. It stands out from a large crowd of Web hosting providers courtesy of the way it approaches the business:
1and1 is one of a very few hosting providers that is dedicated to only utilizing environmentally friendly technology. Its data centers have in fact all been recognized as Green Power Partners by the U.S. Environmental Protection Agency.
This particular provider operates a whopping 70,000 top-of-the-line Web servers distributed across both the United States and the European continent. This strategic setup allows the company to offer maximum uptime rates, not to mention superior latency.
As we mentioned earlier, the company caters to 13 million customers. They only handle 19 million registered domain names and 2.7 million websites, not to mention a whopping 21,000 e-commerce stores.
The bottom line is that 1and1 has clearly earned its reputation. The question still remains — are its services right for you?

1and1 Domain Services
1and1 offers your standard fare of domain name registration and domain transfer services at incredibly affordable rates. It also supports all major domain types, including .info, .com, .co.uk and even regional-based domains like .london, .wales and .city. Overall, we find their domain services to be at par with competitors. We only recommend going with a domain if also plan to get hosting.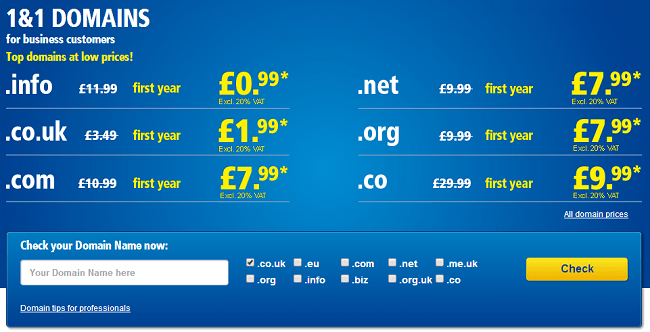 1and1 Shared Hosting Services
1and1 offers three types of shared Web hosting, including Basic, Unlimited and Unlimited Plus. Just for reference, shared hosting refers to a situation where your website sits on a server with other websites. It is the most recommended option. You only need dedicated Web hosting if you expect to get millions of visitors a day.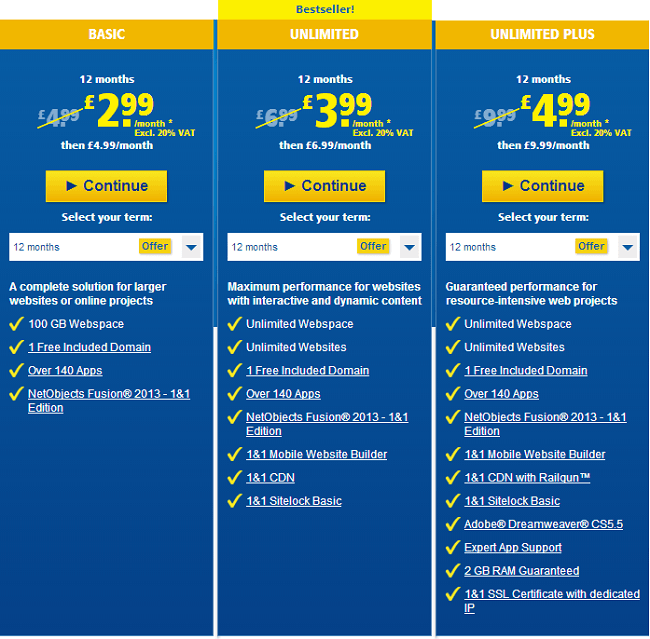 Basic Web Hosting
The Basic packing is ultra affordable and entitles you to 100GB of space for your website. You also get a single domain name included for free. Note also that this particular package actually only supports 1 domain regardless.
Regardless, the Basic package offers a slew of standard hosting features, including the following:
MySQL Databases

FTP Account
Email Accounts
Apps (WordPress, Magento, etc.)
PHP, Perl, Python, Ruby Support
Daily Backups
Auto Updates
Site Analytics
0.6GB of RAM
Newsletter Tool (Complementary)
Due to the pricing for this plan, it's highly recommended for those of you who are just starting out. It's perfect for getting one website fully setup on the Internet. If, however, you already have plans to build many more websites, then you might want to consider starting with the Unlimited plan instead.
Unlimited Hosting Plan
This plan lets you build an unlimited number of websites. It also entitles you to unlimited quantity of space, as well as up to 1.2GB of RAM. This RAM feature is a major rarity, as many hosting providers (including the top dogs in the industry) do not offer dedicated RAM for standard shared hosting packages.
Furthermore, your sites get included on 1and1's dedicated Content Delivery Network (CDN). These are multiple servers spread across the world. By dividing your website content among different servers, the plan therefore increases redundancy and drastically reduces the possibility of your customers having to contend with lag or site crashes.

Unlimited Plus Hosting Plan
This plan is similar to the Unlimited one, except that it ups the quantity of memory up to 2GB. It also adds along a few additional features well worth taking a look at:
You get a free copy of Adobe Dreamweaver CS5.5 It's an extraordinarily powerful software suite designed for creating high-quality web pages.
You get your own SSL certificate with a dedicated IP address. This is a must-have security measure if you plan to sell products through your website.
This plan is basically itself a must-have if you intend to provide any e-commerce grade functions. You can sell products with an SSL certificate, but you would be doing so at great risk to your customers.
1and1 Dedicated Hosting Services
1and1 offers three dedicated hosting solutions that are pricey but offer a wide range of advanced features optimal for users looking to build successful websites. This is not an optimal solution for a beginner. If you are just starting out with hosting, you would be much better served with a shared solution. Regardless, below is a summary of some of the awesome features available with dedicated hosting:

Powerful Computing: Dedicated hosting entitles you to dual- and hexa-core processors with up to 16GB of RAM and 1TB of online storage space. This is more than enough to handle any sort of website, be it a blog, a store or even a social network.
RAID Network Redundancy: The content on your websites are spread across multiple Web servers throughout the world, from Europe to America. This greatly enhances redundancy and ensures that that your sites always perform exactly how they are supposed to perform.
Dedicated IP: You also get your own dedicated IP address. This is important for search engine optimization purposes. With shared hosting, your site might share space on an IP that contains bad websites, i.e., those that employ unethical methods to procure website traffic.
Dedicated hosting clearly offers a slew of benefits, but just keep in mind that it's much pricier than shared hosting!
Additional Features
There are a few additional features that 1and1 offers that we thought we should cover. They are the features that stand out the most to us — that show to us why this company is so well liked by so many customers.
You can rent out entire servers (virtual, cloud and dedicated) to process your most high-performance enterprise-grade applications. This is a very expensive solution only good for corporations, but it's still important that you're aware of it.
You can access a bevy of website-building tools. They're known as "MyWebsite" and are available in a few different packages that include pre-designed website pages, industry-specific images, brochure templates and a lot more.
You can also purchase your own pre-configured ecommerce shop that supports multiple payment solutions (Paypal, credit cards, checks, etc.). It's also pricey, but it's great if you are ready here and now to set up your own shop.
Unlimited Customer Service

1and1 offers 24/7 customer and technical support via phone and email. It also hosts a comprehensive FAQ, and it includes 'on-screen support' — a feature that lets an agent see your screen so that he or she can more accurately help you.
Conclusion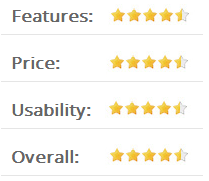 We believe 1and1 to be one of the UK's premier Web hosting providers for a very good reason. It offers incredible hosting solutions (not to mention superb redundancy and bandwidth) at very budget-friendly rates suitable to anybody just starting out in the Web game.
If you are ready to put up your first website, we highly recommend you choose this provider. It may not be a big-name player in the field (mainly because it does not waste money on silly advertising commercials), but it's a big-name player when it comes to quality hosting and great service!