AnastasiaDate.com Review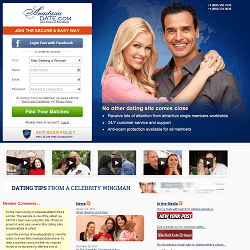 Finding someone who is a compatible match for you can be difficult. While some people are lucky to find their soul mate easily, for others the dating process can be quite grueling and cumbersome which can make the whole process overwhelming. While it's true that there is a match for everyone out there, the road to finding that perfect match is not always easy.
Luckily, today the dating process is not solely based on meeting at bars, supermarkets or even dog parks. The invention of the Internet has truly revolutionized the way people find people to date.While it has made it much easier for one to find someone to date, since there are so many dating sites online today.
Specifically there are many niche dating sites that cater to one's every want and desire. For individuals who are in search of dating women from Russia, Ukraine and other countries of the former USSR, AnastasiaDate.com is the perfect dating site that will lead you on your way to finding your soul mate.

About AnastasiaDate.com
A dating site that has been around since the early days of the Internet, AnastasiaDate was founded in 1993 and has been credited with matching hundreds of thousands of men with beautiful Russian women. The site is focused on not only dating, but also marriage. The ultimate goal of the men who visit the site is for them to find a bride and get married. Since it has been around for more than twenty years, the company prides itself on the integrity of its service, which is very important due to the large number of scams that exist on the Internet today.
What makes Anastasia different is that they thoroughly check every woman who wants to register with the site to ensure that the woman is a real person and has genuine legitimate motives for joining the dating site. The steps that the site takes to ensure that the experience is safe and secure should help put one's mind at ease as they surf the thousands of profiles of beautiful women on the site.
Top Features
The AnastasiaDate website has a very sleek, clean and easy to use interface that is loaded with many options. Not only is the site visually appealing and well-designed, but so are the thousands of women whose profiles are housed within the site. All the women on the site are professionally photographed, which only accentuates their beauty even more. In addition, the website also has a search engine that is very effective and easy to use. The search engine allows one to really narrow down one's search which means one is able to get really granular in what they are looking for in a potential bride. Upon searching for the right match, users will be at ease knowing that every profile has been venerated and verified.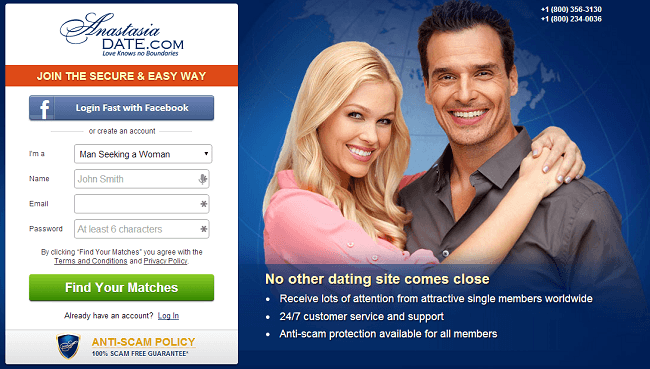 What really helps differentiate AnastasiaDate from other international dating sites on the market today is that it has 24/7 customer service and support which is a service that can come to the aid of the one searching for a date. Specifically, these services also offer phone translations between the two individuals at hand. AnastasiaDate interpreter's not only provide high quality translation but also do their best to represent one in the most favorable way possible.
In addition, the site has video fully integrated all throughout the site and on almost every user-profile which allows the individual to get a better, fuller understanding of who the woman truly is and what she likes to do, etc. These capabilities also help legitimize the user's profile. Also, the site provides an innovate live chat program, which can be over text chat, phone or video and all services come with an exclusive interpreter. All communication flows exclusively through AnastasiaDate.com, which ensures a safe and secure environment.

Anastasia Date Prices & Costs
As the old adage goes, you get what you pay for and since AnastasiaDate is one of the best international dating sites on the market today, it can be a bit more expensive than other sites. The way that AnastasiaDate.com works is that it charges it users a certain number of credits for each action. However, the credit system can really work to one's advantage. For example, if there is a woman who you would like to message, two credits cost jus $15.99 to send a note and read a response. Then if one would like to continue chatting, one can purchase credits at a better per letter rate. Costs fall significantly, the more credits one purchases. Here is a snapshot of current rates: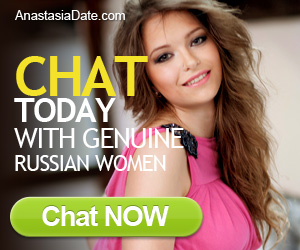 Credits Cost:
1000 credits – $399.00 or .40 each
500 credits – $249.00 or .50 each
320 credits – $185.00 or .58 each
160 credits – $96.00 or .60 each
80 credits – $56.00 or .70 each
40 credits – $30.00 or .75 each
20 credits – $15.99 or .80 each
Additionally, the sites charges 10 credits for each video that is watched, which means a video can cost as much as $8.00, so it's important that one not only keeps their budget in mind, but also only views videos and messages women that they are truly interested in. This system helps regulate and limit the number of responses since it makes sure that a message will be sent only if one has a vested interest since it's rare that one will message hundreds of women on the site, unless one does not mind wasting money. In short, the money point system helps narrow down one's search and keeps one focused on the prize, which is a new bride.
Criticism of AnastasiaDate.com
While AnastasiaDate provides many noteworthy benefits, which help differentiate itself in the marketplace, there are many critics who claim to that the site has some drawbacks. The majority of negative feedback comes from other competitors in the space, with the main criticism of the site over the "letter of introduction" practice. The letter of introduction is something that is given to every man who is looking for a wife on the site. The way it works is that each woman writes a letter and then the man receives letters from women might be compatible to them. The criticism here is that the letters are linked based on a very broad letter critera. Therefore, if one is not careful, they will receive hundreds of emails from prospective women, which can be somewhat misleading since the letters are not personally tailored to each man, but instead are more generic. Therefore, it is important that one understands this prior to getting involved with the site. Otherwise, one will end up spending a small fortune should one reply to every single e-mail.
The other criticism of the site is that AnastasiaDate does not do a good job of explaining fees and policies. For example, some suitors do not realize until after signing up that all communication with the women on the site must occur directly through the company's e-mail system. While this ultimately is for one's own protection, some men get annoyed when they discover this. However, one should not be too surprised of this since this is a general industry practice and other international dating sites in the industry also require communication to be contained within the site's interface.
Members Communication System
As previously stated, AnastasiaDate requires users to communicate with other members and prospective dates directly through the site's communication portal. While the portal provides a safe and secure way to text or video chat, the site also provides communication through letters and also even in-person meetings. What helps differentiate Anastasia from other dating sites is that it offers a service called Romance Tours. The way that these tours work is for a low-cost of $400, men are able to secure a place at a dating social. Each social is a full six hours long so one is able to take their time to get to know many women without feeling rushed. The socials are very organized and provide men with opportunities to ask women for their phone numbers. Romance Tours are a huge part of AnastasiaDate's business and are a great supplement to the already successful dating website.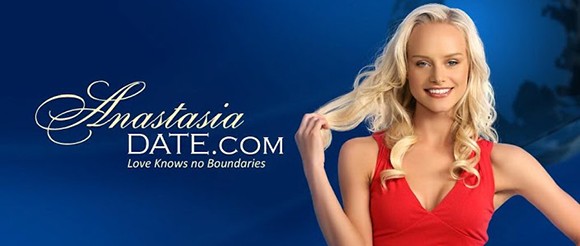 Final Thoughts of AnastasiaDate.com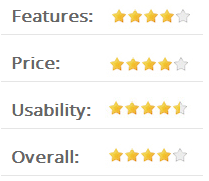 A website that has been around for more than two decades, AnastasiaDate.com is a perfect outlet for successful men to find beautiful Russian women to date and ultimately marry. Since the site can get a bit pricy, it is recommend that one expects to spend a good amount of money to find one's ultimate soul mate.
However, the site is really the best site out there for men to find a beautiful Russian bride. Not only is the site well organized and easy to use, but also it is a safe environment to search and communicate with prospective women. Many men have gotten married as a result of the site and you can too!