hotel.info Review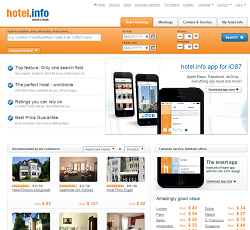 Nowadays, you have little need for a travel agent thanks to all of the hotel booking companies available to you online. With a few quick maneuvers with your mouse, you can make reservations or figure out where you want to stay. You can submit payment and receive confirmation for your booking using the worldwide web. This can all be done in the matter of a few minutes, whereas it used to take many hours.
Comparing multiple prices for hotels on one page is one of the main benefits to using an online hotel booking services. You get the best rates from hundreds of hotels on your computer screen or mobile device within a matter of seconds. Comparison shopping is made easy, removing the need to contact all of the hotels individually.
To plan my trips, I have been using online booking agents to reserve my hotel rooms for decades now. I have given a wide variety of sites my business to see which ones have the best deals and the most to offer me. I am able to tell which one are good and which should be avoided thanks to this experience. In this website, I review the best sites on the web, so you will be able to determine which to use for your needs. In this review, we look closely at hotel.info.

About hotel.info
You are dealing with one of the world's leading online hotel reservations services when you visit hotel.info. Through hotel.info, private and business customers are able to quickly book hotels of all types at special rates all around the globe. These special rates are updated daily and are free of charge to access.
hotel.info's free hotel reservation services are for over 250,000 hotels across the globe. They have grown to a company with 470 employees since their founding in 2001. Also, since 2006, hotel.info has been traded on the stock exchange. hotel.info was founded in and is headquartered in Germany.
Private and business customers are given the ability to book any kind of hotel in the world at the cheapest rates. They offer this service cost free at hotel.info or over the phone at their 24 hour center that provides services in many languages. There is considerable cost savings to customers who end up booking with hotel.info.
Because of the large booking volume produced by hotel.info, they are able to get hotels to offer preferential room rates. Room rates are also backed by a best price guarantee. Special rates available for corporate customers are extended to business travelers. hotel.info gives all of the available rates for each hotel, which gives the customer the option to choose the best price for the level of comfort they want.

Top Features of hotel.info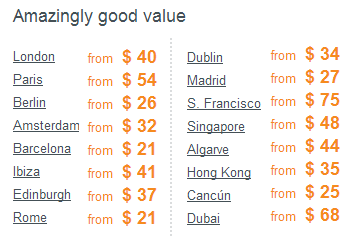 The wide variety of hotels is perhaps the best feature of hotel.info and what makes them so competitive. In more than 120 countries, they have over 250,000 hotel partners. With hotel.info, you can spin a globe and point at a piece of land, and there is likely a hotel nearby that you can book through them. I put this to the test by entering in tiny towns in the United States to the search results. Each time, there were quality hotel results.
One of the features I look for when evaluating online hotel booking services is their cancellation policies. For a lot of the hotels available on hotel.info, you do not have to submit payment when you book, and thus you can cancel at any time without penalty. But, I did notice there were a few hotels where you had to pay upfront and a complete refund was not available. Basically, the policy varied on a hotel by hotel basis.
hotel.info has more than two million hotel ratings submitted by customers. What sets hotel.info's user ratings apart is that they confirm that the user actually stayed at the hotel. This is important, so you can be sure that hotel employees or competitors are not posting biased reviews. The ratings are broken down into a variety of categories.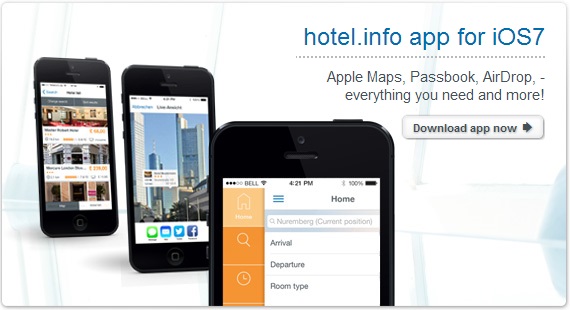 hotel.info also has their own app for your smartphone or tablet. I do not know how many times I have been on the road and needed a hotel in a hurry and been stuck with an outrageous rate because I did not have access to good deals. I was able to use this app to locate the cheapest hotel nearby and book it. It was a nice feature.
Searching is easy on hotel.info. From their home page, you type in a location, which is auto filled for the spelling impaired, and enter the dates you need a room and how many rooms you need and people who will be staying with you. Within seconds, you have search results. On the search results page, you can then remove results that are too far from your target destination, do not meet your rating criteria, or that are outside of your price range.

hotel.info Prices
hotel.info is able to offer a lot of different options to choose from thanks to their lost list of hotel partners. When I am looking for a room, I like to consider the lowest number of stars the hotels has that I would feel comfortable with, and from there, I find the lowest rate. hotel.info makes this search easy with their sliding bar results sorting. Taking this into consideration, I found hotel.info's rates were much better than other sites. Sometimes I was able to save up to $100 or more on a single trip. I was able to find some rooms for under $10 in cities like Rome, Cancun, Madrid, and San Francisco. Crazy!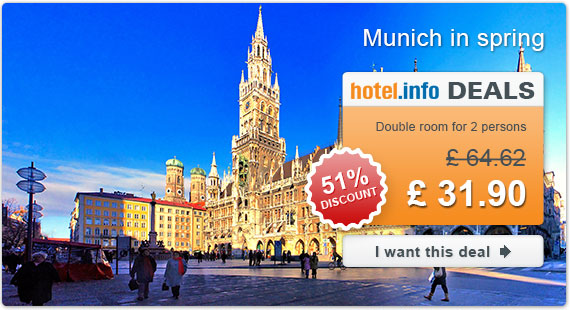 The best price guarantee offered by hotel.info is also a nice feature. Their goal is to have better prices than their competitors, so they offer to match or beat any rate. To take advantage of this guarantee, you need to show that a competitor offered a better rate for the same room on the same dates, once you have booked your room with hotel.info.
Criticism of hotel.info
I was unable to find anything about hotel.info that I did not like. They provide an astounding number of options compared to most hotel booking services. Giving their users the most efficient and pleasurable booking experience possible is clearly at the top of hotel.info's priorities. I took to review sites and message boards to see if there was any buzz about hotel.info. The reviews were positive for the most part. The only complaint I found was that someone booked a hotel that ended up closing before their travel date. They were not informed of the hotel closing and were upset.
Customer Support


hotel.info has a comprehensive FAQ section if you are interested in helping yourself. You also have the ability to cancel or change your booking on your own if you have your booking number and cancellation code. If you still need help, you can contact the customer service representatives 24 hours a day, seven day a week via a free of charge phone call or email.
Final Thoughts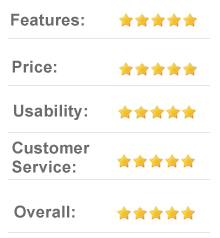 hotel.info should be your first stop in your search for the most competitive prices at a vast array of hotels. You can be certain you are getting the best price possible with hotel.info's best price guarantee.
Using the search options on the site is incredibly easy. And, the whole booking process is fast and intuitive. If you are looking for a hotel room for your next trip, I strongly recommend heading over to hotel.info.