AshleyMadison.com Review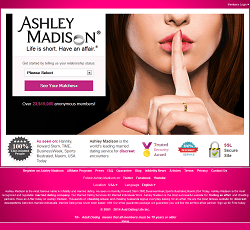 While the rise of Internet dating in the last twenty years or so has made it much easier for people to find prospective dates it has also made the act of having an affair much easier than it had been in previous generations. While in real life, having an affair with someone might not come to fruition as easily since there is that awkwardness that one person might not want to cheat while the other one does. With a site such as AshleyMadison.com one does not have to worry about any awkwardness or uneasiness since everyone who is on the site has the same intensions, which is to find someone to have an affair with.
About AshleyMadison.com
Logon to the homepage of this dating website and one will be smacked in the face with an image of a woman who has one finger over her mouth signifying the international symbol for being quiet, or keeping a secret. The homepage of the site also boasts the unusual tag line: "Life is Short. Have an Affair." This slogan of the site really lays out all cards on the table and really sheds all taboo that might exist in society about what it means to have an affair.
In an age where the Internet makes it easy for one to hide and be anonymous, AshleyMadison really protects one identity and makes it so easy for anyone to sign up – with no profile needed other than answering a few questions. As a result the site boasts ~5MM members, not all of which are active or legit.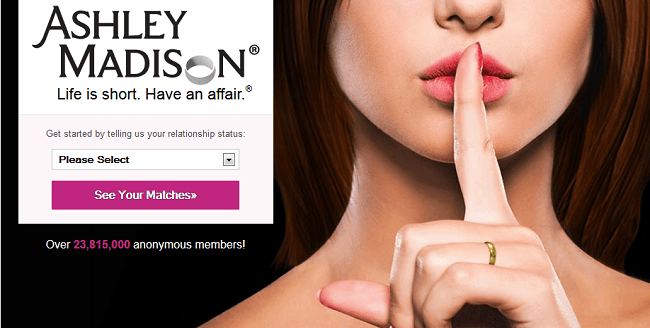 While the site does also include memberships from many single people, if one is single and wishes to meet someone who is married, one will likely have to try a little harder since many on the site enjoy the thrill of both partners being in a relationship. Single people just do not have as much to risk.
The layout and overall feel of the site differs from a typical dating site that many have become accustomed to. The site lends itself to chatting as well as anonymously viewing other member's profiles at the same time. While all members can post photos, the majority of users do not (for obvious reasons). Instead users can replace a photo with a badge that reads, "Please respect my discretionary requirements." The whole thrill of using the site is really the art of getting caught or knowing that what he/she is doing is really not moral or ethical. That said, the site is somewhat of a safe haven for people with this type of mindset as it is a place where those who are interested in cheating are able to chat and exchange information all without judgment.

Top Features
Apart from the unusual theme of cheating that the site revolves around, there are also some other unique features and benefits that AshleyMadison provides. A top unique function of the site is that it allows for more varied dating profile options. Users are able to select from "whatever excites me" to "cyber affair" when setting up a profile. This allows one to really be specific when it comes to the exact type of affair that one is looking to have and therefore one has a higher chance of finding someone in a similar situation.
Aside from being part of a community of cheaters, the most interesting feature of the site is the "Affair Guarantee", which offers users a complete refund for three-month's worth of a subscription if the following long list of criteria are observed to no avail:
Create a full profile, upload a photo of yourself, and leave your profile visible at all times during your first 3 months with Ashley Madison
Send a "qualifying" priority mail message to at least 20 different members each month (winks don't count)
Send at least five Ashley Gifts a month
Participate in live chat for a minimum of 60 minutes a month using the Ashley Madison website
Follow Ashley Madison's Terms and Conditions as well as the Affair Guarantee Program Rules

If after the three months the user still hasn't met someone in person to have an affair, the user can then apply to get their entire subscription refunded to them, [prices will be discussed in the next section of this review]. However, in order to receive one's refund, the request must be made within 30 days of program expiration. Therefore, it is important that one keeps a close eye on how long they have been active on the site. In all, this feature of the site is unique and really shows that AshleyMadison stands by the service as a first-rate way to find someone to have an affair with.

AshleyMadison Prices/Costs
As mentioned earlier in this review, any person can sign up for AshleyMadison.com at no costs, but it takes buying a membership in order to actually get the most out of the site. The site revolves around a credit membership system, which is broken out into different tiers. The lowest subscription starts at $49 for 100 credits and the highest packages costs $249 for 1000 credits and also includes the Affair Guarantee Package, which was discussed previously in this review.

Credits can be used for a number of things, and different actions cost different numbers of credits. For example:
5 credits to contact a member initially, but every message sent to that person after the first contact is free
30 credits for 30 minutes of instant messaging, or 60 credits for 60 minutes of instant messaging
20, 30 and 50 credit Ashley Gifts

Ashley Madison accepts credits cards, PayPal, Interac money transfer, mail, courier or Western Union as payment.
Criticisms of AshleyMadison.com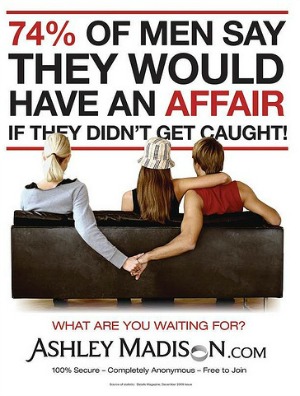 Besides the most obvious criticism of the site – that it promotes the unethical practice of cheating and can destroy relationships in the process, there are some other criticisms directed more at how the site in general functions. The first and main criticism is that since the site does not require any sort of verification when setting up a profile it causes there to be a number of false or undeveloped profiles. While the site claims to have over ~5MM members, there is no way of knowing of all of those profiles are actual people since the site does not police its users. It makes it even more difficult to tell if someone is a real person since there are so many bare-bones profiles that do not even include photos.
Also, another criticism of the site is that it can get very pricy. In order to get the most out of the site it is necessary for one to take part in the paid subscription service since that is the only way to message and interact with users. However, since it costs credits to message multiple users, one's bill can really start to rack up if one is not careful. To avoid this, it is recommend that one only messages users who they are really interested in connecting with.
Member Communication System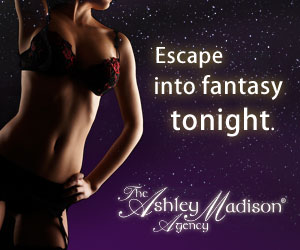 As previously stated, if one has a subscription with the site he/she is able to interact with users through the site's messaging service. In addition to this messaging service, the site also provides a alert and notification communication system which notifies users if there are individuals who are interested in connecting or meeting up. This can be beneficial to the user and means that one's profile is working for them even when he/she is not actively logged into the site. The communication system makes it so that one can be connected to the site 24/7 without physically browsing profiles.
Final Thoughts of AshleyMadison.com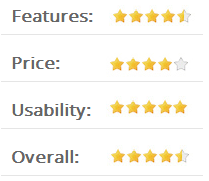 Although infidelity is not something that is new to human kind, AshleyMadison makes it easier than ever to find someone to have an affair with. The site is cheating for the 21st century, if you will. Although many can consider the act of cheating a taboo and questionable act, AshleyMadison provides a safe and judgment-free zone for like-minded people to search for others to cheat with. The site is well laid out and easy to use and is a very discreet place to find someone to have an affair with. So much so that one should not be surprised if he/she has to message someone multiple times before seeing a photo of them. That said, as long as one is willing to be persistent to find the right individual to have an affair with, then AshleyMadison is the go-to place to find your cheating partner in crime!