MillionaireMatch.com Review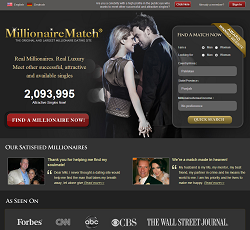 It's not just a saying that money makes the world go round; it's more of a fact. While when it comes to falling in love with someone, one should not fall in love solely based on one's monetary means, it surely is an added bonus if one has some money in the bank. Money truly makes life easier and some argue that it makes it even easier to fall in love with someone when money is not something one has to worry about. Since money and financial troubles are some of the top reasons quarrels arise in a relationship, it's real nice to know that money is no issue from the get-go when dating someone who has a lot of it. With MillionaireMatch.com one will already know right off the bat that the individual that he/she is seeking is well off and has been financially successful. The site is perfect for someone who is looking for a wealthy partner or for someone who is interested in meeting a millionaire.
About MillionaireMatch.com
A dating site that has been around for over a decade, MillionaireMatch.com was one of the original dating sites where individuals have been coming to fall in love over and over. The site has been a go-to place where wealthy singles continue to go to in order to find their one, true soul mate. The site is filled with tons of wealthy professionals from doctors, lawyers, CEOs, professional models and even Hollywood movie stars amongst the roster of profiles. Over time, MillionaireMatch has built a strong community of quality subscribers and developed a service that provides an easy and enjoyable experience for meeting new people.
While name of the site clearly has the word millionaire in the name, this can be a little misleading in that one does not actually need to be a millionaire to join. This does not mean that the site isn't frequented by many millionaires since, as previously stated, there are certainly a numerous millionaires using the site. The options when choosing your income range include a selection for those who make under $150,000 yearly and those who make more than that. While those on the site at least have some sort of money in the bank, most users have more than just a little money in the bank so the chances of finding that one millionaire are great! And, since we're on the subject of income; income verification is one of the many perks of this site, allowing you to be sure that the men and women you date on the site are as wealthy as they state in their profiles. Also, since the website has been around for many years, it has really drawn up a good reputation, which means that the site has well over 2MM active users, which certainly doesn't hurt either.

Top Features
While there are many dating websites out there that claim to be legit and declare that they help one find love through wealth, none have as strong of a tract record as MillionaireMatch.com. Setting up a profile and becoming a member of the site is very simple. A profile can be posted for free after providing some basic information such as e-mail, address, age, location, gender and income. Once all the basic info is taken care of, members are able to then fill out some more depth about who they are as a person and what they are looking for. The questions that MillionaireMatch asks include everything from children, religion, politics, physical appearance, to education and occupation among other questions.
MillionaireMatch also does a nice job of recommending profile headings as well as profile essay tips. Other features of the profile include a video introduction and some ice-breaker exercises which include forums and questions where one can elaborate on first date ideas, travel plans, hobbies and even one's favorite joke.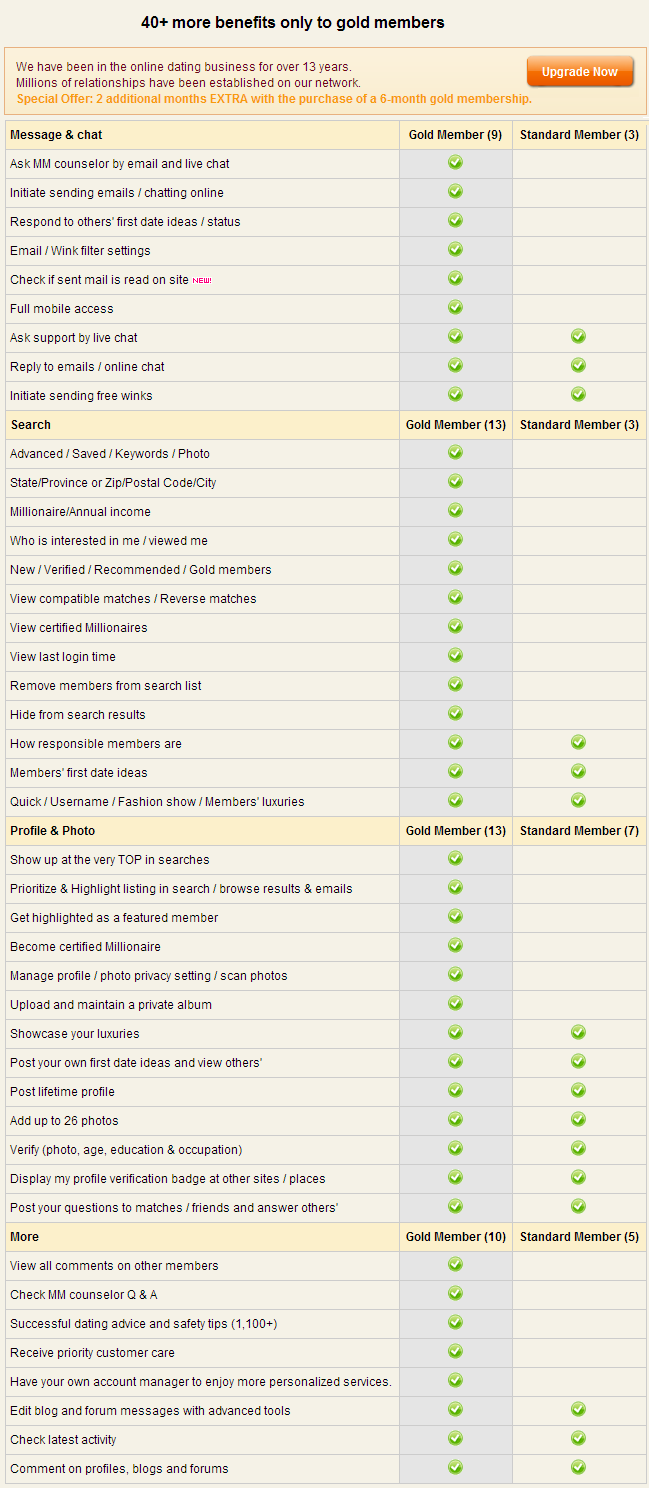 Apart from the unique profile features, MillionaireMatch.com comes with a very detailed verification system which helps protect it's users and ensures a safe and secure environment. With this system, users must verify their age, photos, occupation and education by submitting a photo ID and other documents to the site's support center. Members can also become certified Millionaires by submitting financial information in the form of a tax return from the last financial year, which shows earnings of over $150,000. If that's not a possibility or if one does not feel comfortable sharing that with the site, one can also show a bank statement, which shoes earnings of over $150,000. All of these rules are put into place as precautions and are ways to help protect everyone on the site since dating on the Internet can sometimes turn into the Wild Wild West.
Additionally, in an effort to encourage community, every MillionaireMatch member has the opportunity to write a blog, leave comments on other profiles, and post messages in the active Millionaire forum. This causes real user interaction and allows one to feel like he/she is a member of the millionaire online dating community. This also helps shed a glimpse at what really makes the Millionaire lifestyles so unique, members can take a peek at the photos posted on the site's "Upscale fashion show" and "Members' luxuries" pages.

MillionaireMatch Prices/Costs
The cost structure for the site can vary depending on the level that one chooses to enter. There is really a price point for everyone's budget. The standard membership includes the first month free, which allows one to try out the site to make sure it is what they are looking for. While prices may vary, the current cost structure in US dollars for the site looks like this:
One month for $60.00
Three months for $40.00 per month, or $120.00 total
Six months for $30.00 per month, or $180.00 total – 50% savings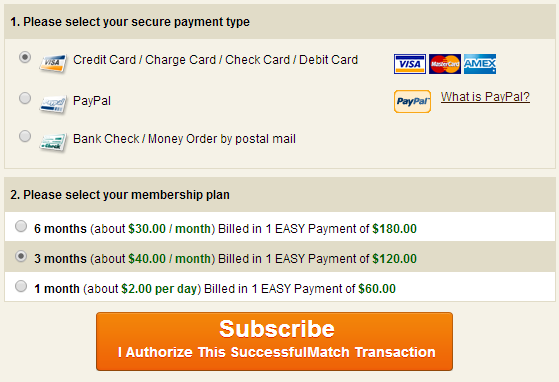 Auto-renewal of memberships is turned on by default but one can easily turn off auto-renewal on the subscription status page after login or by contacting customer service.
Criticism of MillionaireMatch.com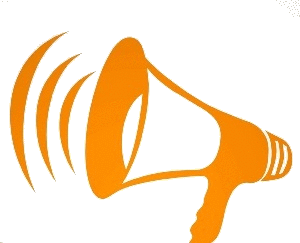 Like any type of product or service, there are those who are skeptical of the service or who like to criticize certain features of the site. The biggest criticism of the site is that it requires you to provide personal information such as photo identification and personal financial information. Some individuals have claimed that the site has used their photos and financial information in ways that were not approved originally by the individual. However, whether this was really the case still remains to be seen. To that point, other critics do not like the site because they are unable to join without providing this financial and personal information, something that not everyone finds to be necessary. In addition, a common complaint is that the site also can improve its search functionalities and there is no video chat available.
Members Communication System
The interface for MillionaireMatch has been designed in a manner that makes it easy for one to communicate. First impressions matter and MillionaireMatch's home page is simple, practical and unpretentious. The focus here is on romance and finding a suitable or lasting relationship rather than pumping up the site with visual fireworks. Site layout is clean with a logical flow and good functionality, which also translates to how communication between members is dealt with on the site. The site includes a rich messaging system that allows one to create a number of different folders to send and receive email messages. In addition, the site includes multiple online chat forums such as message forums and millionaire blogs, which allow for easy and effective communication. Furthermore, the site provides certain privacy and safety features which allow one to block people from communicating with you, which can definitely come in handy should one encounter someone who is not genuine.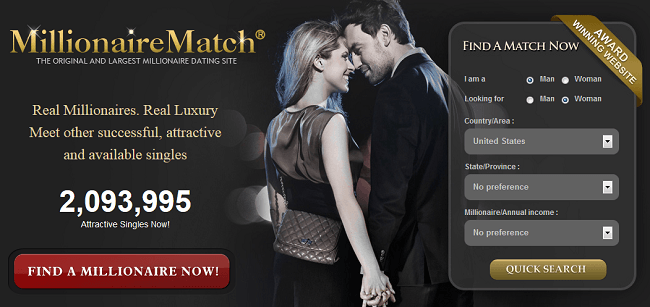 Final Thoughts on MillionaireMatch.com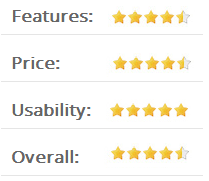 Millionaire Match is the "over achiever" in the wealthy dating category. There is no question on the site's ability to dominate the category in terms of both quality and quantity. The fact that the site has been around for over a decade speaks to how successful the site really is in helping people fall in love with millionaires. Not only does the site contain millions of members, but the site's willingness to make sure members profiles are legit should give one peace of mind as he/she surfs around on the site. If you're a wealthy individual or simply just a person who would like a rewarding, life-enriching relationship with a wealthy or beautiful partner, MillionaireMatch.com is undoubtedly where you need to be. Don't wait; run to set up your fee profile today!