Babylon Review
With our increasingly global economy, it is important for businesses engaged in ecommerce to cater their marketing to costumers in a variety of different countries. Many of these countries prefer items that are in their native tongue. Luckily, there are a many different translation software packages available to help with this. The trick is choosing the right one. In this entry, we will look at Babylon.
About Babylon
Developed by the Israeli company Babylon Ltd., Babylon is a translation program and computer based dictionary. Amnon Ovadia started the company in 1997. Babylon, at Babylon.com, has dictionaries created in house as well as glossaries and dictionaries created by their community. It is also a tool for converting measurements, time, and currencies; obtaining contextual information; and for translation.
The Babylon program also has the ability to convert text to speech, so you can tell how words should be pronounced. They have 36 English-based dictionaries in 21 languages. For several years, Babylon has been at the top of the translation software industry. The Babylon 10 is their most popular product. It builds upon the Babylon 9 by adding advanced specifications and features.
Babylon focuses on making sure their translations are accurate and available in a wide array of languages, more than two dozen. Plus, they are compatible with most operating systems available on computers today.
Top Features of Babylon
With translation software, it is all about the accuracy of the translation. You do not want your international clientele to see you as unprofessional. The Babylon 10 has high levels of accuracy. To verify this, we took a couple passages from Hunger Games and translated them into a few different languages. Then, we spoke with some native speakers of those languages. They concluded that the translations were spot on.

To ensure you get accurate translations without having to put forth much effort, the Babylon 10 offers a variety of features. You can translate any text quickly from programs such as Microsoft Word with the helpful program integration feature. If you would prefer, you can also copy and paste text directly into the Babylon 10 program.
Also with the software, you can instantly translate webpages. This is helpful for looking at your foreign customers' webpages or checking out your international competitors. To use this feature, all you have to do is paste the URL into Babylon, and it instantly translates the webpage for you. You can then follow links and translate any other webpages you come across.
Babylon 10 also has pronunciation for any texts. A dynamic and clear voice tells you how to pronounce words when you click next to icons located next to the text. You can also change the playback speed, so you can be sure to catch the nuances. Again, we ran this by native speakers of some of the languages. And, for the most part the pronunciation was accurate, though there were some slight differences due to regional dialects.

To make sure your text translates into a correct and comprehensive message and that you sound professional, the software includes a grammar check application. There is also a spell checking feature and a dictionary tool to help with translations and writing. There are more than 1,600 glossaries and 2,000 dictionary titles created by users to make the program more dynamic.
At the time of this writing, there were 77 languages to choose from. And, that number keeps growing. With each of these languages, you can translate PDFs, webpages, RTF documents, and Word documents. Some of the more popular languages available include:
| | | | | |
| --- | --- | --- | --- | --- |
| Russian | German | Chinese | Dutch | Italian |
| Japanese | French | Spanish | Hebrew | Portuguese |

Babylon Prices
Babylon has a many different products. I will try to cover most of them here. The Classic Babylon 10 plan costs $9.90 per month. This plan includes translation of office documents in their original format, text to speech in a human voice, and unlimited translation of full texts.

The other Babylon 10 plan is Pro. This costs $15.90 per month and includes all of the Classic plan's features plus access to the world's leading dictionaries, comprehensive language coverage, and advanced language results.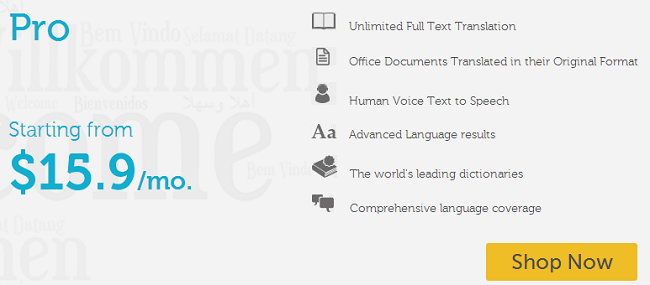 Babylon also offers a variety of online dictionaries from distinguished companies who have been in the industry for hundreds of years. For $78.40, you can get Merriam-Webster Collegiate Thesaurus and Dictionary and the Oxford English Dictionary and Thesaurus package. They also offer the Britannica Encyclopedia for $49.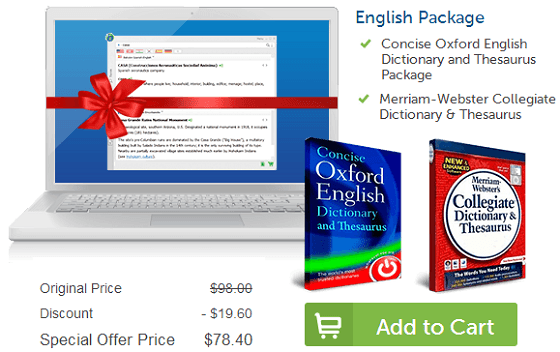 There are programs for teaching you to speak all of the languages listed above available from Babylon. For $138.60, you get the three part language package that guides you through beginners talk, intermediate talk, and all the way up to being able to carry out business conversations.
The Downsides of Using Babylon
There really are not many downsides to Babylon. We had a little trouble getting started. It was a bit overwhelming, and there was not a simple user's guide included with the software. But, there were plenty of online resources. And, Babylon's support team is incredibly helpful. I did a quick and dirty search of discussion forums, and there were a few complaints, but they were fairly minor issues having to do with trouble understanding specific features.
Babylon Customer Support
If you need customer service help, Babylon offers support over the telephone and email. You can also talk to a support agent over your compute with their live chat instant messaging capability. To help with some of the more common user issues, there is also an extensive FAQ section. They provide a discussion forum that was quite active and included help on word choices, writing styles, and finding synonyms.

Conclusion
To improve your translation abilities and make your business global, there is a wide array of useful features available from Babylon. Standout features were the file translation, instant translation, and program integration. And, you can be sure you will sound like you know what you are talking about with the text to speech feature. This is the best all in one translation software we have tried out. We strongly recommend it.