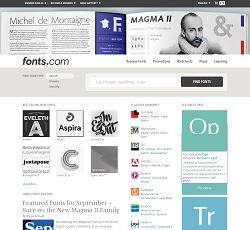 Fonts.com is one of the best font services around with more than 7,000 original fonts and around 200 foundries. From popular foundries like Linotype, Elsner+Flake, Adobe, Lanston Type, the Font Bureau, the Chank Company and others, Fonts.com offers industry leading fonts. Their advanced feature offerings include customized font development, font consultations, and font conversion.
Value priced font packs are another popular aspect of Fonts.com. For your company or product, they have the ability to create symbols or logos and digitize artwork. These are just some of the things that make Fonts.com great. Below, we take a closer look at what sets Fonts.com apart when it comes to font services.

About Fonts.com
There are more than 150,000 Web font and desktop products for you to purchase, download, or preview from the Fonts.com store. Fonts.com is owned by Monotype Imaging. For over 125 years, Monotype has been a world leader in typeface design. They have been around for every major era of type.
Fonts.com features the most widely used and admired typefaces on the globe in their extensive libraries with more than 18,000 typefaces and growing. Web fonts that are searchable, simple to edit, and scalable were released by the Fonts.com experts in 2010. With a history of innovation and quality, Fonts.com focuses on serving the needs of its diverse customer base.
Top Features of Fonts.com
In three of the most popular formats, including PostScript, OpenType, and TrueType, Fonts.com offers more than 7,000 original fonts. For simple backup and storage, several of the font selections are available on compact discs. They offer an array of services, flexible license agreements, and many font pack options.
For those who require several different fonts, the font packs are an inexpensive option. The collections come in four different types:
Value Packs – Available are more than 65 different mixed font packs
Libraries – ITC, Linotype, and Adobe OpenType collections
Volumes – Font groups from the same family
eBook Fonts – For publishers, they offer more than 2,000 fonts through the ITC and Monotype Library.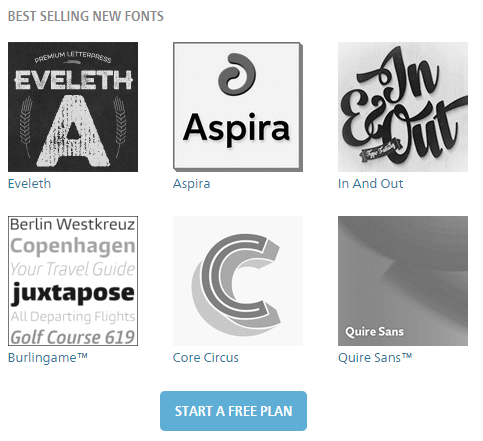 From font format conversions to custom fonts, a long list of service options are offered by Fonts.com. You can look at a list of the options available through the extensive website services and read about how the process works from the custom fonts webpage. The design team offers the following services:
Font and typeface technology consultations
Custom editing of printer fonts
Non-Latin font development
Custom character set development
Existing artwork digitization
Type development, color technology, and other OEM services
Multiple platform font support
Unicode and multilingual font solutions
Creation of fine-tuned ESQ fonts
Symbol and logo creation
Typeface design
For user protection, there are a few different licensing options available for the many custom fonts created by Fonts.com. These options include
Enterprise-Wide – For an entire company using one intranet
Standard User – Covers one printer and five computers
Streaming, Web Servers, and Font Embedding
Extended Multi-User – Covers an entire site or a set number of users
You can learn about how each option is useful to you and other details on the licensing webpage at the Fonts.com site. This is useful for deciding which licensing option is best for you and for just learning more.
Searching by designer, keyword, foundry, and classification are among the search options provided by Fonts.com. Based on a series of questions, you can search by how you want a font to appear by using the "search by site" option.
For downloading directly to your computer, there is also a wide array of free fonts accessible at Fonts.com. The only catch, if you could even call it a catch, is that you must sign up for an account with Fonts.com to receive the free fonts. But, this process does not involve a membership fee, and it can be done quickly.

Fonts.com Prices
The prices at Fonts.com are very reasonable compared to competing sites. Plus, you get a better deal the longer you commit. For example, if you sign up for one year of Fonts.com access, you get one month free. Sign up for three years, and you get half a year of that for free. Below is an outline of the four plans Fonts.com offers: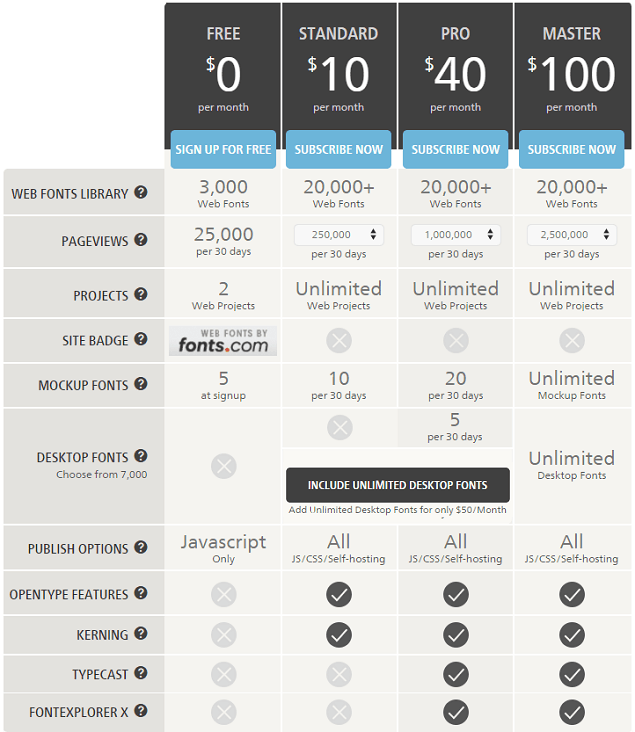 Free
– As the name suggests, this account is free. The main catches are that you have to sign up for an account, and if you use their web fonts, you have to include a "Web Fonts by Fonts.com" badge on your site. For these minor inconveniences, you have access to 3,000 Web fonts that you are allowed to use with up to 25,000 pageviews on your site in a 30 day period. You can also get five mockup fonts.
Standard – For $10 a month, you do not have to place a badge on your site. You get full access to the Web fonts library and are allowed 250,000 pageviews per 30 days. You can increase that number for a small fee. Also, you get ten mockup fonts every 30 days.
Pro – At $40 per month, the Pro account builds upon the Standard account. You are allowed a million pageviews and twenty mockup fonts per month. You can also get five desktop fonts, the Typecast Web design app, FontExplorer X font manager, and self-hosting.
Master – For $100 per month, the Master plan builds upon the Pro account by allowing 2.5 million pageviews per month and unlimited mockup and desktop fonts.

Criticism of Fonts.com
I was blown away by the selection that Fonts.com has. My only issue was with the limit on the number of pageviews allowed using the Web fonts. If your site experiences a spike in visitors and you are using a Fonts.com Web font, you have to fork over a little extra money to keep the pages appearing the way you want them to.

I did not have any issue with this during my use, but I could see some very high traffic sites having issues. Fortunately, too much traffic is usually a nice problem to have!
Customer Support
You get outstanding assistance from the Fonts.com team. For the United Kingdom, Canada, and the United States, for customer service and technical support, they offer toll free telephone numbers. There is an email form for technical support. And, for billing, general, or sales questions, you are conveniently provided with email contact addresses.

For mail comments and inquiries, you can even contact them via their physical address. For industry news and other font subjects, there are a number of additional resources offered by Fonts.com. Two free newsletters, the quarterly National Typographic and the monthly Clicks, are supported by them. Designers can acquire a selected free download each month through the Clicks newsletter.
On the Fonts.com homepage, information on font subjects, like seasonal fonts, and font designers is offered. To learn about what Monotype Imaging is and what they do and also about Fonts.com, you can check out their About Us page on their website. To see what the media is saying about Monotype Imaging, there is also an extensive press release section.
I don't know about you, but I like to learn about companies I am working with!
Final Thoughts
You should go directly to Fonts.com instead of wasting your time spending days going through an endless number of foundries. With Fonts.com, you can utilize cutting edge customization features, search almost 200 foundries at once, acquire a versatile license, and find the perfect font. Fonts.com provides you with a unique font instantly whether you are looking for Cyrillic, Sans Serif, or Art Nouveau.
We strongly recommend Fonts.com to anyone looking for font services.