GetResponse Review
All internet marketers collect email addresses. These can lead to promising sales leads. They can also be used to keep your company in front of consumers. This may be fairly obvious to most of you, but what is not as obvious is how to best utilize these email addresses. This is where GetResponse is especially helpful.
According to surveys conducted in 2012, for every dollar spent on email marketing, $40 was made. That makes email marketing one of the most effective marketing tools you have at your disposal. And, GetResponse is a clear frontrunner in the industry. This review will go in depth about the pros and cons of using GetResponse to help you determine if it is the best service for your needs.
About GetResponse
GetResponse is the flagship of Implix, which also includes ClickMeeting, for online meetings, and WebsiteWizard, for web building, in its portfolio. Implix was started by Simon Grabowski in 1998, when he was just eighteen years old. Since then, he has focused on helping small business marketers reduce costs, increase profitability, and improve marketing efficiency around the globe. Implix has offices in Poland, Canada, and the United States.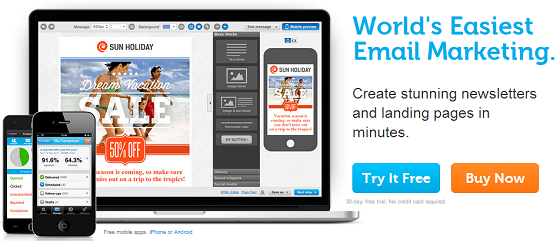 GetResponse bills itself as a complete email marketing solution. This includes hosting and newsletter publishing features and unlimited autoresponse to get information to subscribers and turn them into customers. A lot of email marketing providers will send your company's emails directly to subscribers' spam folders. GetResponse prides itself on working with ISPs and email service providers to avoid this.
Top Features of GetResponse
GetResponse has all of the same basic features you would expect from any other email marketing service. It is the advanced features of GetResponse that put it head and shoulders above the competition. Some of these features include enterprise level email analytics, beautiful and easy to set up landing pages, and powerful email marketing software.
We will just cover the top features in this review. But, GetResponse also provides the following basic features with quality exceeding that of the industry standard: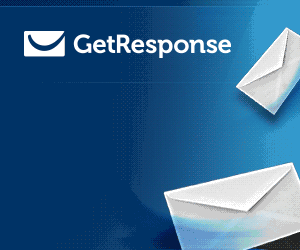 Web form creation
Broadcast messages
99.5 percent email deliverability rates
Management of multiple campaigns
Click through and open rate statistics
Follow up autoresponders
Tracking every aspect of a marketing campaign is crucial for any internet marketer. Using Email Intelligence, GetResponse makes this task easy. Marketers can gauge, analyze, and track conversations. The email analytics tool allows you to set campaign goals, calculate unsubscribe rates, gauge email open rates, figure out bounce rates, see how many people are clicking, and also follow a whole host of other metrics.
One of GetResponse's newest and most advanced features is the Autoresponders 2.0. Relevant and timely message cycles can now be created using this new feature. These emails can be adjusted to fit subscriber expectations and needs precisely and are sent automatically. This leads to more conversions due to higher clicking and opening rates.
Email cycles specifically designed for your audience's desires and needs can be created using the time based autoresponders. The action based autoresponders are great for one on one personalized responses triggered by relevant actions performed by subscribers. The Autoresponders 2.0 is great for higher conversion rates.

Simple opt in forms can be created quickly with GetResponse's form builder. These forms can be embedded on your website. The form builder utilizes a basic drag and drop interface. You have the option of using the "what you see is what you get" interface or using one of the over 160 premade templates. You are given complete control.
GetResponse provides you with the opportunity to see how your emails will look on various mobile and desktop browsers with their inbox preview. Email marketers must test out emails on various platforms because each platform has its own way of rendering emails. A mangled email is unlikely to get a second glance. Inbox preview makes sure your emails get read on all platforms.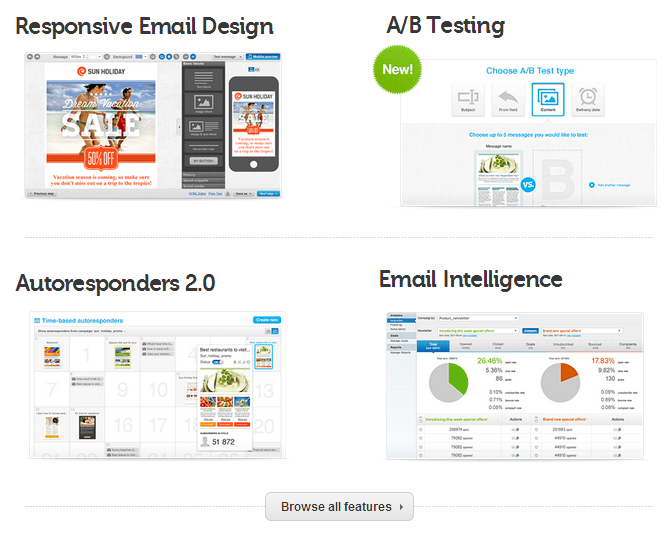 Beautiful emails are just a few drags and drops away with the simple to use email creator interface. You can alter the content of your emails by dragging and dropping basic blocks of images or text. In the email creator, you have the ability to resize, scale, and crop images. There is also a wide variety of templates with many themes and colors to choose from.
Another new feature is responsive email design. This makes it easier for you to optimize your emails for tablets and smartphones. This is increasingly important as research shows 88 percent of people who read emails do so on their mobile devices.
With GetResponse's Landing Page Creator, publishing and creating appealing landing pages that pop is quite simple. As with other creator features, the Landing Page Creator offers both drag and drop customizable options and predetermined templates. There is no coding required. You are also able to see landing page analytics to track subscribers and visitors.
The ability to share any and every piece of content that you generate is imperative these days. GetResponse recognizes this and offers a rare feature that allows your subscribers to share your newsletter on social media platforms. In addition, with Social Sharing Analytics, you can encourage sharing, increase engagement, and track reactions to your emails.
GetResponse Plans and Prices
Subscriptions start at $15 per month ($12.30 with a one year commitment) for contacting 1,000 subscribers using GetResponse. The other two top plans are $25 per month ($20.50 with commitment) for 2,500 contacts and $65 per month ($53.30 with annual discount) for 10,000 subscribers. There are some plans available that go all the way up to 100,000 subscribers. A great aspect of all of the plans is that they include every one of the features and offer unlimited emailing.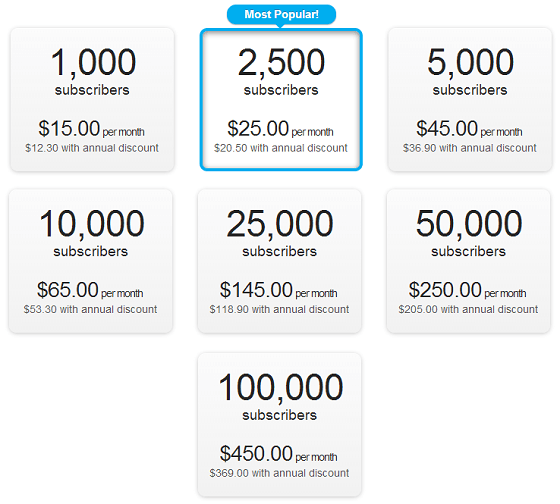 The Downsides of Using GetResponse
We found GetResponse to be more powerful than other email marketing service. But to be thorough, we combed the discussion forums for downsides. We only found a couple downsides to GetResponse reported. There were some complaints about sensitivity to possible spam coming from its clients. If they think you are sending spam, they will suspend your account. We actually like that they do this because it assures that the emails from their honest marketing clients will be delivered. There were also reports that the deliverability rate may dip down to 97 percent sometimes. This is pretty high, but GetResponse promises 99.5 percent.
GetResponse Customer Support
In its fifteen years of existence, GetResponse's customer service has continued to improve. There are five different ways to contact them seven days per week, twenty four hours each day. They have email, video training, discussion forums, live chat, and a toll free phone number. To test this out, we gave them a call at 3 am (Eastern). We were greeted cheerfully by a knowledgeable representative, who would not let us off the phone until she was certain we completely understood her answer to our question.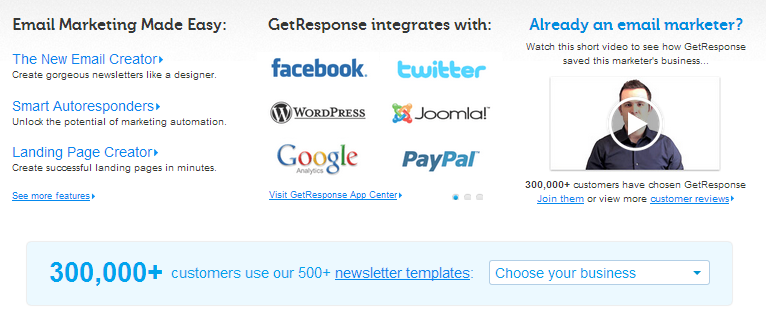 Conclusion
GetResponse is clearly the best email marketing service provider in the industry. Although there are cheaper alternatives on the market, the slightly higher price for GetResponse is well worth it in our experience. We have used GetResponse for a couple years now, and we have never had a reason to look elsewhere.
If you are in the marketing profession, you need to collect emails on your website, at events, and any other way you can. This will help you engage potential customers. We strongly recommend GetResponse as the best tool to utilize these email addresses to engage subscribers and increase conversion rates. You can even take it for a test drive for free. Give it a try.