YoutradeFX Review
The forex market is one of the most popular markets in the world today. Since it was first established in the 1970s, forex, short for foreign exchange, has grown to have the largest daily trade volumes of any market. At $4 trillion every day, forex is 30 times larger than all of the stocks traded in the US. Due to the market's popularity, there are endless broker options available. Here, we are focused on finding the best options to fit your financial needs. In our latest installment, we see if YoutradeFX is up to muster.
About YoutradeFX
YoutradeFX is a relatively new player in the foreign exchange online brokerage firm industry. They were established in 2010, however they have progressed swiftly. They are considered a pioneering forex broker on the international scene appealing to multinational clientele in many countries. YoutradeFX has offices in Mauritius, Germany, Australia, United Kingdom, India, and Cyprus.
In an industry that deals with such large sums of money, it is important to find a forex broker who is closely regulated. YoutradeFX has attained regulatory approvals from the Australian Securities and Investment Commission and the United Kingdom's Financial Services Authority. So, you can rest assured your money is secure.
YoutradeFX offers its clients the ability to invest in contracts for difference (CFD) on the foreign exchange market, stocks, indices, and commodities. Their corporate values center on performance and trust. With these, they hope to build long term relationships with their customers.
Top Features of YoutradeFX
One of the unique features of YoutradeFX is that it offers pretty much any platform you could possible want for trading on the forex market. They are all about the options. The platforms they offer are:
Auto Chartist – An advanced analysis and research provider that gives alerts for you to follow probably market patterns and trends on a constant basis and performs study market analysis.
Mirror Trader – A single tool that help you trade with complete awareness. Marketplace charts, live signals, chart studies, and sentiments are included in Mirror Trade.

Sirix Web Trader – This is a web based platform that is easy, handy, and maintains full market functionality.
MetaTrader 5 – The next step in online trading. In ways that have been impossible before, it incorporates every characteristic and tool needed to understand trading.
Guardian Angel – A spontaneous, simple tool for steering beginning traders along the path of forex trading.
ZuluTrade – A third party signal provider that allows you to follow successful traders of your choice. Your YoutradeFX account can be linked up to this.
Mobile – The MetaTrader mobile platform with a fully featured trading suite. You can trade from virtually anywhere on the globe using a smartphone or tablet.
MetaTrader 4 Multi Terminal – Uses the MetaTrader 4 fully functioning trading platform to manage multiple accounts at once.
MetaTrader 4 – The industry standard. In today's global markets, it provides the essential supreme trading flexibility.

YoutradeFX has some of the lowest spreads in the industry. Their spreads are fixed 24 hours a day, and they start at just one pip. Plus, there are no commission fees for any of their trading instruments. Leverage is up to 1:500. For any of their accounts under $100,000, there are no margin requirements. And, traders cannot lose more than their original investment thanks to YoutradeFX's guaranteed stop loss measures.
There are many automated strategies offered by forex robots and expert advisors on youtradefx.com. With the help of their account manager, you can install and run these. Every trader is assigned a personal account manager with extensive experience in the forex market.

YoutradeFX has 49 tradable instruments. These include oil; gold; CFDs on the world's biggest indices such as FTSE, NASDAQ, CAC, Dow Jones, etc.; silver; and 44 currency pairs. You can also trade on stocks like Wal-Mart, Microsoft, Google, Apple, IBM, and GE. If you ever need to withdraw money, these are processed during the same working day as the request, and the money arrives in fewer than five business days.
YoutradeFX provides clients with the most complete and comprehensive educational system of any broker. Their program uses all-encompassing video tutorials and detailed written tutorials. The video lessons teach you all the ins and outs of forex trading. The lessons are geared toward all styles and levels of trading.
Another tool for helping beginners is a demo account with $50,000 in virtual US dollars. This demo account can be used for up to 90 days. This allows you to really get to know the ropes before diving in with real money. Once you gain confidence in the virtual market, you can dive into the paid accounts that start with only a $500 deposit.

YoutradeFX Accounts/Prices/Spreads
YoutradeFX offers four accounts. The Basic Account helps the beginning trader learn forex on the go. To make trading easier, they offer a wide array of resources and tools. They also have experts on hand to answer questions if you need help. To get set up with a Basic Account, there is a minimum deposit of $500. The spreads start at .8 pips.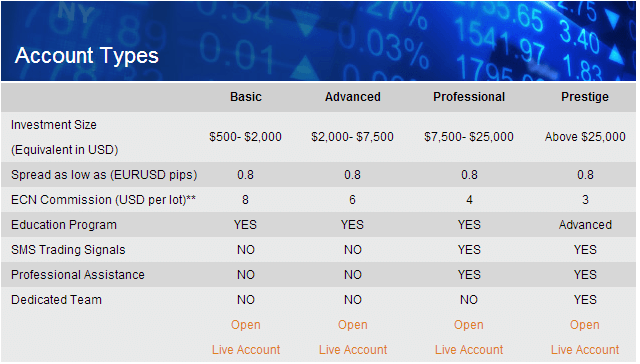 The next least expensive account is the Advanced Account. This is geared more toward the sophisticated trader. It is billed as the first step in making your forex excursion a worthwhile investment. This account features advanced trading tools, relevant market information, and better pricing. The minimum deposit is $2,000. The spreads start at .8 pips.
The Professional Account offers better pricing, cutting edge market information, fast execution and much more. YoutradeFX will work with you to make your experience investing with them as simple as possible. This is a more hands on account with a personal professional assigned to you. The minimum deposit for this account is $7,000. And, again, the spreads start at .8 pips.
The top of the line account is the Prestige Account. This is available when you deposit a minimum of $25,000. This account is meant for the big volume professional traders. This account has everything the Professional Account has only you will also get in depth analyses of your performance, text notifications, and more. The spreads start at .8 pips for the Prestige Account.
In addition to the above plans, there are also options for Muslims. Due to strict banking and interest restrictions in Islamic law, YoutradeFX has created account specific catering to Muslims.
The Downsides of Using YoutradeFX
The biggest hassle with YoutradeFX was all of the paperwork required. YoutradeFX is extremely well regulated, and with regulation comes paperwork. Sure, we found it to be a pain, but we would much rather do that than have the broker shut down and our funds frozen.

The talk online regarding YoutradeFX was generally positive. Oddly enough, there were not even posts about YoutradeFX being scam, a common dubious claim made against just about every forex broker. YoutradeFX is clearly on the up and up.
YoutradeFX Customer Support
YoutradeFX offers three contact methods: email, phone, and live chat. All contact methods are easy to find on youtradefx.com. They are also available on Twitter and Facebook. In addition to these means of help, there are video and written tutorials, FAQs, and plenty of other documentation. The live chat is open 24 hours per day on days when the market is open.
Conclusion
YoutradeFX is the whole package. They offer many trading platform options. Their customer support is top notch. And, the demo account and endless tutorials help bring beginners and professionals alike get up to speed. They are clearly focused on the success of their clients. YoutradeFX is highly recommended to all levels of forex traders.