SEMRush Review
Having the right tools are key when it comes to gaining higher rankings in search engine results or engaging in search engine marketing (SEM). In order to succeed, you must have knowledge of what your target market is searching for. Google's keyword tools are able to give some insight into these market indicators. But, a service such as SEMRush is needed to get the real quality information.
SEMRush has been one of the best SEO tools for a while now. To survive these days, any company must adapt quickly to the ever changing online world. SEMRush trains you to do that. They constantly improve their processes to keep current with SEO trends and changing algorithms. In both paid and organic results, this will make your business and personal websites more visible.
About SEMRush
SEMRush is for SEO/SEM professionals. It was created by SEO/SEM professionals. Their goal is to use their expertise, data, and knowledge to give your projects a boost. They collect search engine results page data for over 45 million domains and 95 million keywords. Their data collection includes
Result numbers
Cost per click
Organic positions for landing URLs and domains
Competition
Search volumes
AdWords positions and ad copies
SEMRush specializes in quick turnaround times that provide customized and accurate data.

Top Features of SEMRush
The bulk of this review is going to focus on SEMRush's many features. With SEMRush, you have a large toolbox at your disposal. Many of the tools are not available with any other SEO/SEM service.
Organic keyword research is a fairly standard tool available on online marketing services. SEMRush is different because it associates all data to its relative commercial value. It does this by putting it side by side with AdWords data. Doing an expanded organic keyword search allows users to see very commercial keywords that are searched often that your site ranks for. If you happen to be sitting on the second or third page of a Google search for these, you would be able to focus more on SEO for them and get bumped up to the front page.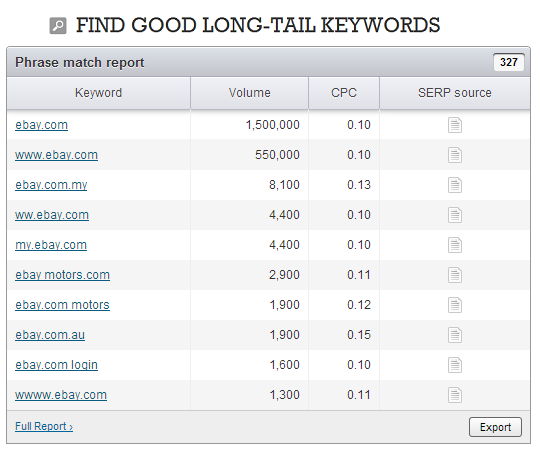 This can be a very useful tactic in getting traffic to your site as long as it is in line with your business strategy. These reports also help you see the total number of keywords with commercial value that appear on your site. Another basic report tells you how much of your traffic comes from Google searches, how much that traffic is worth based on ad costs producing the same numbers, and overall traffic volume and spending from related ads on AdWords.
SEMRush's AdWords research tool is especially invaluable and unique. For just about any site, you can see what keywords the site is purchasing from Google AdWords. You can even dig a little deeper and see what keywords they are buying in different geographic areas. There is an icon that you can click on to see what the actual ad copy is.
When you click on a specific keyword in the AdWords research tool, you get another report with more data on the keyword. These data include suggestions on related keywords, trends, organic sites and key phrases rankings for the particular keyword, competition, and traffic.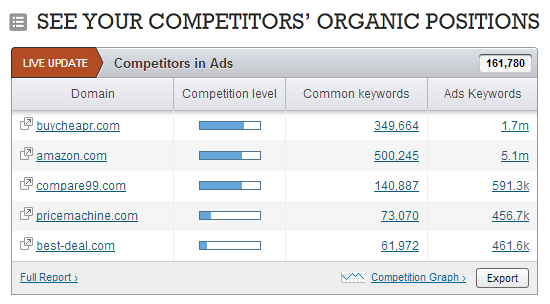 Competitor analysis is crucial for seeing how well your site performs against your main rivals. SEMRush helps you figure out what your competitors are doing, so you can create an actionable plan to improve traffic, gain traction, take over a competitors' position, or jump in the rankings. You can do this analysis by filtering based on ad traffic, commercial value of traffic, traffic price for ads, number of ads running, and search engine traffic.
In addition to the above, SEMRush has the ability to export all of the data to Excel. This makes it easier for us Excel junkies to really play around with the data and analyze it further. This is also great for creating presentations for clients or management. We like to use it for graphs.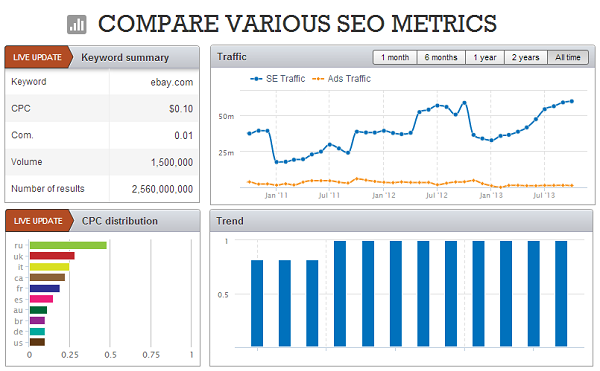 SEMRush is about the only tool for companies with a global presence. Most keyword search tools out there are United State centric. SEMRush is not. They offer databases for the United Kingdom, Italy, Brazil, Spain, Russia, Australia, Canada, France, Germany, and more.
SEMRush Plans and Prices
For the data you receive, SEMRush presents a good pricing model. There are two main packages: Guru and Pro. SEMRush Pro is divided into two packages based on how long of a commitment you make. For one month, it is $79.95. For a recurring Pro plan, it is $69.95 per month. This is their most popular option.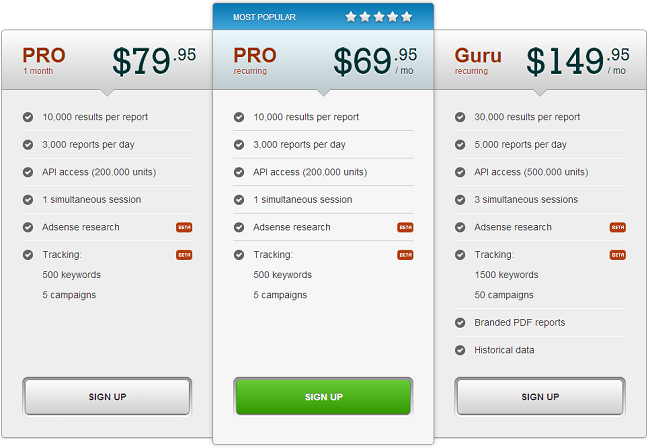 The Pro plan allows 3,000 queries per day with 10,000 results per a report. Also part of this plan is access to SEMRush API, which include 200,000 units. This permits users to integrate data into their software without going through the SEMRush interface. Finally, the plan lets you track five different campaigns and 500 keywords.
The SEMRush Guru plan is for the larger sites out there. You can query 5,000 reports per day and see 30,000 results per report. You can also have three sessions going at once (great for multiple users), track 50 campaigns and 1500 keywords, access historical data, have a branded PDF, and gain API access with over half a million units. This runs at $149.95 per month.
SEMRush also recently introduced a top of the line Enterprise plan that is optimized for the biggest sites. It includes everything the Guru plan has but increases the number of reports per day (10K), results per report (100K), API access (1.5M), campaign tracking (unlimited), keyword tracking (5K), and simultaneous sessions (10).

The Downsides of Using SEMRush
We really liked the Guru plan, but the price was a little bit steep. We would like to see a discount for committing to a year. That was about our only gripe with SEMRush. We really enjoyed the usability, and it delivered on all that it promised. We did a thorough search of SEO discussion forums to dig up and dirt on SEMRush, and all we found were positive reviews. It appears that general consensus is that this tool makes the lives of SEO/SEM professionals easier.
SEMRush Customer Support
SEMRush offers a wide array of ways to contact them. Unfortunately, it does not appear that they are available 24 hours per day, seven days a week. Instead, they offer toll-free calling, email, web form, and Skype from 10 am to 6 pm Eastern, Monday through Friday. They even offer the unlikely option of snail mail.

We usually like to test out the bounds of round the clock service providers, but that option was not available to us with SEMRush. So, we gave them a call at 5:30 pm Eastern on a Friday. We were pleased to find that they did not leave early for the weekend. The service representative was very knowledgeable and was able to provide me with an easy to understand answer in a matter of seconds.
Conclusion
It was a pleasure reviewing SEMRush. It is the best competitor and keyword search tool of its kind. It is simply astounding what data it can give for organic and AdWords search campaigns. If you want your website to show up in search results, you must have access to an SEO/SEM tool. SEMRush is one of the best ones out there, and they are one of the most experienced. SEMRush also makes it easy to just try their services out with a seven day money back guarantee.  Check it out.