Global Virtual Opportunities (GoGVO.com) Review
These days, new web hosting companies seem to be coming out of the woodwork. The options on the market today are almost endless. This makes it hard to choose which is best for your company or individual needs. To determine if Global Virtual Opportunities (GVO) is the best for you, we are going to take a close look at their services in this entry.
About Global Virtual Opportunities
One of the first things that strikes you about GVO's website, gogvo.com, is that it lacks the cheesy graphics you see on the sites of most web hosting businesses. Instead, GVO goes with a picture of its muscle bound President, CEO, and Founder Joel Therien. Therien founded GVO in 1999 in Gatineau, Quebec, Canada.
In 2007, after researching the best place to relocate their burgeoning business, GVO moved to its current location in San Antonio, Texas. In addition to serving as their headquarters, this is also where their world class datacenter is, providing a fairly central location. GVO has a relatively small but dedicated staff.
GVO hosts some of the largest online marketers in the world today. Their team members have over a decade of web hosting experience. With each of their hosting plans, they include a whole suite of marketing tools for effectively running online businesses. In this way, gives more value for the dollar with its web hosting services.

Top Features of Global Virtual Opportunities
GVO offers web hosting, dedicated servers, and reseller hosting options. Also, they include their Marketing Tools suite with all plans. The number of features and the limits to the features depend on which plan you select. The Marketing Tools include the following programs:
eResponder Pro – Designed to make email marketing easy, this robust bulk email tool and autoresponder can send, track, and create email messages. GVO guarantees that your bulk mailings will be delivered and will not end up in spam folders.
Prospecting System – This is a lead capture system designed to help you create massive contact email lists. You are given professionally created custom lead capture pages. You also have multiple templates to choose from and can get ad copy written for you.
GVO Conference – Perfect for conference meetings and presentations with people in remote offices. This is a full video and audio communication tool that allows you to share your desktop, record your meetings, and much more.
Easy Video Producer – You need videos on your website if you are going to make it in the social media marketplace. This tool works to convert sales three times more often than just plain old ad copy. It allows you to create videos that look like they were made by a professional.
GVO Academy – This is daily training from some of the top trainers in blogging, internet marketing, video marketing, and network marketing. They cover everything from the basics to the newest expert secrets.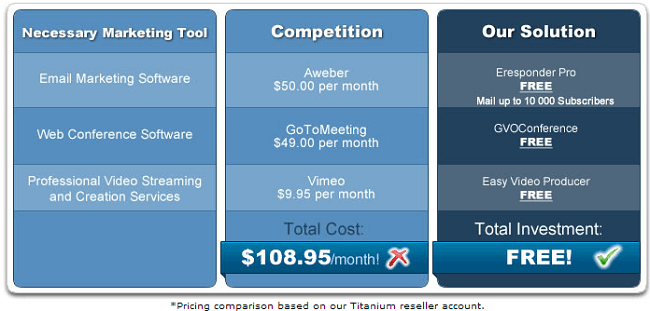 One of the greatest things about GVO's Web Hosting is the unlimited bandwidth and disk space for all of their plans. Each plan also comes with a control panel designed for your system. Other unlimited features are subdomains, email accounts, MySQL databases, FTP accounts, and POP3 and IMAP email. Other email features include SMTP, webmail, Email Alias, Catch All, Spam Assassin, and forwarding.
GVO also guarantees 99.9% uptime, which works out to less than 45 minutes of downtime per month. The provide 24 hour support, seven days per week. So, if things do go wrong, you can just call them or live chat with them. Finally, they also provide you with a site builder application. You get all of this without having to sign a contract.
For those who like to have added security, there are Dedicated Server plans. For this review, we did not check these out, and GVO only offers quotes based on a specific business's needs. Consequently, we are just going on GVO's word for these servers.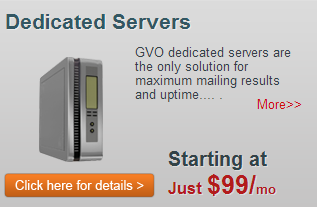 The dedicated server hosting is completely managed by GVO. You get total root access control of the server, and there are no hardware restrictions or sharing. You also do not have to worry about throttling. GVO houses their dedicated servers in a state of the art facility that is armed with maximum security.
Ever thought of starting your own web hosting business? GVO provides you with a way to get started. With their Reseller Hosting plans, you get unlimited control panels, email accounts, domains, FTP accounts, MySQL databases, subdomains, web host management, disk space, and bandwidth. You will also receive site building tools and around the clock support. GVO basically wants their reselling partners to succeed, so they provide them with the tools to do so.
Global Virtual Opportunities Plans and Prices
For its web hosting services, GVO offers three plans: Personal Web Hosting at $3.95 per month, Business Web Hosting at $6.36 per month, and Enterprise Web Hosting at $10.36 per month. All of these prices are based on a three year commitment. Oddly enough, there are not any huge differences between the three plans. The Personal plan only allows for one web domain, whereas the other two offer unlimited domains. Also, the Enterprise plan comes with a private SSL. The other two are shared.

The Reseller plans are Gold at $24.95 per month, Titanium at $44.95 per month, and Diamond at $99.95 per month. Again, the differences between the plans are fairly limited. For the Gold plan, you can have up to 500 autoresponder subscribers, five autoresponder campaigns, and ten conference software seats. Both Titanium and Diamond include unlimited autoresponder campaigns. Titanium allows 20,000 autoresponder subscribers and 250 conference software seats. Diamond offers 30K autoresponder subscribers and 300 conference software seats.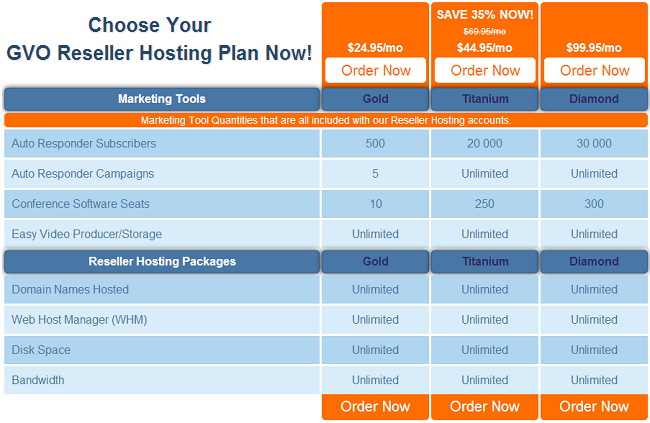 The Downsides of Using Global Virtual Opportunities
The only real downside that we saw was in the pricing of the products. For the less expensive plans, we do not know of an online service provider that can beat the price for what is offered. But, as we mentioned, there are few differences between various plan prices. Also, we would like to see more of a discount for committing to longer contracts. Also, as far as we could tell, GVO does not offer any sort of money back guarantee or free trial offer.
Hitting up the web hosting discussion forums, we were not able to find any negative comments about GVO. The only remarks seemed applaud their professionalism and their superior customer support.
Global Virtual Opportunities Customer Support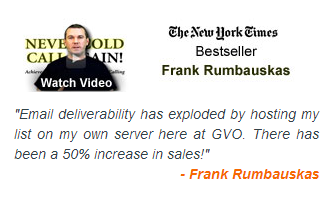 For customer service, GVO has live chat, tutorials, phone support, and a support desk ticketing system. They are always available: 24 hours per day, seven days a week. We tested this out by calling at 3 am on a Sunday morning. We were greeted by a cheerful woman with a Southern accent. She was knowledgeable about the confusing questions we asked her and more than helpful. She even followed up a couple days later to make sure everything was still running smoothly.
Conclusion
GVO has been in the business for more than a decade. In internet years, that is ages. They clearly know what they are doing and know how to keep their customers happy, or they would not be around any longer. After trying out the features they have to offer, we can understand why top online marketers choose GVO.
They know exactly what web business owners need. That is why the throw in all sorts of marketing tools with their plans. We strongly recommend Global Virtual Opportunities to anyone who runs a website and needs hosting solutions.