MochaHost Review
It seems like web hosting companies are springing up everywhere these days. With so many options, it is hard to determine which is the best for you or your company's needs. In this entry, we will look closely at MochaHost to see if it lives up to the hype and determine if its bargain basement prices provide good value.
About MochaHost
MochaHost was created when its founders were feeling unsatisfied by the state of online service providers. They thought they could do a better job by using their vision and skills to provide truly holistic, flexible, and integrated web solutions. One of their core goals was to also make sure their services were affordable.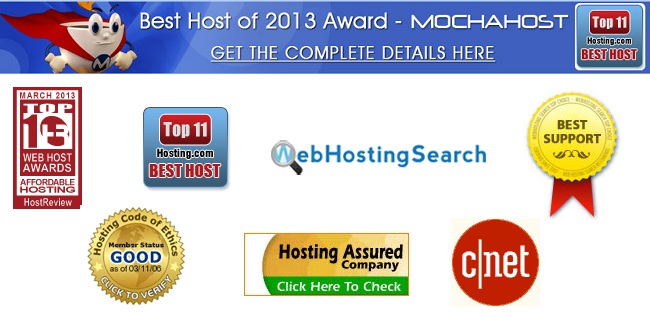 MochaHost was launched in 2002 in the Silicon Valley city of San Jose, California. Their expertise is in providing e-commerce, professional hosting, internet promotion, and web design services. They seek to balance low costs with professional services.
MochaHost has a large staff that includes experienced and well educated subject matter experts. Many of them have worked for or consulted with businesses at every level, including non-profits, Fortune 500s, government organizations, and startups. MochaHost's datacenters are centrally located in Chicago, Illinois. They are as advanced as they come and are equipped with security alarms, tape libraries, USP backup, hand scanners, 24 hour per day/seven days a week monitoring, and diesel generators.
Top Features of MochaHost
There are four levels of hosting offered by MochaHost. They are Shared Server, Virtual Private Server (VPS), Cloud Based Dedicated Server, and Reseller. We will take a quick glance at all of these offerings in turn below.
The Shared Server Hosting has too many features to list here, but some of the highlights include:
WebsitePanel (for Windows) and cPanel (for Linux) user control panels
Automatic server backups
A dedicated IP address
Support for unlimited POP3 and IMAP webmail and email accounts.
Unlimited MS SQL and MySQL databases
Up to unlimited drive space (depending on the plan)
Free lifetime domain name
Full support for Internet Information Services web server, Perl, Python, Ruby on Rails, WordPress, e-commerce (including Zen Cart, CubeCart, Agora Cart, osCommerce, etc.), multimedia streaming, ASP.NET, server-side includes, secure shell access, and PHP 5.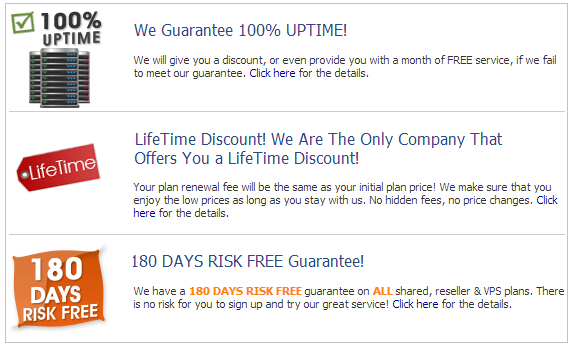 Free 128 bit shared secure sockets layer (SSL) certificate
Softaculous one click installer for script and application additions
Free template based website builder with over 500 templates
Free mobile site
24 hours per day, seven days a week phone, chat, and email customer support
100 percent uptime guarantee
Unlimited bandwidth and data transfers
Unlimited subdomains and domains

MochaHost also offers VPS Hosting plans for those who want to be able to control their web servers more extensively. Building upon the basic Shared options, VPS adds guaranteed resources, dedicated CPUs, and many other enhancements. Based on your preference you can have your own virtual Windows or Linux server.
The VPS server has unlimited bandwidth and email accounts with POP3 and webmail. You can get up to 230 GB of storage space and 3.5 GB of dedicated RAM. The dedicated multi-core CPU runs at up to 4.2 GHz. In addition, you will have full root access to your server so you can customize and install applications.
A basic VPS panel is included with all plans, and hundreds of additional scripts and applications are available. The VPS hosting offers up to four dedicate IP addresses and file transfer protocol access to your server.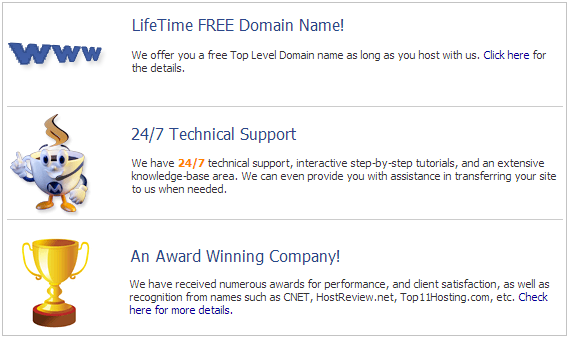 For those who need enhanced security and absolute control of their servers, MochaHost offers Cloud Based Dedicated Hosting. The plans for this are high customizable. Whether you prefer Windows or Linux, there are seemingly endless features. There is unlimited month traffic. You can get up to 500 GB of storage space, eight dedicated IP addresses, four cores at speeds up to 2.26 GHz, and 16 GB of RAM. All three of these can be increased for additional charges.
With the Dedicated Hosting plans, users have total root access to their server. Initial setup is totally free, and the MochaHost online backup tool is included.
MochaHost's Reseller Hosting is a great option of anyone interested in breaking into the web hosting industry. These plans provide a centralized interface for managing a web hosting business. MochaHost shares its experience and provides any necessary assistance your new business may need. With these plans come extra dedicated IP addresses, free SSL certificates, billing software, a special reseller account, and plenty of RAM.
MochaHost Plans and Prices
For Shared Hosting there are three different plans: Soho, Business, and Mocha. They range in price from the dirt cheap $1.95 per month Soho to the still reasonable $7.25 per month Mocha. All three plans have long lists of features. The main differences are you get more websites, more databases, dedicated IP addresses, and other features as you move up the plans in pricing.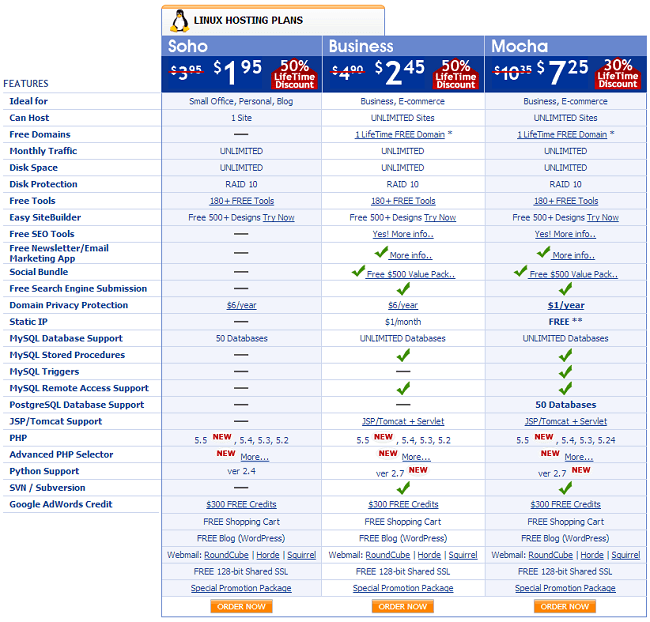 There are six VPS Hosting plans ranging in price from $11.17 per month for the Ristretto4 plan to $41.97 for the Perfetto5 plan. As you might expect, the plans increase in price to account for more storage space, most monthly traffic allowances, increased RAM, more burstable memory, free IP addresses, and many other features.
The Cloud Based Dedicated Hosting plans range in price from $48 per month to $195 per month. The least expensive Altura plan has one dedicated CPU core, 1 GB RAM, up to 500 GB disk space, 100 GB RAID 10 protected storage, and four free dedicated IP addresses among other features. For the top of the line Moshi plan, there are four CPU cores, 6 GB RAM, up to 2 X 500 GB disk space, 2 X 250 RAID 10, and eight free dedicated IP addresses.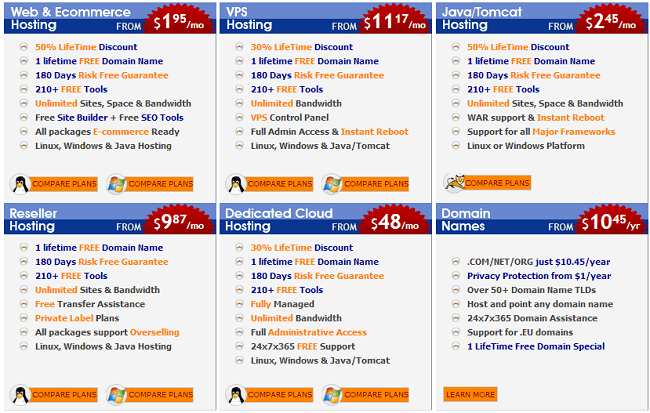 There are nine Reseller Hosting plans ranging in price from $9.87 per month to $294.95 per month. Plans are based on differences in the above aspects as well as the types of servers. There are shared, VPS, and dedicated servers available for resale.
The Downsides of Using MochaHost
This may seem paradoxical, but for us, the biggest downside to MochaHost was the myriad of options. For someone new to the web hosting industry looking for the best options for his business, the many add-ons, assorted services, and options can be a bit overwhelming.
To find other downsides, we took to the web hosting discussion forums. We found that most of the feedback was positive. Most of the complaints revolved around confusion about how certain features worked.
MochaHost Customer Support

One of the best features MochaHost has to offer is the accessibility to their knowledgeable customer support staff. They are always available. You can call them toll-free, enter a help desk ticket, or chat with them live. We tested out the live chat and their phone service. We did both at odd hours of the night, and each time we were greeted warmly and received the answer we needed along with documentation. Oh yeah, MochaHost also has extensive tutorials and a knowledgebase for those of you who like to find answers without having to contact anyone.
Conclusion
For a very affordable and solid selection of features and plans for web hosting, MochaHost is the way to go. With their many options, it is easy to find a plan that most easily fits your needs. Plus, they make it simple to switch between plans if needed. MochaHost also makes it enticing to just take their services for a test drive. They have a unique prorated 180 day money back guarantee or a 30 day non prorated money back guarantee for all of their plans.