Wealthy Affiliate Review
Affiliate marketing has always fascinated us. That is why we decided to jump on the Wealthy Affiliate bandwagon a little over a year ago to see what it was all about. The site has evolved a lot over the past year. This review will cover the strengths and weaknesses of Wealthy Affiliate in its current state. But, since it is a constantly evolving site, for the most current information, you are probably best off if you check the site out yourself with a free starter membership.
About Wealthy Affiliate
Wealthy Affiliate was first introduced in 2005. Two young internet entrepreneurs from Victoria, British Columbia, name Carson and Kyle, were looking for a way to help businesses, fellow aspiring internet entrepreneurs, and other individuals connect. The world of affiliate marketing can be pretty alienating with individuals competing against each other to catch the eyes of the same customers. Wealthy Affiliate brings these marketing pros together and provides training resources.

But, Wealthy Affiliate has more to offer than just solutions for affiliate marketing. They also provide a hub for social networking within the internet marketing world and training for online business success and internet marketing. They help those who are just starting out get their business off the ground, make a living doing it, and build up their website and get it in search results.
Wealthy Affiliate's online community has over 10,000 members, who, in our experience, are more than willing to help out fellow community members. Wealthy Affiliate is ideal for those looking for interactive educational and training platforms to help with starting an online business and to get internet marketing plans rolling.
Top Features of Wealthy Affiliate

Wealthy Affiliate's features are broken down into four categories: training, support and coaching, tools, and services. We will give an overview of each of these areas below, but there simply is not enough space here to cover everything.
With Wealthy Affiliate's training resources, you can scale your business or learn how to build a whole new online business. Any training program must have interactive and current information to stay ahead of the curve on the internet. Wealthy Affiliate offers training using video and text based training, live chat, classrooms, a forum with over 500,000 helpful and relevant posts, certification courses, and live video classes.
The comprehensive Online Entrepreneur Certification program is a must for anyone hoping to succeed in business in the Information Age. You are enrolled automatically when you sign up. There are six stages to the process with about ten lessons in each stage. Once you complete the training, you will have a good base of knowledge to be quite successful on the internet for years to come.
Wealthy Affiliate's support and coaching is at your fingertips when you need it. The community is full of people with similar goals but with many different levels of expertise and experience. When we need help with something, we really do not like to wait. With the community, you can get answers immediately.
Wealthy Affiliate boasts thousands of discussions on its forums that are active every day. You can grow your business in new ways and advance your knowledge with these discussions by asking questions, taking an active role and answering questions, or just lurking. There is also personal coaching available by experts in a broad range of subject areas.
Wealthy Affiliate offers tools to make work easy for you. Although they are strong proponents of hard work, rather than doing things the hard way, Wealth Affiliate offers a massive set of time saving and efficiency tools. They have a proprietary keyword system with hundreds of millions of keywords. This is a crucial tool for improving a site's search ranking.
We found the competition data metric tool incredibly useful. It helps you determine your exact number of competitors on the top search engines. From this, you can develop plans for beating them out in the rankings. Another helpful tool is their website builder that can produce a fully functioning WordPress website in under a minute.
Web hosting and websites are important components to having a successful online business. Wealthy Affiliate offers services to help with these aspects even if you are technology challenged. They utilize the cloud for their web hosting with an eye for minimizing server load to help sites get better rankings, improve user experience, and enhance performance.
As an all-inclusive online business platform, Wealthy Affiliate also has a website monitoring service that protects your site from dangerous activity that could cause downtime. They security team is working 24 hours a day, 7 days per week, every day of the year. Their goal is to seek and destroy viruses and seal up any vulnerabilities on sites they host.

Wealthy Affiliate Plans and Prices
There are two plans offered by Wealthy Affiliate. The Starter membership package is free. It includes use of rapid writer, live support from experts in the community and the owner for the first seven days, free hosting, and two free websites. In addition, you can go through Phase 1 of the boot camp training, which covers how to build an authoritative website.  Finally, you also get 30 keyword searches per month, access to three classrooms, and access to more than 500 training modules.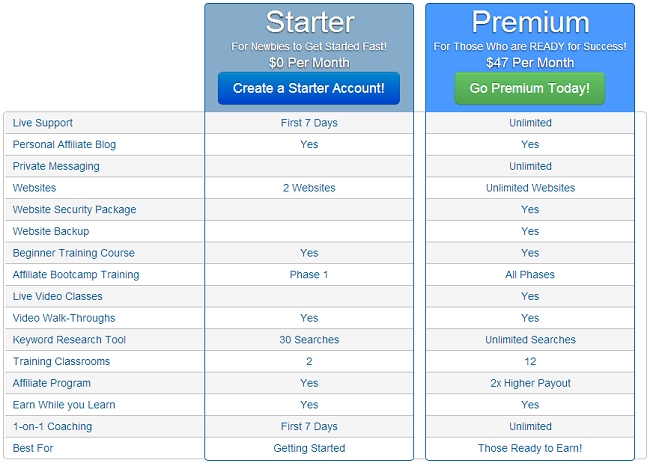 The Premium membership package is a little bit pricey at $47 per month, but that price is knocked down to less than $30 per month if you pay for an entire year. And, in our opinion, it is worth it. Here are the features you get:
Complete boot camp training on how to build an authoritative website
Personal one on one support
Access to all of the classrooms (there are currently more than a dozen)
Unlimited hosting
Access to all of the certification courses
Live video every week
Access to the Wealthy Affiliate forums
Access to all of the video tutorials (there are thousands of them)
Unlimited live support from community experts and the owners
Unlimited websites
Weekly live training webinars
The Downsides of Using Wealthy Affiliate
We have not found any major downsides to using Wealthy Affiliate's Premium package aside from it being a bit addicting. You can get lost for hours at a time learning internet marketing tips, engaging in discussion on the forums, or live chatting. It can be quite overwhelming when you first get started. We recommend just digging in.
We wanted to be thorough in presenting the downsides, so we did a search of discussion boards and found that the only complaint was that some hotheads have had their account restricted due to inappropriate behavior on the Wealthy Affiliate forums.
Wealthy Affiliate Customer Support
Support is where Wealthy Affiliate thrives. They basically only exist to provide customer support. So, it comes as no surprise that they have staff available at all times, night or day and even on holidays. With their live chat, we are able to get answers quickly. We prefer to work in the middle of the night when most people are sleeping, so it is comforting to still get answers from someone who is knowledgeable and friendly at any hour. Best of all, you can even get answers directly from the owners, Carson and Kyle, sometimes.

Conclusion
We strongly recommend anyone who runs a business or does any sort of marketing at least give the Starter package a try to see what Wealthy Affiliate has to offer. If it is at anyway helpful, then definitely purchase a Premium membership. There are just a lot more tools at your disposal with the Premium package, and we have found it pays for itself. Try it for yourself today.