Salesforce.com Review
A customer relationship management (CRM) platform is a must have for any business. It can help handle the sales, marketing, and service load without the need of a massive staff. And, if you do have a massive staff, it can help coordinate your team. There is a wide variety of different companies popping up to fill the CRM needs, but Salesforce.com continues to be the best option around.
About Salesforce.com
Salesforce.com was launched in 1999 in a small apartment in San Francisco. The objective was to create a web based application to help companies connect with partners, employees, and customers in new ways. They initially began with just CRM and sales applications. Since then, they have only expanded. As pioneers in cloud technology, Salesforce.com is now a leader in enterprise could computer.
Salesforce.com attributes a lot of its success to being ahead of the curve in using the cloud. It is why they can offer services with low risk, fast results, and low cost. There are currently over 100,000 successful customers.Salesforce.com has won a laundry list of awards including Forbes Innovators World's Most Innovative Company, Fortune 100 Best Companies to Work for, and CRM Market Awards Best Enterprise Suite among others.
Top Features of Salesforce.com
The scope of Salesforce.com's features is too vast to cover in its entirety in this review. They seem to launch something new every month or so. Consequently, we will just cover the highlights. Salesforce.com has complete solutions to help grow any company no matter the size. From startups to FORTUNE 500 companies, businesses can produce a positive impact utilizing the many different software-free and hardware-free applications.
Salesforce.com's features fall into six broad categories:
Sales Cloud – This is the world's number one CRM and sales application. It allows sales reps to connect with customers on any device and close bigger deals faster.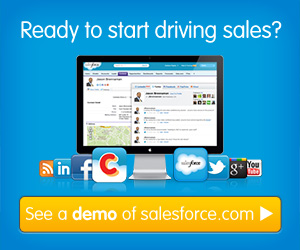 Service Cloud – Considered the number one customer service application, Service Cloud transforms customer support and service. It increases productivity and customer satisfaction while lowering costs.
ExactTarget Marketing Cloud – This leading application for social marketing engage customers everywhere. You can gain insight, respond, and listen to customers in real time.
Salesforce Platform – This cloud platform allows you to run and build innovative websites and applications.
Salesforce Chatter – This is enterprise social networking that allows you to service, market, and sell in new ways.
Salesforce Work.com – This tool helps with sales performance management building a results driven culture with open recognition, social goals, easy coaching, and real time feedback.

The Sales Cloud has mobile capabilities that keep sales reps connected while they are in the field. This feature helps reps close deals more quickly and boosts productivity. It also keeps the team coordinated and provides metrics based goals using the Sales Performance Accelerator. Finally, the contact management tools keep customer profiles up to date throughout the company.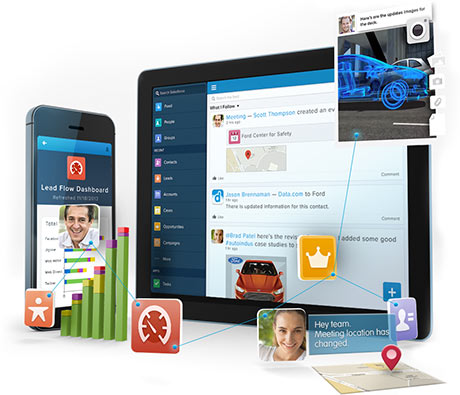 The Service Cloud provides one unified console that your whole team can use. This console provides a quick way for customers to connect with agents and to have all the necessary information at their fingertips. With this feature, businesses can also create online communities that allow customers to also help each other.
The ExactTarget Marketing Cloud was the most useful aspect for us. It is one stop shopping for social, email, website, and mobile marketing. It was originally a standalone company until Salesforce.com purchased it. ExactTarget brings campaign management and marketing automation capabilities to Salesforce.com's already strong social media solution. There are listening tools that help gather insights on Twitter and Facebook and other social media platforms. And, it also helps you produce very engaging content.
The Salesforce Platform makes every application available on a mobile device. It also makes it easier for you to build mobile apps for your business. Without needing to know code or having the infrastructure, you can design and run any business process by utilizing the cloud. Out of date spreadsheets, confusing platforms like Microsoft Access and Lotus Notes, and endless email approvals are no longer needed.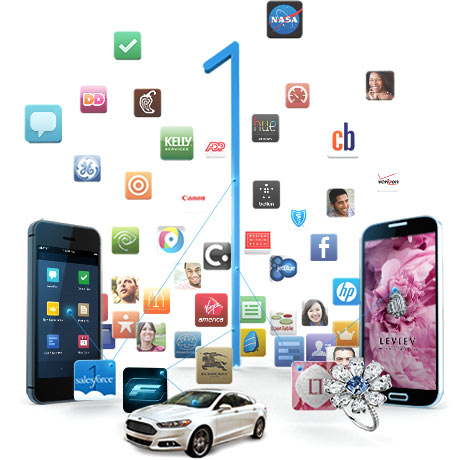 Salesforce Chatter is an innovative way to connect throughout an organization. Chatter allows managers and remote employees to monitor the latest developments within an office. From anywhere, you can update opportunities, assign the most relevant people to follow up, act on critical account updates, and close cases. This feature also utilizes the cloud to share important files. We liked that you could find subject matter experts within a company fairly quickly with the social sharing.
Salesforce Work.com is a helpful resource for any team leader. Using goals reported directly into Salesforce, leaders can coach their team members to reach quotas and maximize productivity. Top performers can be commended publicly through this and also teach fellow team members to win deals. Another cool aspect of this feature is the totally customizable performance summaries.
Salesforce.com Plans and Prices
There are different pricing structures for each of the features above. The Sales Cloud starts at $5 per month for the Contact Manager plan. This plan includes customizable reports, mobile access, event and task tracking, Salesforce Chatter, content library, Gmail and Outlook email integration, and contracts and accounts for up to five users. The most expensive plan, the Performance plan at $300 per month, includes a whole host of features including the Service Cloud and Salesforce Work.com.

Service Cloud plans range in price from $65 to $300 per month. The top Performance plan includes Salesforce Work.com among a long list of other features.

Pricing for the ExactTarget Marketing Cloud depends on your business's needs. There are four plans with an increasing number of social presences, social listening mentions, and insight partners.
Salesforce Platform is $25 per month for one enterprise app, but there is also the option to run everything with multiple apps for a bit more.

Chatter is free with most of the other plans. There is also a Chatter Plus option for $15 per month that really caters to collaboration. Finally, Salesforce Work.com is between $10 and $20 per month. We recommend the $15 Align plan.

The Downsides of Using Salesforce.com
We really had a hard time finding anything to dislike about Salesforce.com's features. It can be a bit overwhelming. Luckily, there are plenty of ways to navigate and understand the various applications. We did a search of discussion forums to find out what others had to say about Salesforce.com, and it was almost universally positive. There is a reason they are number one in the industry.
Salesforce.com Customer Support
Salesforce.com has a friendly and knowledgeable customer service staff always on hand to answer questions. They offer a toll-free number, a web form, and a myriad of documentation, user guides, and tutorials to help customers. We were a little disappointed to see there was not a live chat option. A lot of times, it is easier to show someone what you are seeing with a screen shot. It is hard to do this over the phone. Still, this did not present a roadblock in the customer service representatives' abilities to help us out.

Conclusion
Salesforce.com is at the top of the game because they have years of experience and are constantly developing new ways to better serve their customers. The features, the tools, and the options the give their clients put every other CRM company to shame. Salesforce.com should be the first choice of large and small businesses alike. We are confident that making the move to Salesforce.com will strengthen your relationships with customers, increase your revenue and sales, and make your company more efficient. Check them out today.