Shopify Review
Shopify is a useful tool for launching your ecommerce store whether you want to introduce your physical business to the online world or you are just starting out with a new business. Shopify has simple guides to help you through the process of being able to accept payments online and creating your website. Your physical business will also benefit from the iPad POS capabilities. It is also easy enough for anyone to use.
I have a lot of experience using ecommerce shopping cart platforms to set up stores. I decided to take Shopify for a test drive after reading about it in USA Today. My wife is an artist and wanted to start making her pieces available online. I was enlisted to help her with this, which provided me with a perfect opportunity to see what Shopify has to offer.
All stores must have an online presence these days. Businesses that provide products and services must make that product or service available over the internet because six percent of all retail sales are made online. That number has doubled in just the last four years and will increase exponentially in the next few. You can get a slice of the ecommerce pie while it is still hot by shopping online today.

Shopify Pricing and Plans
By offering affordable plans that fit any business's needs, Shopify seeks to help small businesses expand. There are five different plans that vary in features and prices. Compared to other ecommerce store building platforms, Shopify is priced pretty reasonably for what they have to offer with each of the plans. There is no need to look for a hosting site or for your own URL: Shopify takes care of securing your domain name and covering bandwidth.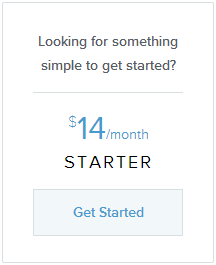 At $14 per month, the Starter plan is Shopify's least expensive plan. If you do not have a bunch of different products and you are just starting out, this is the perfect plan for you. This plan includes secure checkout, hosting, templates, and just about anything else you may need when first starting out. All of the other plans offer the ability to sell unlimited product types. The Starter plan limits products to 25, which should be sufficient for a new company.
The Basic plan is the second least expensive plan. We used this for my wife's store. It includes unlimited products and bandwidth and costs $29 per month. For clothing providers and any company that wants to diversifying, you need to have unlimited products. For example, with clothing, each size and color is considered one product. So, an extra small blue shirt counts as one product. As you can see the number of products can pile up.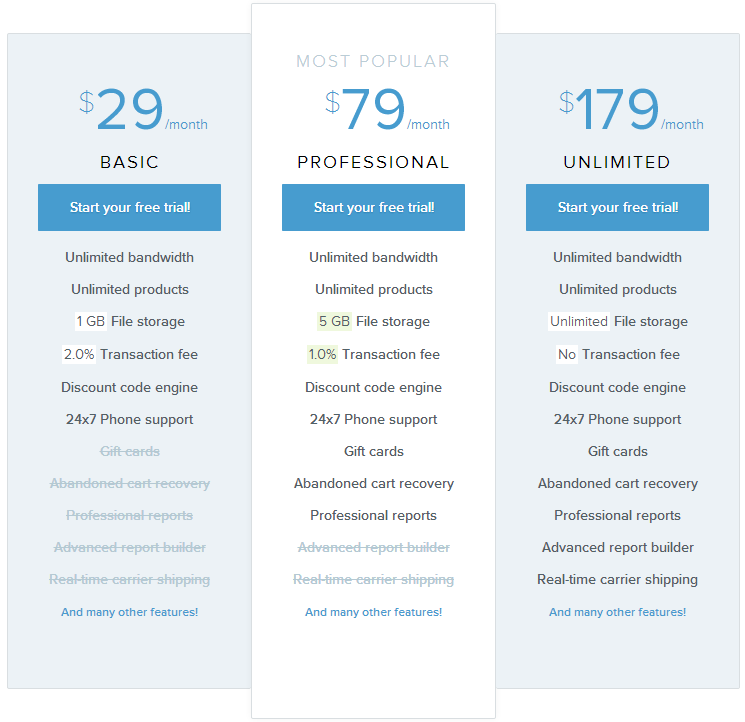 The costs to make credit card transactions decrease as the plans increase in price. For each online credit card transaction, there is a 2.9 percent plus 30 cents fee on the Basic plan. For iPad POS sales, the fee is 2.5 percent plus 30 cents. You get 1 GB of storage with the Basic plan. This increases with the more expensive plans.
Building upon the Basic plan, the Professional plan has more quality features. At $79 per month, this plan provides abandoned cart recovery, professional sales reports, and 5 GB of file storage. The rates for credit card transactions drop to 2.5 percent plus 30 cents for online sales and 2.3 percent plus 30 cents for POS iPad sales.

Advanced report builder, real time carrier shipping, and unlimited file storage are the added benefits for the Unlimited plan. With a price tag of $179 per month, this plan has credit card rates of 2.25 percent plus 30 cents for online sales and 2.1 percent plus 30 cents for iPad POS.
For companies that have over $1 million in sales each year, the Enterprise plan is the best option. Shopify specializes this plan to the company.
Every plan is month-to-month. You can stop using the services at any time. You can also switch between plans whenever you want. There are no startup fees. You also can try Shopify out for fourteen days before buying it.
Shopify's Top Features
Shopify has a laundry list of different features: too many for me to cover here. So, I am just going to focus on their best aspects. If you want more information than what I have to offer, definitely check out a tour of the Shopify site. The features were are going to cover here are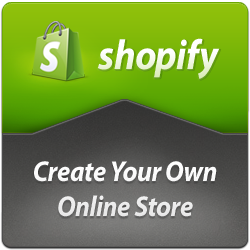 Advanced report builder
Abandoned cart recovery
Site traffic reports
Customizable sales pages
Professional reports
Blogs
Reports are totally customizable when using the advanced report builder tool. There is a variety of data you can use to create reports that will help nurture your business. This feature is mainly just available on the higher end plans though.
33 percent of all items put in an online shopping cart are abandoned. With Shopify's abandoned cart recovery feature, you can see if customers who have seemingly abandoned their carts are interested in making that purchase.
Not only can Shopify tell you what products people are looking at, they can also let you know how much traffic is coming to your online store. They use simple to understand charts to show you where your traffic is coming from.
After a sale is complete, you have the ability to customize what your shoppers see. This is an invaluable marketing tool. You can show the customer some other products they may want to purchase or encourage them to visit your social media sites. For any online store, this feature is key.
Have your sales broken down by category and across time with Shopify's professional sales reports. You can see what types of payments customers are using and what products are selling.
Finally, all stores come with a blog. In order to engage customers, attract new ones, and improve SEO, blogging is crucial.
Downsides to Shopify
We have not experienced any downsides to Shopify so far. Everything has gone smoothly since we signed up. A thorough search of the ecommerce discussion board turned up a whole lot of satisfied customers. There were a few complaints from people overwhelmed by the long lists of features, but that is more like a pro than a con to me.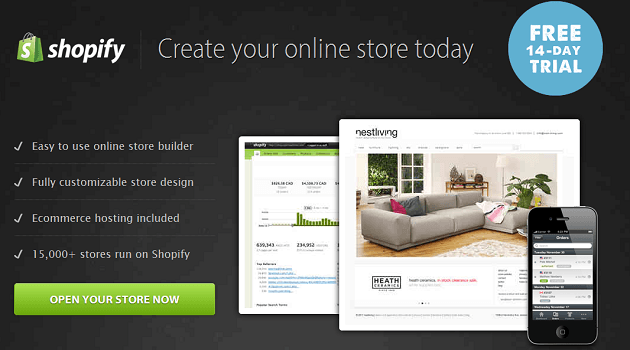 Shopify Customer Support
Shopify customer service representatives are available to help you via live chat, email, support tickets, and toll-free phone calls 24 hours per day, seven days a week. We put this to the test and found that even at the ungodly hour of 3am, their tech support was bright eyed and bushy tailed and ready to answer our questions.
Conclusion
It is clear why Shopify is one of the leaders in the industry. Using Shopify, online merchants have sold more than $2 billion worth of products. After using their site building tools, it is no wonder they are so popular. As the tech guru of the house, my wife made me set up her online store. But, she could have easily done so herself with how simple Shopify makes it. And, if one happens to have trouble, teach support is there and ready.
Anyone who has something to sell online should do so using Shopify. If you have a store that does not use Shopify, I suggest checking out their prices to see how they compare to what you are paying. You may find that switching is a good idea. Next time I decide to build an ecommerce site, I am definitely going to look to Shopify first.