Volusion Review
eCommerce shopping cart platforms seem to be flooding the market lately. Each has its distinct sets of features and pricing schemes. For most people, it is just impossible for them to try out all the different options. We try to review as many of these as possible, so you can make an informed decision on which is best for your business's purposes. In this entry, we take a close look at Volusion.
About Volusion
Volusion is an ecommerce shopping cart that is fully cloud based. Operating since 1999, all the functions needed to run an online store are handled by this Austin, Texas based company. Their platform handles customer management, payment processing, inventory management, adding products, building your website, sending newsletters, managing orders, checkout, web hosting, and more. There are also add-on features that enhance cart functionality.
In the market today, Volusion is one of the largest ecommerce platforms. What started as a side project for founder Kevin Sproles has grown into a company with over 450 employees and supporting more than 40,000 stores with in excess of $12 billion in sales. Volusion's clientele includes National Geographic, Intel, the Chicago Tribune, and 3M.
Top Features of Volusion
Next, we will explore some of the features offered by Volusion beginning with the user experience. All plans use the Volusion admin interface. This is incredibly simple to navigate with its clean appearance. A tutorial walks you through the process of designing your store and adding products. Each of the input fields in the admin area has a question mark button next to it. When clicked, a bubble opens up and gives you guidance on what to enter for top performance. There is no need to leave the page.
The features available to a new user can be a little bit overwhelming. We will breakdown some of the most important ones here. When it comes to managing your store, you have the ability to manually create order using the built-in POS. This is useful for allowing customers to order over the phone or in person as well as helpful in managing inventory. You can see customer order history, communicate with customers, schedule follow ups, and manage customer support tickets using the customer relationship management (CRM) system.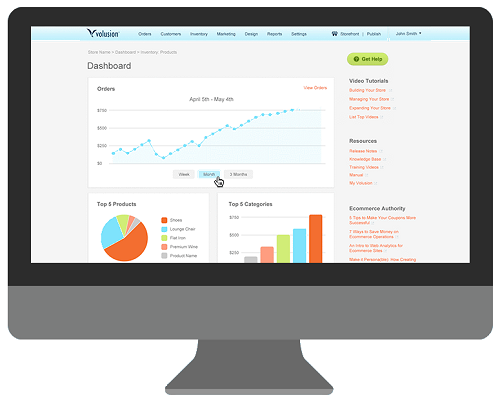 If you provide the type of service that has subscriptions or memberships, Volusion has an automatic recurring payment feature. There are many different forms of reporting. Our favorites were category view reports, RMA reports, built in web analytics using SmarterStats, CRM ticket reports, product view reports, and, of course, order reports.
On the merchandising front, there are 120 free store templates. If none of these appeals to you, then you have the ability to create your own custom store. The checkout is integrated into one page. One of the aspects we really liked was the unlimited product options. This is a must for any company that sells clothing with many different colors and sizes. Volusion's SmartMatch technology makes it so only products in stock show up on your store.
Volusion takes security seriously. There are automatic daily backups. All network systems, data, and hardware is completely redundant, so if anything is lost, there is another copy. Data is backed up on an hourly basis. Different users on your team can have different permissions. And, they are PCI certified.

Social sharing buttons are available for all of your product pages. So, with just a click, shoppers can share your products on Facebook, Pinterest, Twitter, etc. SocialStore also allows you to sell your products on Facebook. With most users doing their shopping on their smartphones or tablets these days, it is imperative for your store to be optimized for mobile devices. Volusion does this for you automatically.
We decided to save the best for last: Volusion's SEO and marketing solutions. Their built in SEO features create manual 301 redirects, canonical links, search engine friendly URLs, an XML sitemap within the admin section, edit Robots.txt, auto-generate 301 redirects, and customize all meta data. Each of these can help your store show up sooner in search rankings.
Built in to each store are feedback functionality, customer review options, daily deals features, wish list abilities, and eBay integration. You also have the capability to offer reward points to loyal customers that they can use to get discounts on future purchases. And, kind of building on that, there are also ways to offer other discounts and coupons to entice customers.
Volusion Plans and Prices
Volusion has five different pricing options. Each of their plans includes a fourteen day trial period during which you have fully functional access. They also do not charge cancellation or setup fees. The five plans are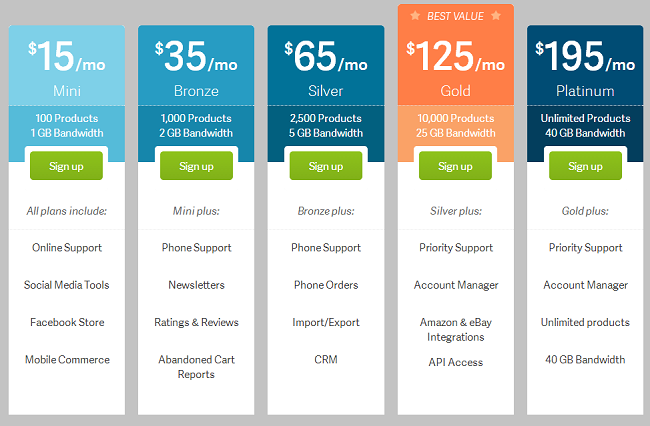 Mini – This includes the Facebook store, free templates, no transaction fees, 100 products, social media applications, mobile store optimization, seven day a week, 24 hours per day online support, free setup, and 1 GB data transfer. It costs $15 per month.
Bronze – This includes all of the features available with the Mini plan plus customer reviews and ratings, 24 hours a day, seven days per week phone support, 2 GB data transfer, newsletters, abandoned cart reporting, and 1,000 products. This plan runs for $35 per month.
Silver – In addition to the Bronze plan features, Silver has import and export capabilities, 5 GB data transfer, CRM, phone orders, and 2,500 products. The cost is $65 per month.
Gold – This builds upon Silver and adds eBay integration, deal of the day features, 25 GB data transfer, rewards point system for loyal customers, and 10K products. This package is $125 per month.
Platinum – The Platinum plan has all the Gold features and 40 GB data transfer and unlimited products. It costs $195 per month.
The Downsides of Using Volusion
In our experience, the worst part about the online store plans (we went with the Gold plan for this review) was the bland templates. Of course, you do have the option to create your own custom store, but sometimes it is nice to be lazy.

Combing the ecommerce discussion forums, we found a few negative comments. The most common complaint was about server downtime. Most of the complaints were from a couple years ago, and since then, Volusion has introduced a 99.9% uptime guarantee. That means your site will be down at most 45 minutes in a month or you get money back.
Volusion Customer Support
For all plans except Mini, there is around the clock customer support via chat, emails, and tell-free phone numbers. Mini only has all day and night online support. The Platinum and Gold plans take priority. In addition to live support, there are engaging Volusion social media profiles on Twitter and Facebook, an extensive video tutorial section and YouTube channel, a massive knowledge base, a Dev Wiki for web developers, a discussion forum, and regular webinars.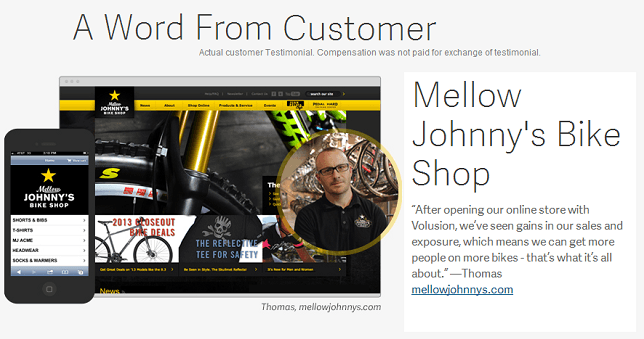 When we tried out the live chat and phone support at odd hours of the weekend, we received cheerful responses and informative answers. The customer service representative always had a list of resources for us to check out.
Conclusion
Everything about Volusion screams professionalism. Volusion has been around since 1999, a lifetime in internet years. There is only one reason a company is able to stick around for that long: it produces a quality product. This is true of Volusion. They are constantly expanding their features to stay ahead of the curve, their online stores work like they are supposed to, and they provide ways for their clients to boost their sales. We strongly recommend Volusion for your ecommerce needs.