BeeOptions Review
BeeOptions was established in 2008 back when the majority of investors were unfamiliar with binary options trading. This made BeeOptions start rather difficult. For this reason, they were not officially introduced to the public until 2009. All of the activities are completely legal since they are regulated by both The British Virgin Islands and Cyprus.
Before we go too in depth about what BeeOptions has to offer, let us first look at binary options in general. Binary options are European-style options that only recently became available on the American Stock Exchange. With this type of option, you are either paid a fixed amount or nothing at all, hence the name "binary."
Binary options are available on just about any financial product. The amount the binary option will pay off is known before the purchase is made. You can buy a binary option based on what the financial product will do. There is a call or up option in which you predict the product will finish above a certain amount. Conversely, there is a put or down option that a product will be below a certain amount at a specified time.
BeeOptions provides a simple and reliable on-line platform for buying binary options from the comfort of one's home.

About BeeOptions.com
One of BeeOptions' primary goals is to make the world of finance and trading ease-to-use and simple for its clients. To help you make the best decisions on your binary option trades, they offer important financial information in plain terms. This is done to help you make maximal profits. They offer a wide variety of tools to help their customers earn more.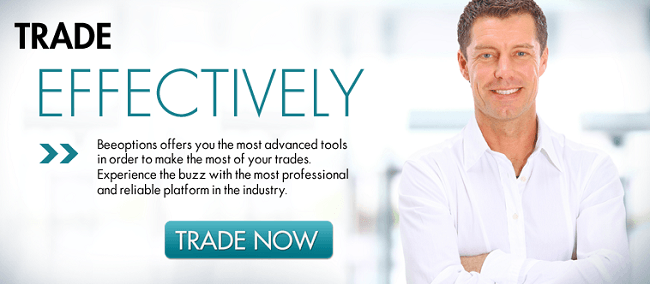 Since their beginnings, BeeOptions has only continued to grow. In fact, BeeOptions is one of the largest in the competitive market in terms of investors using it for trading. To satisfy traders, BeeOptions uses a use-friendly platform with flexible and simple features.
Their staff is made up of workers from a variety of different backgrounds within the financial sector. Their team includes consultants who specialize in stocks, commodities, Forex, derivatives, and financial options. This makes it so they can offer the most precise information and broadest intelligence scope possible.
BeeOptions five main focuses are providing the following to its customers:
Convenience – Without having to pay a registration fee or downloading anything, they allow users to engage in binary options trading wherever they have a computer and an internet connection
High returns – Successful options earn up to 85%.
Flexibility – There are over 130 assets to trade on and five trading tools. This allows broad customization of trading strategies.
Minimal time – BeeOptions offers a tool that allows you to turn a profit in as little as one minute.
Simplicity – All users have to do is choose if an asset will go up or down.

Top Features of BeeOptions
BeeOptions offers four different account types based on how much you deposit initially. This review is going to examine the features offered on the top end account, which is offered to serious traders. This option, the Executive Account, comes with a whole host of bonuses. With a minimum $25,000 deposit, one gets unlimited consultation from BeeOptions' top analysts.
All of the accounts come with a bonus upon making your first deposit. For the Executive Account, that bonus is up to 200% of the first deposit. Also with this plan, you get two percent cash back rewards at the end of each month.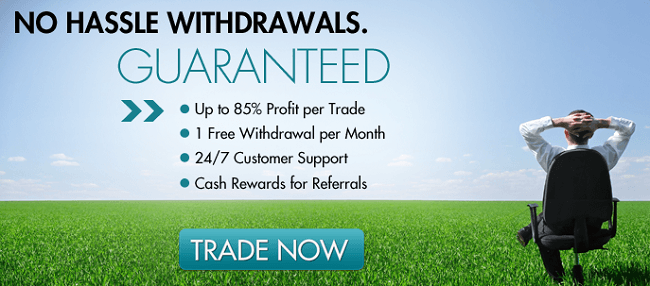 Each account comes with some level of access to trading tutorials with the most expensive account type getting unlimited access. These tutorials are simple and highly informative. There is information in these that will even help experts.
One of the most valuable features is unlimited consultation with and account management by BeeOptions' Senior Trading Consultants. These guys know their stuff. I was impressed by their ability to break down complex concepts for me in terms I could understand. There were also invitations to exclusive webinars. I attended one, and it was well worth my time.
As if the above was not enough, the two more expensive accounts come with free iPads. This is a very useful tool for doing binary option trading while on the go. In addition, you get two free months of third party Auto Trader and unlimited free withdrawals. BeeOptions makes it really attractive to open an account.
BeeOptions Prices and Trading Options/Payouts
One can start trading with BeeOptions for as little as a $150 deposit. But, if you want to start getting the benefits of their different account types, you need to deposit $1000 (for the Gold Account). The minimum trades run around $25, which is very reasonable for the potential payouts. If you can afford it, definitely go with one of the trading account types.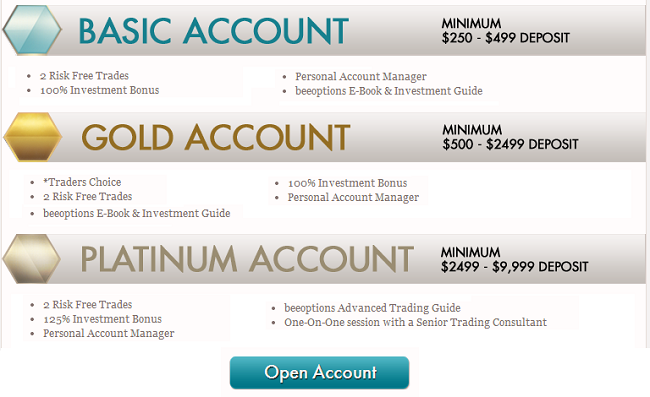 There are over 130 different tradable assets. These include
Commodities – Gold, coffee, silver, platinum, corn, and more.
Currencies – EUR/GBP, USD/CAD, EUR/JPY, USD/RUB, USD/JPY, and GBP/CAD among others.
Indices – CAC 40, Dow Jones, FTSE, Nikkei, NASDAQ, etc.
Stocks – Microsoft, IBM, Amazon, Exxon Mobil, General Motors, Goldman Sachs, and all the other big names.

The variety of ways to trade is pretty diverse. There are simple high/low trades, long term, One Touch, pairs, and sixty seconds. And, whereas a lot of binary options trading platforms do not let any changes to the trade happen before expiry, BeeOptions has options. You can roll over trades past the point of expiry in some circumstances. If you feel confident in your asset, you may have the option to double up before expiry. And, finally, there are times when you can sell before the expiration time.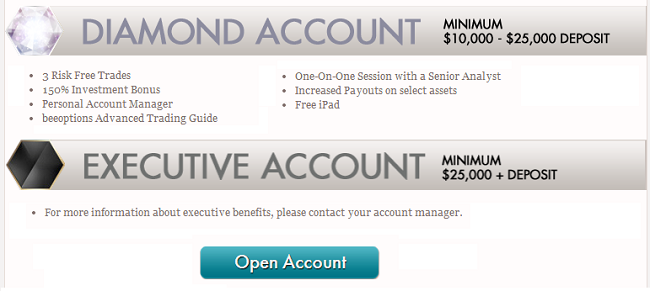 On average the payout of binary options brokers is around 75 percent. For BeeOptions, that number jumps to 81 percent. And, with their One Touch trading option, you have the opportunity to achieve a 400 percent return rate. These are some of the highest payout rates in the industry.
The Downsides of Using BeeOptions.com
The number one downside to BeeOptions.com is fairly arbitrary. It is kind of hard to take a financial company with a pun in its name seriously. This made me hesitant to try it at first. I take my finances seriously. Are they? The answer is a resounding "yes!" The one nice thing is you do not have to tell your friends you are using a binary options broker with such a cheesy name. But, you can laugh all the way to the bank.
I did a thorough search of the review websites, chat rooms, and discussion forums to see what the buzz (pun intended) was surrounding BeeOptions. The only complaint I could find was about their old trading platform. They have changed platforms since then, and it is much more user friendly now. The review ratings out there all seem to be ten out of ten or five out of five. They are the real deal.
BeeOptions.com Customer Support
BeeOptions offers just about every option under the sun for contacting them. There are toll free numbers for a variety of different countries. There is email as well as an online contact form. There is Skype. They have a live chat option on their website. They even provide users with a physical address for sending snail mail.
BeeOptions has its own customer service staff that is seemingly always available. The staff is made up of experience traders. They were able to help me with any glitches I came across as soon as possible. In one instance, they were already working on the glitch when I called them. This makes it sound like they have a lot of glitches, but really, that is not the case. I only found a couple, and that is only because I was looking for them.
To test out their customer service, I tried out the live chat at what I felt would be an unreasonable hour for their staff: 3am Greenwich Mean. To my surprise, I was greeted quickly by a customer service representative, who was able to answer my question thoroughly and even direct me to supporting documentation.
Conclusion
The interface for BeeOptions is easy to learn and very intuitive. They are one of the most reliable brokers in the binary options trading industry. In an industry that is relatively young, BeeOptions is one of the forefathers. Their years of experience come through in how simple they make it for new users to learn about binary option trading. They also have reduced the time between being a novice at trading to being able to make some serious money.
With the many different assets available for trade and the various tools for doing it, BeeOptions is ahead of their competition. They also seem to beat out other online platforms with their return rates as well. Everything that BeeOptions has to offer is an ideal mixture of advanced trading tools, strong trading advice catered to the user, and a professional trading environment. This can all be chalked up to it being a pioneer in the binary trading options industry.