Hotwire Review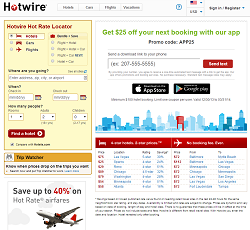 These days you can be your own travel agent with online travel sites. With just a few mouse clicks, you can make reservations and plan your vacations or trips quickly. You can get your confirmation numbers and pay all over the internet. It only takes a few simple minutes to make plans that used to take hours over the course of days.
The ability to do research is another great factor in making your travel plans online. You can find the best available prices and have all the searching done for you with an online travel site that weeds through hundreds of hotel locations and airfares and more. The good ones serve as one stop shopping for all of your travel needs, including travel guides, weather updates, tips, and flight status.
I have been using online travel sites for over a decade now. I like to try all sorts of different ones to see which have the best deals. Consequently, I have gained a lot of experience in what to look for in an online travel site. In this entry, I will look at Hotwire to see if it is one of the better online travel sites or not worth your time.

About Hotwire
By selling off unsold travel inventory at discounted prices, Hotwire, a discount travel website, is able to offer low prices on rental cars, airfare, vacation packages, and hotel rooms. An operating company of Expedia, Inc., Hotwire is headquartered in San Francisco, CA. ClassicVacations.com, Egencia, and Hotels.com are also operated by Expedia.
Five major airlines, America West, Northwest, United, Continental, and American, Gregg Brockway, Karl Peterson, Spencer Rascoff, and Eric Grosse launched Hotwire in 2000. With an initial investment of $75 million, they were funded by a private equity group called Texas Pacific Group. One fun fact is that it was code named Purple Demon prior to its launch. It was sold for $663 million to InterActiveCorp (IAC), which later produced Expedia, in 2003.
Travel companies use Hotwire to fill airline seats, rental cars, and hotel rooms when they go unsold. So as not to compete with regular retail sales of the travel partners, Hotwire does not reveal the participating companies' names until the traveler has paid, a sales model known as "opaque." Hotwire deals exclusively with brand name travel companies. Inventory that would have otherwise gone unsold can be cleared out thanks to Hotwire's strategy.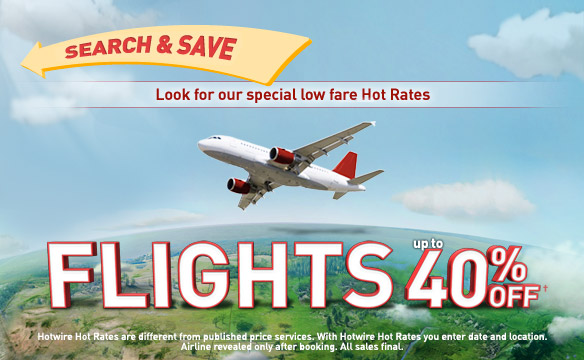 Hotwire does not engage in the increasingly popular practice of selling via auction or bidding. Instead, they identify the travel dates and prices for all products up front. Hotwire is a three time winner of Highest in Customer Satisfaction for Independent Travel Web Sites from J.D. Power and Associates. Hotwire's stated mission is to for partnerships with leading travel companies to get their customers ridiculously low prices on car rentals, airline tickets, vacation packages, and hotel reservations.

Top Features of Hotwire
Hotwire makes it incredibly easy for you to search their site (Hotwire.com). On their home page, you have the option to search for cars, flights, and hotels. You can also bundle these offerings for even more savings. You just type in your sit, and it immediately gives you auto-fill options, so you do not have to worry too much about your spelling abilities.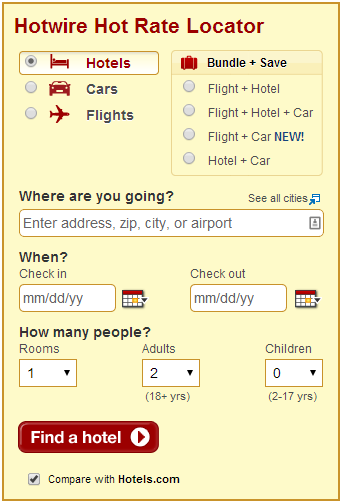 Once you select your preferred criteria, you are instantly taken to a list of prices and are told in which parts of the town hotels are located. You also can see how many stars each of the hotels has or what type of car is available, in case comfort mitigates your need for low prices. From this page, you can select your best option and check out.
One of my favorite features Hotwire offers is its trip planning tools. I will outline the usefulness of five of these tools: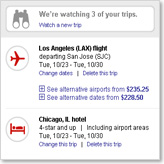 Trip Watcher
If you have a great travel idea but do not want to book it yet, this is an incredible tool.
Hotwire will keep you updated when prices drop and provide bonus days and alternate date saving to improve your trip.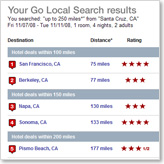 Go Local Search
You do not have to travel far to go on a great trip. With this tool, Hotwire helps you unlock the beauty, excitement, and adventure in your own local area. When you travel within a couple hundred miles of home, you get more time to enjoy your destination.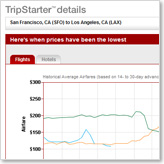 TripStarter
This help you figure out the best time to visit your favorite destinations.
To plan the trip, you will get all the info you need from weather trends to local attractions to prices.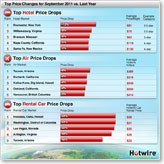 Hotwire Travel Saving Indicator
This is a monthly report with the top five North American cities based on how much air, car rental, and hotel rates have dropped.
This allows you to pick the best travel destinations for saving money.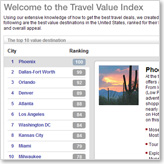 Travel Value Index
Without the high prices, you can get the excitement of a famous destination.
By airfare, car, entertainment, and hotel prices, Hotwire ranked the 50 most popular United States destinations.

Hotwire also provides a long list of travel destination guides. These include city guides for place all over North America. There are also "Escape to Europe" guides for Amsterdam, Barcelona, London, Paris, and Rome. There are also travel idea for various vacation themes, such as ski trips, golf getaways, and group travel. And, there is another long list of cities that you may want to drive to.

Hotwire Prices
Thanks to Hotwire's exclusive relationships with some of the biggest name hotel, airline, and car rental companies, you can get better prices here than anywhere else. Recently, I was able to find a four star hotel in Reno, NV for $29 per night. They regularly offer deep 40 to 50 percent discounts on hotel rooms. Though they offer airfares and car rentals and have great deals on those arrangements, hotels are Hotwire's bread and butter. And, they blow the other online travel sites out of the water.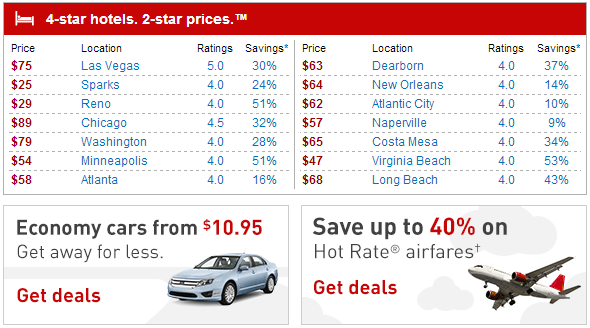 Criticism of Hotwire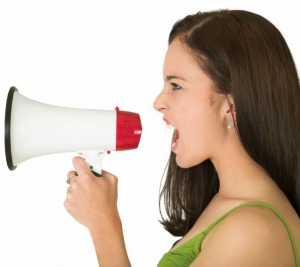 I know it is necessary for their business model, but I really do not like that you cannot tell which hotel, car rental, or airline price you are getting when you search. This makes it difficult if you have ever had a bad experience with a particular company. You can never know if you are making travel plans with a business you dislike until you pay your nonrefundable fee.
To find out what others were saying about Hotwire, I took to the discussion boards and web forums. The issue many had with Hotwire was the same as mine. For flights, you just do not know the times of the flights or the routing information until it is too late to change.
Customer Support


Hotwire offers 24 hour per day, seven day a week customer service via email and toll free phone call. If you prefer to find your own solutions, there is an extensive Frequently Asked Questions section split up by category.
I tested out Hotwire's customer service late on a Saturday night. I gave them a call and was greeted by a cheerful and knowledgeable customer service representative. He was extremely helpful and did not act like he was trying to get me off the phone, which is an issue with a lot of customer service people these days.
Conclusion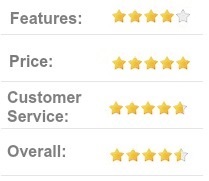 Hotwire is an awesome online travel website if you are not too picky about your travel arrangements. Their prices beat the pants off everyone else.
The only problem is you are not sure what you are getting until after you pay. I strongly recommend Hotwire to travelers who are flexible and want a good price.