Whether you're borrowing money for a car or for a house, most lenders will ask you for your FICO score. This score is based off of your past financial choices and gives lenders an indication of how financially risky a loan might be. More that 90% of major lenders use FICO scores when making lending decisions.
myFico.com is designed to help the average adult figure out and understand his or her FICO scores before applying for a loan. The site makes it easy to view and compare different scores, and offers a wealth of information about how to improve your financial standing.

About myFICO.com
myFico.com is a division of Fair Isaac, the company behind the commonly used FICO credit risk score. It is designed to help the average adult figure out and understand his or her FICO scores. There are three main U.S. credit bureaus that assign FICO scores known as Equifax, Experian and TransUnion.

myFico will give you an estimated range for your FICO scores free of cost, but you have to sign up for one of the recommended plans before you can find out your exact scores. The site offers packages in every price range, from one-time credit reports to monthly FICO score tracking plans.
The Best Features of myFICO.com
There are three main credit bureaus in the United States, and each calculates a different FICO score based on your credit history. Some lenders prefer to use a different FICO score than others, so it can be helpful to have information from all three bureaus on hand.
myFICO.com lets you easily compare credit reports and FICO scores side by side. You are clearly shown whether your different scores would appear favorable or not to a potential lender based on factors such as payment records, debt amount and the length of your credit history.
Most plans even let you view other FICO scores in addition to the widely used FICO Score 8. Some lenders prefer to look at alternative FICO versions, and it is a convenient bonus that myFICO throws these extra scores into their credit report plans.
If your FICO score isn't as high as you had hoped, myFICO.com can help you to analyze your score and figure out what you might be doing wrong. You can see which areas you are doing well in, and more importantly, what you need to work on to raise your FICO score. Factors such as high debt or a lack or credit history can drag you score down and make it difficult to get a loan.
Even if your FICO score is currently perfect, an ill planned purchase can set your score back. Luckily, myFICO offers customers a score simulator for each different bureau's data. If you are considering making any big financial decisions, the myFICO.com score simulator will estimate what kind of impact it will have on all three of your FICO scores.

Criticisms of myFICO.com
Some of the plans that myFICO.com offers are billed at either a monthly or annual rate. If you sign up using a monthly rate, always remember to check your bank statements. myFICO does not give refunds to those who simply forget to cancel their account. At between $20 to $30 dollars a month, a forgotten myFICO plan can make quite a dent in your bank account.
Most of the plans at myFICO offer alternative scores in addition to the popular FICO Score 8. For the credit bureau TransUnion, other FICO score versions are not available, which may inconvenience some myFICO members.
myFICO.com Customer Service
The customer service department at myFICO.com is easy to access and responds to queries within two business days. Representatives can be reached via email through the website, or you can call the department directly at 1-800-319-4433.
myFICO also operates an active Facebook page and Twitter feed. Through social media networking, you can direct questions and comments towards myFICO.com as well as other members of the myFICO community.
Frequently Asked Questions
Q: Do I really need to know scores from all three bureaus?
A: Some lenders will be satisfied with a single FICO score, but others may want to look at reports from all three credit bureaus. If you are shopping around for a loan, it's best to have all three of your FICO scores available.

Q: What is a "good" FICO score?
A: An average FICO score is around the 300-850 range. A higher FICO score is ideal, and indicates to lenders that giving you a loan won't be a great financial risk to them.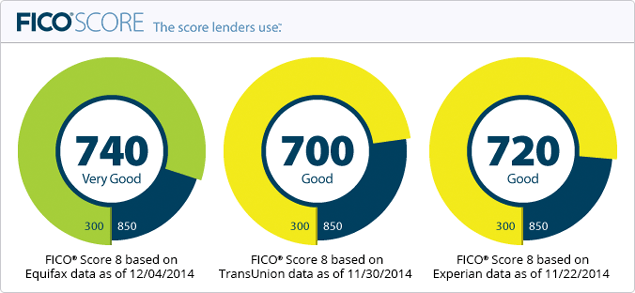 Q: Why are my FICO scores different?
A: The three different credit bureaus all have different information and data on your purchase history, debt and other factors. It is for this reason that they will all provide you with completely different credit reports.
Q: Will I get my money back if I cancel my membership in the middle of the month?
A: No, unfortunately myFICO doesn't offer partial month refunds.
Pros of Using myFICO.com
Simple layout that is easy to navigate
Plans for customers in every price range
A wealth of information and resources
FICO scores from all three major credit bureaus
FICO score analysis
FICO score simulator
Cons of Using myFICO.com
May not provide all the FICO scores that you need
Pricey
Difficult to get a refund
Why Should I use myFICO.com?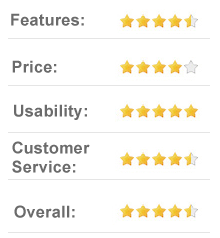 myFICO.com is the official consumer division of FICO and is able to provide you with accurate and up to date credit reports. Almost everybody needs to take out a loan at one point or another, and having a good knowledge of your FICO scores can help you to nab the best interest rate.
Even if you're not looking for a loan right now, it's a good idea to keep an eye on how your credit is doing. myFICO offers multiple resources designed to help members to increase their FICO scores.
By using the myFICO score analyzer, you can figure out what factors are negatively affecting your credit. If you have too much debt or just not enough credit history, myFICO will let you know so that you can spend some extra time working on those issues before applying for a loan.
myFICO.com will also help you to plan for that next big purchase with the score simulator. You can get a ballpark estimate of how much a purchase such as a house or a car might impact your credit, and decide whether or not now is a good time to buy.
It's important for any consumer to be conscious of their financial decisions. myFICO.com will not only provide you with credit reports, but can also help you to improve your credit with pages of resources and expert advice. Whether you are thinking about applying for a loan now or in the future, registering for a plan with myFICO can help you to stay on top of your finances.