About MyFonts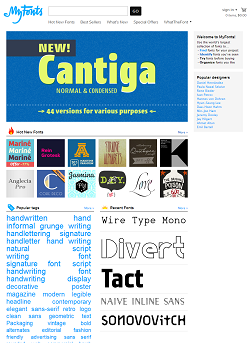 For those who like to be creative or dabble in graphic design, there never seem to be enough fonts available on your standard word processing or design program.
As such, there are a number of companies that have started to offer specialty fonts in an effort to meet the needs of graphic designers. One such company is MyFonts.com.
The company offers over 30,000 fonts from 242 foundries worldwide. Established in 1999, the website has collaborated with some of the primary font groups such as:
Linotype
Typodermic
Font Bureau
Scriptorium
The site also offers and extensive collection of fonts and provides fonts in OpenType, TrueType and PostScript formats. The MyFonts property is owned and operated by Bitstream Inc and was founded with the main purpose of creating a new and easy way of finding, trying and buying fonts. The founders of the company decided to create the service after noticing how difficult it was to find unique and creative fonts in standard software products. MyFonts hosts the largest collection of fonts ever assembled for on-line delivery. The site has both a desktop platform as well as a mobile platform which can be accessible on both tablets and smartphone devices.
Top Features Of MyFonts
This site is easy to navigate, providing icons with pictures of new and popular fonts. There are also keywords to click, which lead users to different sections of the website. MyFonts lets users search for fonts using any keyword that one desires which ultimately will populate the top fonts. For example, you can use a descriptive term such as invitations, a font name such as Baskerville, or a foundry or designer's name and the MyFonts system returns the fonts that most closely match what the users are searching for.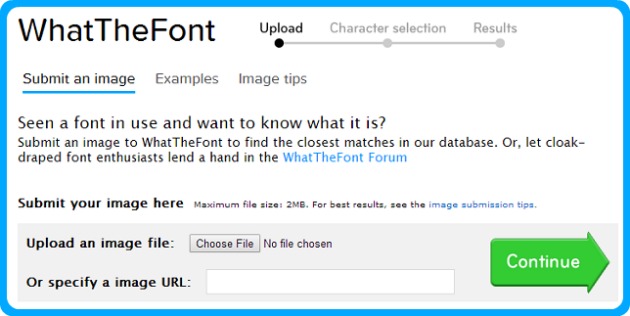 Another key differentiation factor of MyFonts is the WhatTheFont feature. This feature is one of MyFonts's most popular features. The way it works is that it lets users upload scanned images of fonts to the website, where WhatTheFont displays the closest match to the uploaded font sample. This is a perfect feature to help a designer easily find a match without excess hassle.
With tens of thousands of fonts on one easy-to-use Web site and the best search tools in the business, MyFonts can surely help eager font users locate almost any font imaginable. The service is easy to download and navigate and the system offers fonts in all of the popular formats. The fonts can be purchased individually or in CD collections from such font foundries as Elsner+Flake, Linotype, P22 and Storm. There are even collections that are available in many of the non-English fonts, which makes the system perfect for any foreign speaking individual.

The MyFonts interface also includes a "What's New" section that highlights the latest and greatest fonts so that users can see right away what fonts are new to the market. There is also a section that shows what fonts are the most popular and trending among users, which allows individuals to see the types of fonts that are in vogue. There is even a section where users can express their opinions on fonts and also see the fonts in action.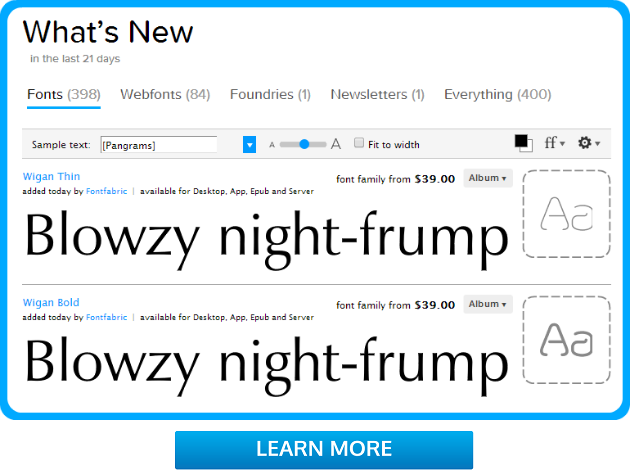 Lastly, a valuable resource of MyFonts is a newsletter that is distributed monthly that is able to showcase the many fonts and services available to users. The newsletter provides examples of which font works best for a particular company, service or product. It also contains interviews and profiles from some of the site's main font designers. The newsletter is also a good way to see which clients have capitalized on the font services offered and how the companies have faired since they started using one of the new fonts.
MyFonts Prices
The MyFonts service offers very competitive prices on all their fonts. In a comparison of the average price of a single font, MyFonts was generally less expensive than one of their leading online competitors. The average price of single font on MyFonts ranges from $5 – $29 while the leading competitor prices range from $9 – $49.

Luckily, MyFonts makes the payment system move along as easy as possible. The company accepts most major credit cards including: MasterCard, Visa, American Express, and Discover Card. MyFonts also accepts payment through PayPal. In addition, MyFonts also accepts gift certificates which an be purchased directly from the site or from other couponing platforms. MyFonts does not offer any alternative payment options like Google Checkout or Amazon Payments, nor do they accept money orders, wire transfers or checks of any kind.
Criticism Of MyFonts
The MyFonts interface is very popular among graphic designers and those looking to expand their creativity by adding additional font types. Nothing is perfect though and as such there are still some criticisms to the entire website. First off, MyFonts is not accredited with the Better Business Bureau and does not have a Better Business Bureau rating, nor does MyFonts have a Better Business Bureau page. MyFonts parent company Bitstream Inc, is also not accredited with the Better Business Bureau; however they do have a BBB rating of "A+". Their BBB file was opened in 2005.
Another criticism of MyFonts is that the service does not offer returns or exchanges on their fonts. As such, customers who purchase fonts should double check they are getting the exact font they want prior to deciding to purchase. If customers have difficulties downloading their MyFonts purchase, they are asked to contact MyFonts customer service but should still not expect a refund of the purchase. To that point, previous users of the site also rate the customer service and support of the site to be fairly poorly, which brings us to our next topic of this review.
Customer Support

MyFonts only offers customer and technical support through email or you can send them a letter via regular postal service mail. However, on the company's website they claim that over half of all email requests are answered within 30 minutes, anytime of the day, because they have team members located across nine time zones. Typically the company stands by their word of answering their emails in a timely manner, but this is still all handled on a case-by-case basis.
There are not currently any available options to contact the service team by phone or instant live chat. Many users have suggested these options and so it is possible the company may consider these forms of communication as the company progresses and moves forward.
Final Verdict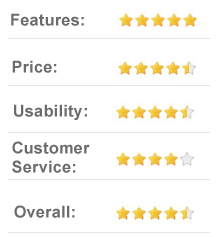 With so much limitation of the type of fonts available on the standard word processing or standard design templates, a service like MyFonts is really a necessity for anyone who is looking to really maximize their creative abilities. MyFonts offers an amazing collection of fonts from some exclusive foundries and useful tools for font management. Unlike other font services, MyFonts displays their fonts well within the site's interface. The site provides distinct graphics and color which helps give clients an idea of how each font can be utilized. The prices for all of the fonts are also quite reasonable, which gives the company a slight edge on some competing font services, which can be slightly pricier.
The main area where MyFonts comes up a bit short is in the department of customer service and support. As mentioned earlier in this review, e-mail is the only way to get in touch with the company should you have an issue. While the response time is generally good, the company could certainly use a few more ways to communicate more efficiently. All in all, MyFonts is the best alternative for expanding your font collection while still being kind to your wallet along the way.