About Acronis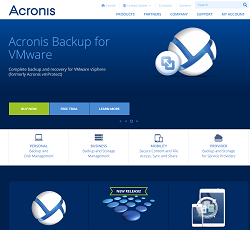 Backing up your files is important no matter what the file type. Acronis True Image 2014 Premium is the ultimate PC backup and data migration software. You can backup data, restore it, or transfer it to any PC system easily and quickly. The Acronis software is good software that can be utilized on any PC system no matter the:
Featuring high-end backup, file restoration, PC migration technologies, 5GB of free online storage, and support of nearly all known backup media, Acronis True Image 2014 Premium provides home users with reliable backup, recovery, PC migration, and file synchronization.
The service also provides widgets that can access data from a different data server or provide instant apps that are ready to use. This is a comprehensive package for backup and recovery, with all the bells and whistles you could want, including online storage. Backing up essential data to a second hard drive is good, backing up to a local network server is better, but sending it offsite to a file server on the Internet is best, if you want to safeguard against catastrophes like flood and fire. Let's delve further into some of the top features that make Acronis a service that should really be pursued.

Top Features Of Acronis
The Acronis interface is really one that is ultimately simple and easy to use. Just about anyone can handle using the interface since there isn't a whole lot of computer knowledge needed to operate the system. The interface is clean and easy to understand. At the top of the screen are four tabs and, where needed, there are ribbon-style icon bars below these. The four tabs are clearly labeled as well so there really is no confusion as to where each tab at the top of the page leads.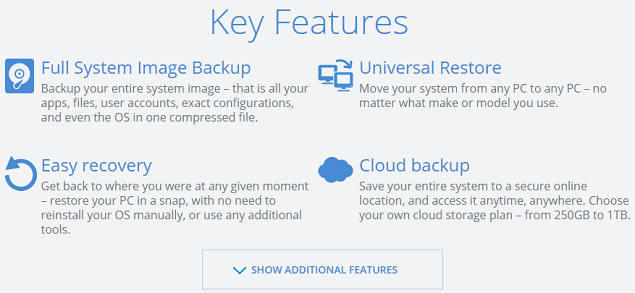 Backup and recovery is where most of the work is done, and each new job appears in a panel giving all its essentials, once you've used the disk and partition or file backup buttons to create one. Once defined, you can run a job again by selecting it, or apply a schedule to have it done automatically. The program can also produce full, incremental and differential backups and it even includes good control of total backup files, based on a number of archive copies or total storage space used.
Other features within the Acronis software include the ability to create bootable media, which allows you to recover from a system, crash and backup your email and run a non-stop backup. You can also restore a backup to a different machine and synchronize specified data between two devices. Syncing works via the Acronis Cloud, so you can sync between PCs and iOS and Android devices, using free TrueImage apps.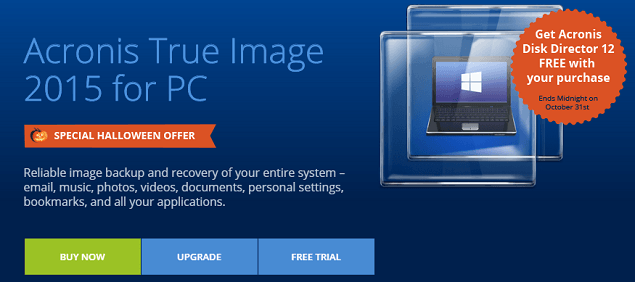 Of all the features, one of the best features for businesses that Acronis provides is that a disaster recovery plan is automatically generated whenever a new backup is made. This ensures that in case of a disaster anybody can get everything back online even without an IT expert available.
Acronis Prices
The Acronis service is really affordable for anyone looking for database or back-up software. In order to accommodate, the system is offered at different plan options, each package is a one-time fee that allows you to purchase and download the product. Acronis offers a standard plan at $49.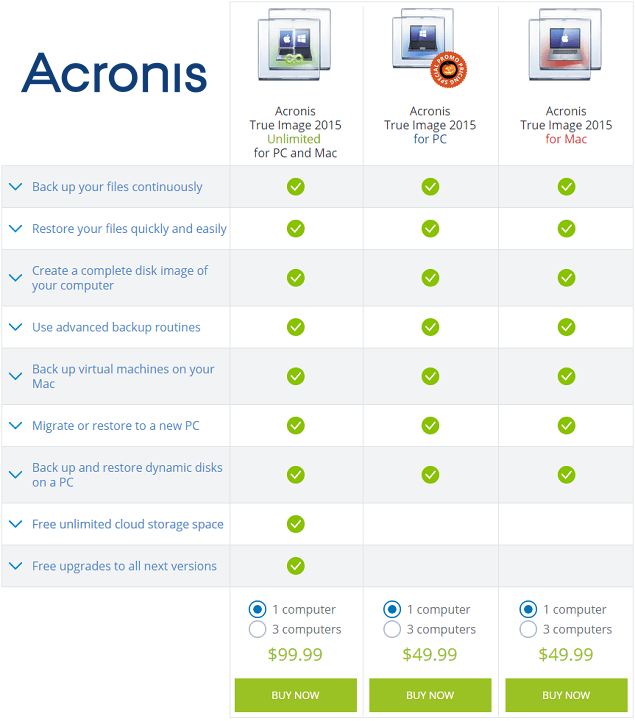 If you're looking for a little more robust of a product offering, they also offer a custom plan that starts from $299. They even have an enterprise offering for companies who wish to create and manage multiple sub-accounts.
What's also nice is that if you register on the company's website you will get a free 60 day trial to get started. You do not need a credit card to even try it out so it's completely risk free. If you enjoy it they will remind you to start a plan up so that you don't get your service interrupted and you can start paying for it if it suits your needs.

Criticism Of Acronis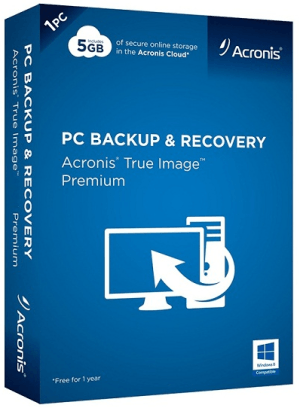 There are numerous benefits to the Acronis service, but that does not mean that it does not come without certain downfalls. While the interface is quite chic, crisp and clean it also tends to receive some of the site's top criticisms. The downside of Acronis interface is that its administration client requires Microsoft Internet Explorer 5.5 or later.
The system has also been criticized for being a little bit too pricey for businesses that do not have a ton of capital, which defeats the purpose slightly since the main intention of the site is to help people and businesses back up information. The service is better suited for larger companies and not conducive to the little guy. Some seem to believe that the company has already gotten too big now that it serves more high-profile clients.
Another errors and criticisms of the service include troubles with the interface freezing. Disk Director tends to freeze when one attempts to switch back to disk management mode from log view.
Customer Support
There is really something to be said about using the Acronis interface since it also includes a good amount of customer service and support. For those looking to get in touch with the company, they are able to reach them via telephone, live chat as well as e-mail. The response times for any general inquiries are typically pretty good, with 24 hour turnarounds the norm.

It doesn't mean that you won't get contacted before this timeframe. It's actually very feasible that someone from the company will get back to you in no time if the issue is fairly simple to resolve. This online database platform also is able to support service to those from all over the world. Languages supported include: English, German, Dutch, French, Spanish, Portuguese, Greek, Russian and Simplified Chinese.
Concluding Thoughts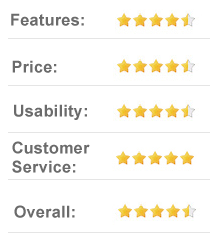 The bottom line is that Acronis provides full backup and recovery for your system and is one that should really be sought after thoroughly. The service supports virtual machine backup as well. It has a nice interface, with storage media options. Since the company has been around for some time this shows its resilience and know how to succeed. The company continues to bring excellent innovation and service.
The arrival of Acronis true image application has provided users with online backup brand in order to store all the online data without having to worry about it being lost. With this innovative and fast application, the user can also work on the control panel, allowing one to monitor an overview of the daily work.
The service is really something that should be strongly pursued. All the updates are automatically saved and the user can open the files offline as well. Whether it is music, video or photos, Acronis true image will take care of everything. It is the best way to synchronize all the files with complete security, simplicity and ease-of-use.
Not only that but the nonstop backup feature records all the changes that take place during the work so that the user can gain access to any file or folder, previously visited. There is a Disk imaging feature that allows the user to restore everything, not only the files but also exact pattern of the computer, which includes settings, operating systems and applications.
So if you're in need to back up some of your files or simply want to make sure everything is synchronized, then Acronis.com is really the best choice for you. Look no further and stop over to Acronis.com today to sign up and download an account!