About Caspio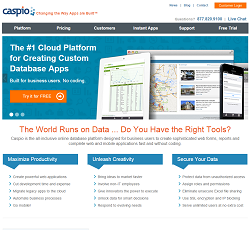 Caspio is an online database software that is easy to use and maintain. It is also a cloud platform where even non-IT business users can create custom database applications. Through Caspio Bridge web software, companies can easily upload:
MS Access database
Desktop data sources
Web server sources
Forms
Reports
Web applications
The service also provides widgets that can access data from a different data server or provide instant apps that are ready to use. Frank Zamani, who is its President and CEO of the company, founded Caspio in 2000. The company's headquarters are located in Santa Clara, California. Caspio, Inc. and the company is currently a privately held corporation.
Some of the main companies that Caspio serves includes multiple Fortune-500 companies as well as digital media companies, government agencies, educational institutions, small businesses, non-profits, and individual entrepreneurs. As one of the leader's in the database software industry, let's dive further into some of the top features that make Caspio one of the best.

Top Features Of Caspio
The primary service that Caspio offers is called Caspio Bridge, which is a cloud database platform that allows users to create interactive web applications without the need for programming. The database platform allows business users and IT professionals to create web forms, databases, and enterprise management applications.
Caspio Bridge stands out for its efforts to look and act like traditional database software. It's written in Dynamic HTML and run locally by the web browser. The application downloads blocks of code when each of its various functions is accessed for the first time.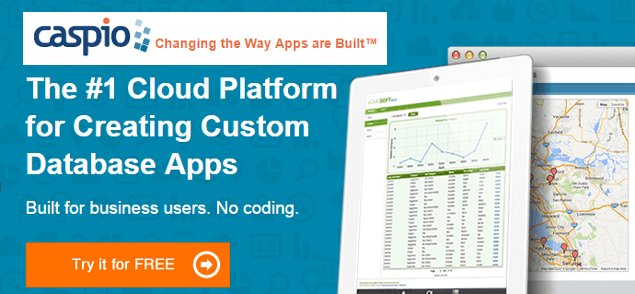 The system also gets points for its easy of use. The cloud platform uses point-and-click wizards and does not require programming or hardware. The web-based software guides users through building custom applications by combining web forms, database searches, reports, widgets, password protection, mobile applications, and email triggers.
The Caspio system is also very simple to use for just about anyone. The interface draws a strong resemblance to Microsoft Access, so it's likely that it was modeled after this. The icons are very similar and also how one filters and manipulates data in a form. As such, the service is really easy for anyone who has used Microsoft Access or any other Microsoft Office application. The toolbar and buttons on the main Caspio Bridge Explorer window let anyone create and edit the two basic objects in the software, which are tables and DataPages.

There are also a number of plug-ins and apps that can be added into the mix for anyone using the software. Some of the add-ons offered are Microsoft Office plugins, user login tracking, search and sort of address-centric data, and search engine indexing. The product also has revision history features in case older forms and reports are needed. It also offers professional services for those who wanted help in database applications development and instant apps that are ready to use.

Caspio Bridge also provides five table data types which include text, number, auto-number, date/ time, and yes/no. When building forms with data, the system can handle additional restrictions on data entered, such as specifying default values for fields, setting required fields, limiting length of entered data, and constraining entered data to particular values. All of these features are useful in making sure data is entered correctly.
In addition there are a variety of options that exist for connecting a website with a Caspio Bridge form. These options range from putting a link to a form to cutting and pasting JavaScript code into pages. The earlier approach let businesses direct users to a normal Caspio Bridge Web form, while the latter let one integrate form controls into existing webpages.
Caspio Prices
The Caspio service is really affordable for anyone looking for database software. In order to accommodate, the system is offered at different plan options. Caspio offers a standard plan at $249 a month. As part of this package it includes: unlimited users, unlimited apps, all standard features, support by phone, live chat and ticketing system, one-on-one onboarding session, unlimited storage, unlimited emails, and 1 GB of data transfer per month. It also includes popular features such as white label, MS Office plugin, user logs, API, scheduled import-export and more.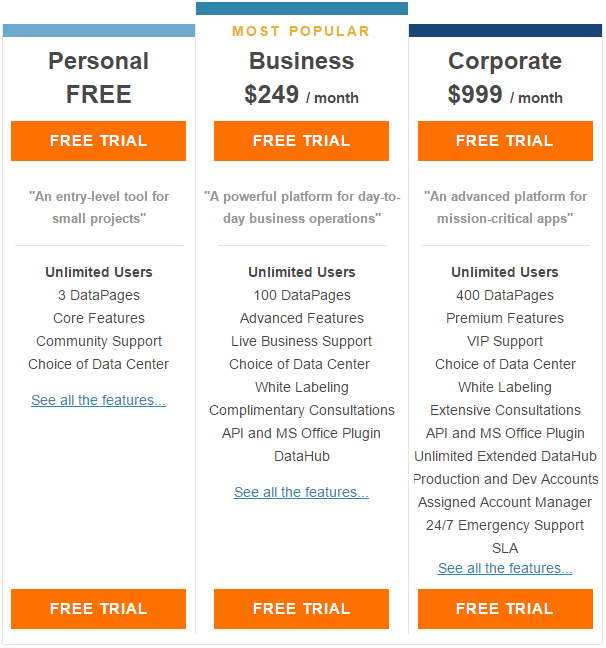 If this is too much at the start, they also offer a custom plan that starts from $19 per month. They even have an enterprise offering for companies who wish to create and manage multiple sub-accounts. A 20% discount is offered for non-profits, NGOs, public-funded education organizations, and customers in emerging economies.
Criticism Of Caspio
There are numerous benefits to the Caspio service, but that does not mean that it does not come without certain downfalls. While the interface is quite chic, crisp and clean it also tends to receive some of the site's top criticisms. The downside of Caspio Bridge's slick interface is that its administration client requires Microsoft Internet Explorer 5.5 or later.
If you try to launch the product on an older version of Internet Explorer such as 5.0 or older, the software wouldn't even launch. This requirement shuts out all Macintosh and Linux users and will force many Windows users to upgrade their browser.

The system has also been criticized for being a little bit too pricey for businesses that do not have a ton of capital, which defeats the purpose slightly since the main intention of the site is to help businesses. The service is better suited for larger companies and not conducive to the little guy. Some seem to believe that the company has already gotten too big now that it serves more high-profile clients.
Customer Support

There is really something to be said about using the Caspio interface since it also includes a good amount of customer service and support. For those looking to get in touch with the company, they are able to reach them via telephone, live chat as well as e-mail. The response times for any general inquiries are typically pretty good, with 24 hour turnarounds the norm.
It doesn't mean that you won't get contacted before this timeframe. It's actually very feasible that someone from the company will get back to you in no time if the issue is fairly simple to resolve. This online database platform also is able to support service to those from all over the world. Languages supported include: English, German, Dutch, French, Spanish, Portuguese, Greek, Russian and Simplified Chinese.

Conclusion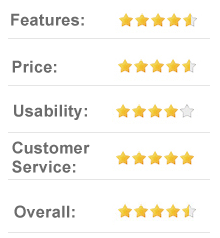 With the number of online database software companies growing, it can make it somewhat challenging to select the on that is right for your business. Caspio database platform is ideal for small- to mid-sized enterprises that want to keep IT and database costs down by using online alternatives. The highly intuitive interface makes it usable by anyone, although an understanding of database concepts, UI design and business process will maximize its offered features.
With so many companies coming and going in the space, it also says something that Caspio has been around for a good decade. Since the company has been around for some time this shows its resilience and know how to succeed. The company continues to bring excellent innovation and service. Its ability to create database application codes that can be embedded to any web page and be connected real-time to the database is one of its best features. In addition the company offers a complete solution of online database software, custom database applications, professional services and instant apps like task management. So don't wait, check out Caspio.com today and get started in no time!