About Wonder Share
With technology always changing it can often make it difficult to smoothly convert video files from varying formats. It is really such a pain when you realize that the type of file that a video was filmed in is not a valid file to upload in. However, thanks to video converter programs, it no longer has to be an issue. One such video converter program is WonderShare.com.
WonderShare Video Converter's primary function is converting video files from one format to another, which it does quite well. However, that's not the whole story. This video converter software also enables users to do many things to all types of video files including:

Established in 2003 and located in Shenzhen, adjacent to the international financial and trade center Hong Kong, Wondershare has extended its business worldwide, consistently dedicated to satisfy customers with diversified consumer software products and services.
The service is comprised of many distinct features that make it standout in the marketplace. The DVD tool is arguably the most useful in the entire application. You can use this tool to convert video content to a format that is playable on any mobile device you own. That means if you have a DVD movie you want to watch on your tablet or gaming system, Wondershare will convert it to the ideal format for that device. The only drawback is the software cannot break CSS encryptions that are found on many commercial discs. That said, there are still a number of other really important and useful tools and components that Wondershare also offers. Let's delve into some of these further.
Top Features Of WonderShare
With over 50,000,000 users, WonderShare is truly one of the leaders in the space in terms of video editing software. Upon arrival to the website, one will notice how slick and clean the presentation is here. This is a prime representation of how the product also presents itself. WonderShare really is all about making things as easy as possible to manage and it really is able to do this in the best way possible.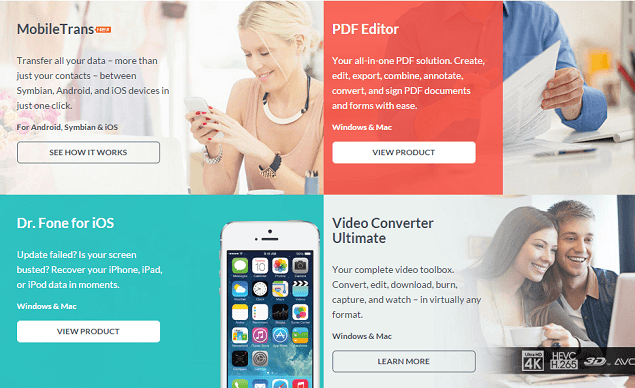 Once downloaded, editing in the video converter is surprisingly simple. It offers a basic trim editor, but it also provides a post-processor that allows you to add effects such as grayscale, negative, or an old-film look. If you wish, you can perform freehand crops, rotate, watermark the video, and add subtitling. Everything that most people edit and convert in the video program typically can be done with only a few easy steps and is done seamlessly.
This video converter is not only powerful and but also easy to use for beginners and hobbyists. It supports drag and drop operation to load video source. It also helps you easily pick up an output video profile from favorite savings, video formats or device brands and models. The product is very user-friendly and will help you get on your way without much additional fuss.

The great benefits of WonderShare do not stop with the DVD editing, there is also some nice features that allow people to edit their content right from YouTube. This is extremely handy since it seems like these days everyone is trying to upload their video to the social sharing site. The YouTube downloader tool is also a huge boon for the application. If there's a YouTube video that you want to remix, edit or just have, all you need to do is cut and paste the video's URL and Wondershare will download it for you. You're then free to edit, convert and share the video as you please.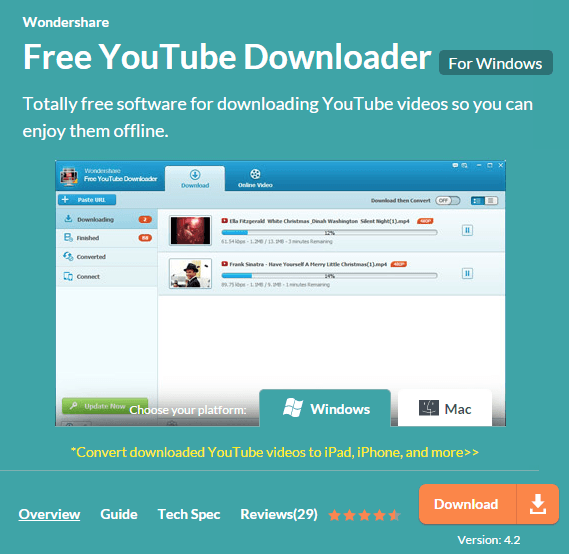 One of the more unique aspects of Wondershare Video Converter is its ability to transfer videos wirelessly. This application enables you to move a video file from your computer to a mobile device such as a smartphone or tablet over a Wi-Fi connection. Wondershare is one of the first video converters in the space to tackle this arena. Although this feature has little to do with converting files, it is incredibly convenient and allows you to do some converting or editing from anywhere on the globe as long as there is an Internet single.
WonderShare Prices
WonderShare offers a number of different products, with the video editor as the most popular download. However, there are also additional products that allow you to handle PDFs, Data Recovery, DVDs and then there is a more heavy-duty video converter software that is best for those who are up for some serious editing. The average price for software is about $50, but this can change significantly depending on the product selected. Regardless, the products are really simple to download since there is no shipping or handling required which takes away that additional cost. Instead, all you need to do is make a quick click and the software will be downloaded to your computer in no time!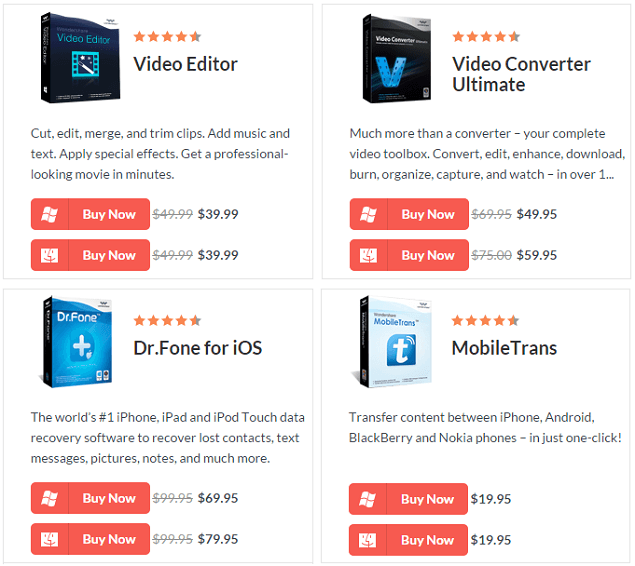 Criticism Of WonderShare
WonderShare is truly a highly capable converter that offers plenty of flexibility in an easy-to-learn package. It can download and convert almost any video within minutes, but that's not to say that there are not some issues with the software that users have encountered along the way. The biggest issue that users of the product have had is that Video Converter Ultimate's batch converting feature has some limitations. While the company tout's this product as being one that really can do just about anything, it isn't always conducive and adaptable to the more experienced video converter. However, you likely will not even see the product's limitations if you are a novice or someone who is just starting out in the video conversion space.

The other con that tends to be quite common for the product is how long it takes the products to download once you purchase. Of course, download time can depend on your personal Internet connection, but there are a good number of complaints about this on Internet chats and forums which makes it appear as if it is more of a product issue than a service provider's Internet speed.
Customer Support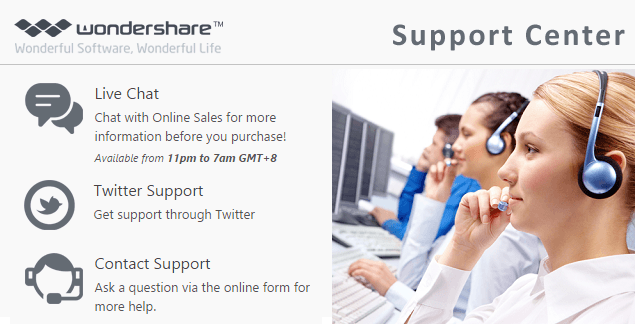 Wondershare Video Converter Ultimate provides solid support options, most of which we don't think you will need because it is a very intuitive application. If you need to ask a question, there is email support, an in-application guide, FAQs, live chat and user forums at your disposal. Users of the product should always feel at ease knowing that someone from the company will be there to assist them when needed. The forums contain a lot of helpful user-contributed information as well. E-mail questions that are sent to customer support generally receive responses within a day. The live chat service could be spotty at times, but that is fairly common.
Final Thoughts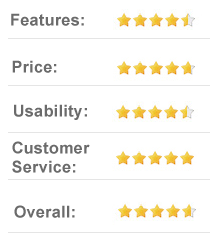 Wondershare is a powerful video converter and light video editor, and it performs its core tasks very well. The product is very easy to use for beginners and includes enough advanced features for more experienced video editors. Even the advanced features are not hard to figure out. The product is truly a comprehensive video conversion application that allows anyone to convert a wide variety of formats to almost any output format, including 3D. There are only a handful of missing features that would be beneficial to those who are more experienced in the video editing space. The overall costs for the product is reasonable and it comes with a 30-day money back guarantee. So there's really not much to lose by testing out the product. Don't wait, head over to WonderShare.com today and get started on some video converting!