About Got Merchant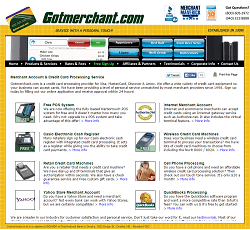 When you own a small business, there's a whole lot to think about. Top of the list should be the credit card processor that you select. Since one of the primary reasons to be in business is to make money, it's important that you choose wisely in this arena because it's important that you select a company that is reliable. With so many companies in the credit card industry, it can be a little overwhelming when reviewing the differentiating factors between companies. One such company that has been leading the way in the credit card processing industry is GotMerchant.com.
Founded in 1998 in Denton, Texas, Got Merchant is still very much run by the founder of the company, Curtis Stevens. Mr. Stevens is still very heavily involved in the day-to-day operations of the company. From consultations, to sales and support, if you sign up with Got Merchant, you'll be in good hands. The site is a leader in the industry and provides services such as:
POS System
Wireless credit machines
And More
Cellphone processing
Retail credit card machines

Gotmerchant.com can set you up with everything that you need to start processing credit cards or other forms of payments quickly. Whether you are a small business or a large retailer, it has a processing solution to meet your needs. It handles acceptance for Visa, MasterCard, Discover Card & American Express. With nearly twenty years experience, the company is definitely a strong player in the merchant services industry that will likely continue to go strong for years to come. Let's take a look at some of the key features of Got Merchant that make it one worth pursuing.
Top Features Of Got Merchant
There are many reasons to consider using Got Merchant as you're credit card processor. More or less sticking to the basics, Got Merchant delivers quality over quantity when it comes to products and services. Upon sign up, the company will set you up with a merchant account from one of the main processor providers. The company works with a number of processors, so depending on the size of your business and your needs will likely affect which processor you are paired with. Some of the main processors used include: Global Payments, First Data and TSYS.

Got Merchant provides some optimal services to businesses that operate exclusively on the Internet. For any eCommerce merchant needing to processing credit card transactions online, the company has a number of Internet processing solutions. Through a partnership with Authorize.net, business owners will be able to accept credit cards online through websites using a shopping cart. You can also manually submit the credit card information through the virtual terminal that Authorize.net provides with an Internet merchant account. This service is one of the most popular ecommerce gateways available.

For merchants who aren't exclusive to doing business online, but also do not have a retail store, there is a wireless option. Got Merchant has several credit card processing solutions available for wireless merchants. If you are a small business expecting low processing volumes, then the touch-tone phone processing system will suit your needs. If you plan on handling a lot of transactions each month, then wireless terminal machines will be a better fit. These machines are mobile and can be utilized from anywhere in the world. There are two popular machines, the Way Systems 1531 terminal and the Verifone VX 610 credit card machine. Both of the machines can even be attached to cellphones and tablets.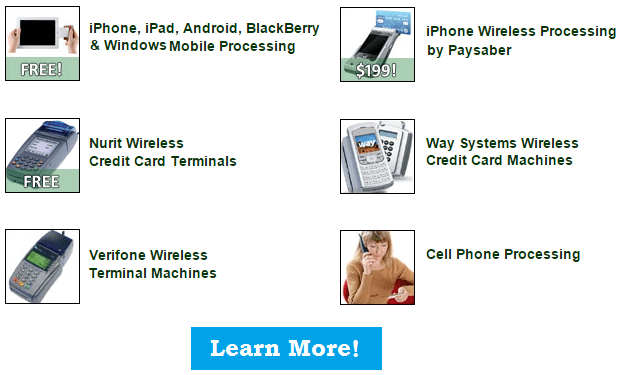 The next form of credit card processing available is made possible for brick and mortar stores. Whether your retail store requires a sophisticated point of sale system or a simple credit card terminal, Got Merchant can work with most applications available today. If you are in need of a credit card machine, the company sells the Nurit and Verifone terminal machines at an affordable price. The retail merchant accounts are compatible with almost all terminal brands and most come with limited warranties just in case they were to ever malfunction.
Another unique feature of Got Merchant is the site's partnership with Yahoo. The company is an online merchant account provider for Yahoo Stores. If you have or planning on opening a Yahoo Store, the service can help you get started accepting credit cards. There is no required online Internet payment gateway fee and for only $10 a month, you can start processing credit card payments with a Yahoo Store merchant account when you use the service.

Got Merchant Prices
Gotmerchant provides extensive information about pricing structures for retail and Internet businesses. While their rates feature a tiered pricing structure, they remain competitive, especially when you consider the added value of their customer service and POS offerings. I love that they have a debit rate separate from their qualified rate, which could lead to substantial savings depending on your normal debit traffic.
As for fees, the monthly minimum is $25 and the monthly fee to keep the service is $10. This means you'll pay $35 as a base fee per month, at the very least. This is the cheapest you'll be able to get the service.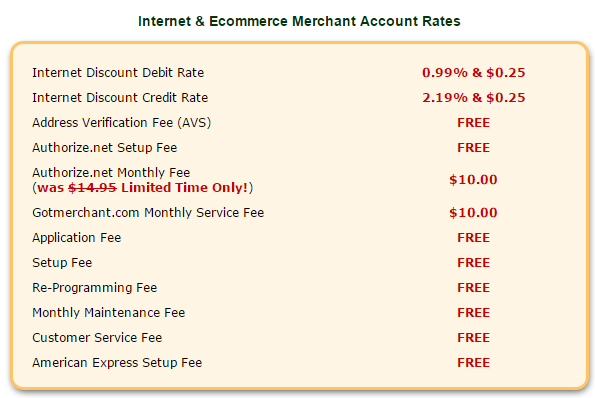 Although there are more expensive options available, depending on your needs. You're also likely to contend with $80+ for PCI compliance, but this fee is negotiable. You can apply for the service directly on the website or can talk to a representative by calling the toll-free number.
Criticism Of Got Merchant
While for the most part, Got Merchant is a very reputable company, there are still those who have used the service who have not been fully content. The biggest complaint that customers have is the pricing structure and how high some of the prices are. There are also those who feel that they should have a better level of customer support and service considering the high price points.
Additionally, some customers have been dissatisfied with the cancellation fees that exist should you want to get out of the service before the end date of your contract. All in all, price seems to be the biggest contention points with those who use Got Merchant. You know what they say though – you get what you pay for!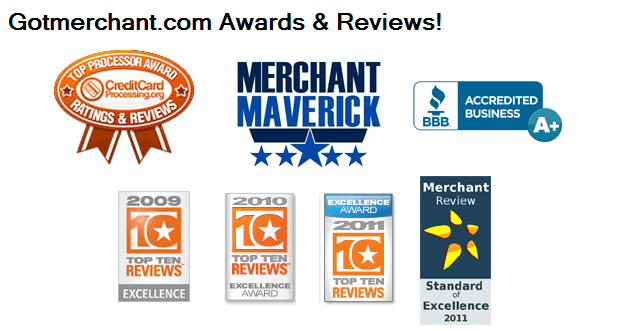 Customer Support
It's hard to beat the level of service and attention you'll get at Got Merchant, and it's equally difficult to put a price tag on that. You can get in touch with the company through e-mail and directly on the phone. The site has a very small vibe. You truly feel like you are part of the Got Merchant family when you sign up for a membership. Since a big corporation does not own it, there is less red tape to go through in order to get in touch with a company representative.

Got Merchant may be a small company, but you will always get responses from the team, even on weekends. But, perhaps more Since the company's inception in 1998, hundreds of Got Merchant's clients have chimed on forums and blog posts that they have been extremely happy with the customer service provided. Such an outpouring of support is notably quite rare. From your first sales call through every technical difficulty, Got Merchant will go above and beyond the call of duty to make sure that you're treated fairly.
Concluding Thoughts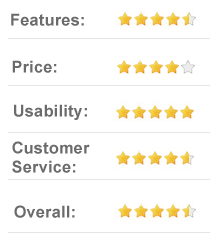 In business for nearly two decades, you know that Got Merchant has to be doing something right. It's not easy to make it in the credit card processor industry. Tons of companies come and go in this category every year. Got Merchant is a perfect choice for any small business because they know how to solve problems quickly and efficiently for merchants. Not only are the services and products above-grade, but also the customer service team will help you in a jiffy. So don't waste any more time, there's no reason to do any more searching. Visit GotMerchant.com now to request a quote for your business!