About Provide Support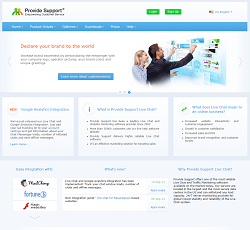 In today's business environment, convenience and instant access is the name of the game. No matter which type of industry it is that you are engaged in, offering your clients and customers with 100% level of satisfaction in terms of technical or customer service support gives you an edge over your competitors. One such company that is able to help your small businesses with aid to consumers is Provide Support.
A website that has been helping with service and support since 2003, Provide Support offers the Provide Support Live Chat System. Upon first visit to the company's official website, the taglines that you will read are: "Empowering customer service" and "Live chat software as a sensible e-commerce tool". The company has been able to stay in business for over a decade because there is a distinctive market out there for businesses that need some assistance in providing customer support to their customer. Regardless of the industry, the best way to retain a consumer base is through a good customer support system. This is the reason why it is important to consider getting the services of a live chat system provider such as ProvideSupport.com.

The primary goal of Provide Support is to help businesses improve their sales and customer service on the Internet through:
As the consumer support market continues to be a high priority for businesses on the Internet, the number of companies that provide these services is also continuing to rise. Provide Support was one of the first companies to offer these services exclusively for Internet companies. Let's take a deeper look at what Provide Support has to offer and how the Provide Support Live Chat System measures up as the e-commerce tool that it claims to be.
Top Features Of Provide Support
The good thing about the Provide Support Live Chat System is that it is a web-based chat system solution. Unlike other live chat software systems which would require customers to install a sepa software on their computer, the web-based support system is perfect for those who are looking for quick answers about the product or service that you are offering as a company.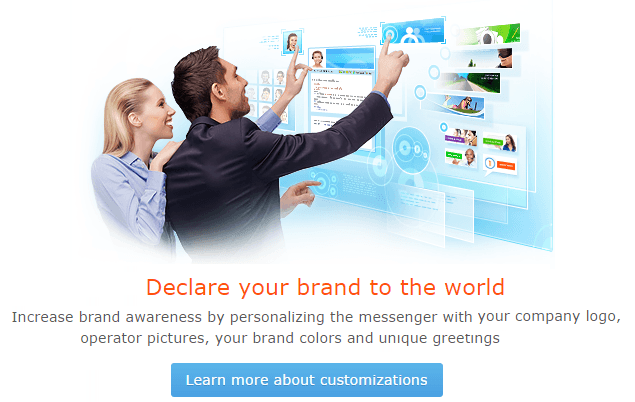 Since many small businesses do not know where to start when it comes to setting up a support system, Provide Support is able to provide some key features and benefits to those who take advantage of the Provide Support Live Chat System. These benefits include: an Auto-changing Chat Icon, Customization and Branding, Canned Responses, Live Chat, a Leave-a-Message E-form, Live Chat Link for Emails and more. Basically, the Provide Support system already has the technology and infrastructure in place so that you can easily implement it on your site for consumers to get in touch with you and your business.
The best live chat software gives your business the feel of a brick-and-mortar store. In a physical retail space, an employee can approach a customer and offer help based on what the customer is looking at. Likewise, a chat program like Provide Support allows you to see what a visitor is viewing and create an invitation to chat based on that information. Beyond personalized help, this data can help you create and manage new advertising campaigns. In the information age, knowledge is power, and the data from online chat software will give you the information you need to convert page views to sales.

To this point, Provide Support provides real-time visitor monitoring which is a perfect way to find out more information on your consumers and frequent visitors to your site. Through the Provide Support interface, small businesses are able to view the IP addresses of visitors as well as other components such as browser type, frequently viewed pages, and other monitoring systems. All of this will help your business develop a more realistic depiction of your key consumer base, which can help you re-work your marketing strategy so that it effectively reaches consumers.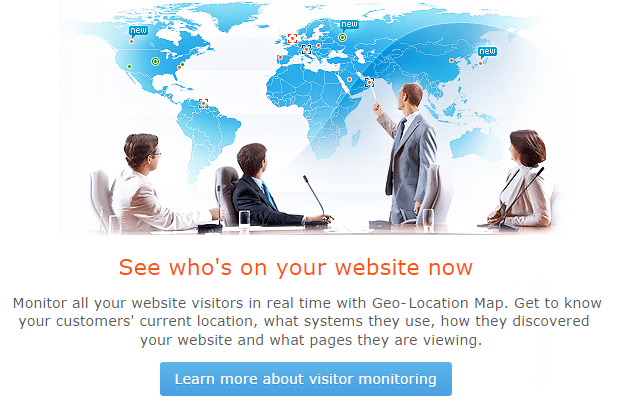 To really drive sales, Provide Support offers a range of features that can help your small business steer a customer the right way as they visit your site. While it's important to have a chat system in place that allows consumers to contact you, it is also vital that you are able to initiate a chat session proactively. If you select a visitor to your site and click this button they will see a pop-up appear inviting them to a chat session. From here you can provide sales advice and potentially up-sell products. Additionally if it looks like a customer is having trouble finding something, you can initiate a co-browsing session, which allows you to redirect their browser to the page they are looking for. This is great in a scenario whereby you may want to guide the customer through different products in a range. The Provide Support software is able to make all of this possible, all of which is easily managed through the interface that is provided.
Provide Support Prices
The investments to use the services of Provide Support are not overly cumbersome for a small business or company to handle. The service is available in three options that are tailored to the type of business that you are operating. The small business option costs $15 per month, the corporate option comes in at $30 per month and the enterprise option is $60. Each of these options also differs on the number of operators that are available. Small business option includes one operator, corporate offers three operators and enterprise offers 10 operators.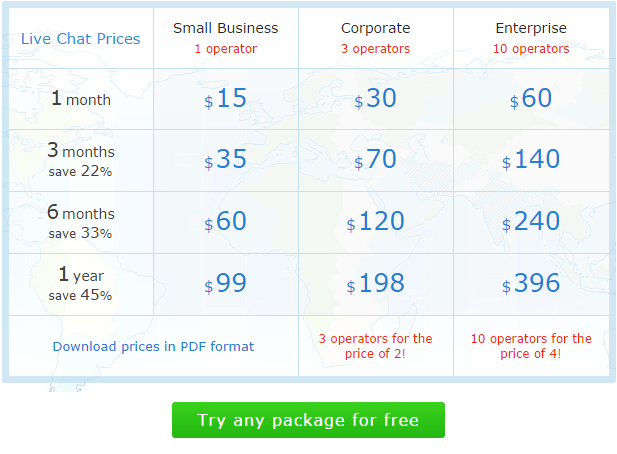 Provide Support also backs its online-hosted chat solution with a risk-free, 30-day money back guarantee so there is ultimately nothing to lose! Discounts of up to 45% are available for those who would be able to pay in advance. Prices are subject to change so it's recommended to visit the company's website for the most up to date information.
Criticism Of Provide Support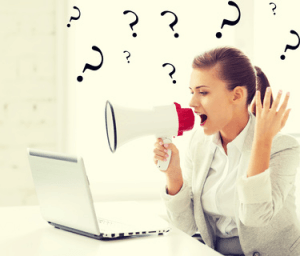 The biggest criticism of the Provide Support system is that the company is quick to provide the service to businesses that are wiling to pay for it, yet it does not have an effective training program in place that shows business owners how to effectively use it. Each package of the service comes along with operators that can also help answer the questions of consumers. However, since the business owners are the experts on the service at hand it is necessary that they have members on hand to answer questions as well. This can overall become costly and time consuming for businesses that do not have tons of resources to spend on support staff. As such, it's important to keep in mind that not only will you be paying for the Provide Support live chat service but you must also invest in staff on your end in order to put the service to work.
Customer Support

Although Provide Support's service is designed to provide support to consumers, the business owners who purchase the service may also require support now and then. If one would like to subscribe to the live chat system offered by Provide Support, all that is needed is to create an account and follow the set-up instructions to install the chat button. You can even take advantage of the 10-day free trial offered by Provide Support so that you can try out the system for a limited time. In case you have any inquiries about the product or if you run into any problems while using the software, Provide Support offers replies in a friendly and accommodating manner to users of the service.
Final Thoughts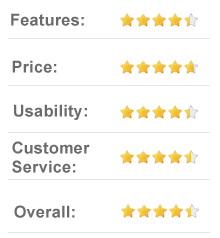 On an endnote, Provide Support is a simple customer service platform that is ideal for small business and enterprises alike. The system is overall easy to use and available at multiple price points. Provide Support helps business owners provide a quick response system for customer queries, and also provide some key analytics that allow for further insight into the types of consumers that are visiting a company's site. Through the use of Provide Support, businesses will be able to not only retain their consumer base but also will be able to more effectively target and communicate with them. All of this will ultimately result in a stronger and more lucrative business!