About Studio Press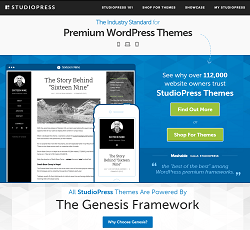 These days it is a must to have a website if you own a business. The Internet is really the best way to gain new consumers, but the only way to really achieve this is through some standout website features. The Internet has made it easy for any business to have a website or blog. Many small businesses are using the services of WordPress, which is benefi+cial because the service provides many key templates and features that allow for one to easily populate. However, the issue that many people have with WordPress is that the types of themes available are limiting or too basic.
As a result, website theme and template providers have started to pop up on the Internet in order to rid websites of boring or bland themes. One such company is Studio Press. The company prides itself in providing:
Over 30 themes
Responsive HTML5 design
One-click installations
Search Engine Optimization (SEO)

Studio Press is one of the leaders in the WordPress community. The company provides themes and services to over 120,000 website owners and has been hailed by the tech blog Mashable as one of the best premium framework services. The success of StudioPress largely stems from the vision of the company's founder. Brian Gardner started the service as a result of being unsatisfied with the website design templates that were on the market from WordPress. The company has been around for the better part of a decade and is now owned by Copyblogger Media.
Top Features Of Studio Press
There are a number of key features that make Studio Press stand apart in the marketplace. Since the company has been around for some time, it has a good rolodex of theme designs available for purchase. Studio Press offers themes for every niche plus they make it a point to release at least new themes as often as possible. What's great about the company's themes is that all are built ready for advertising and other forms of website monetization. This is made possible through the theme control panel that comes with every WordPress theme that they release.
The StudioPress designs are very clean and crisp looking. The designs are not flashy our over the top, but instead are very sober and fairly bland. The reason for this often has to do with some consumer research which proves that the less cluttered a website is, the longer a user will spend on the site. A well-designed site will ultimately lead to increased sales as well.
While a clean and crisp site can be good for business, if you simply just want a personal site with some wild and crazy themes, then Studio Press may not be for you. If you're looking for a site that communicates stability, then StudioPress may be right up your alley. The small things are done right. StudioPress has over 30 responsive themes. Those include a number of corporate/business type themes, magazine themes, themes for photography, a theme built specifically for custom post types, and more.

Another positive feature with regards to the functionality of the themes from Studio Press is that each and every theme that they release is professionally designed and is specially coded to get the user the most needed search engine exposure. This means that using the purchased theme ensures more potential traffic to one's website SEO-wise. This is good news for many small businesses that want to create a brand online and generate traffic organically.
One of the major selling points behind the Studio Press service is the Genesis framework package. Studio Press themes, or more correctly, the Genesis framework is said to be both structurally sound and secure. It is also said to be good for SEO. It comes with features such as automatic updates (optional) and easy Google authorship integration.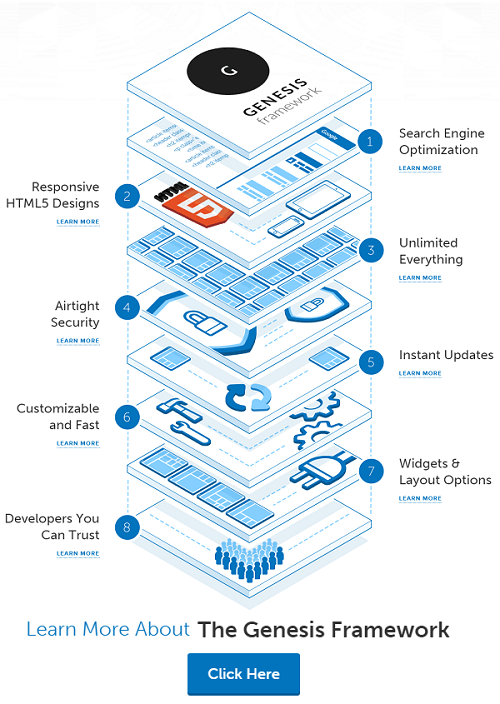 While there are no major page-creation tools in the Genesis framework, such as the ability to drag and drop different elements to create a truly unique design, you can change the basic layout of each Post or Page by simply choosing one of the pre-configured layouts.
Studio Press Prices
The cost for the WordPress templates varies depending on the theme. Single themes cost from $79.95 – $99.95. With the purchase of any theme, you get the Genesis framework that the theme runs on. In other words, each theme is really a child theme that runs on top of the Genesis framework.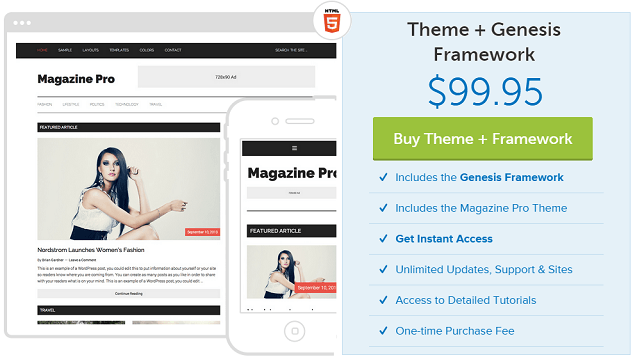 While a theme at $99.95 is surely expensive, you also get lifetime support and updates. As many theme developers are going to a yearly subscription model, StudioPress' themes are beginning to look like a better and better deal each day.
There is also a deep discount for returning customers, so if you decide to frequently purchase themes from the site this can only work in your favor!
Criticism of Studio Press
While it may look like the themes that Studio Press offers has every possible functionality, it is to the dismay of many users that some of the functions do not even work or work poorly. Their coding is hard to follow, let alone customization, which means that they often are not easily downloaded and implemented by the typical user.

The company has also been criticized for its bland and sober WordPress themes. While the themes may be practical, they are fairly bland and basic, which can be an issue for someone who is looking to add some pizzazz to a site. The general consensus from other review blogs is that it is also difficult to refund a purchase after you have downloaded a theme. As such, it is recommended that prior to purchase you are 100% certain that you want to download said theme.
Customer Support

Different types of support offered by Studio Press should not overwhelm the user. The company offers support via phone and e-mail. Typically representatives from the company will get back to users within 24 – 48hrs. However, the company's support teams are not all trained in addressing all theme issues. Since each theme's design and code is different it means that not each representative is verse in every design. The site also contains a frequently asked questions section of the site along with blogs and forums where users are able to share their feedback and tips.
Final Thoughts
Studio Press is a decent web design and theme service and it will work to help improve the site or blog of any small business. The company's themes are well organized and it makes a very good effort to regularly update old themes as well. Although some of the themes are a little bland and dry, the site designers know what they are doing since StudioPress themes are said to be structurally sound, secure, and good for SEO. The designs are clean; however, there aren't many that are going to jump out at you make you step back. But not everyone wants that, of course.
There also seems to be a relatively large community that you can become a part of when you get a Genesis framework from StudioPress. There are community-built plugins and child themes built especially to run on the framework. Since the prices for individualized themes can get fairly pricy, it is also in your best interest to do some extensive research before purchasing one. If you decide to move forward with a theme, it makes sense to become part of the frequent customer club so that you can get discounts on additional themes should you decide to purchase more in the future!