TemplateMonster Review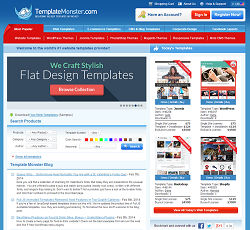 Building a website can be an epic pain. Do you know how to program in PHP or Joomla? Do you know how to manipulate HTML code? Do you know how to create dynamic elements? If not, you may find that building a website is anything but a cakewalk.
It is for this reason that templates exist. These are pre-designed webpages or sets of webpages that can easily be implemented and then modified. The beauty of templates is that they allow even the most technically inept person to build a beautiful, fully functioning website in a matter of hours.

Introducing TemplateMonster
TemplateMonster is a template provider that came into existence back in 2003. Since then, it has amassed over 20,000 templates. Furthermore, it adds approximately 400 to 500 new designs every single month. It was designated as the largest template provider on the Web back in January 2013, and it continues to maintain this prestigious position.
While the company provides a plethora of templates that you can buy and then install, it also offers a few additional services. All four have been included below:
Single Site License: This service grants you the right to use a single template on a single website. It is the recommended option for most customers. Just realize that you can only use the template on ONE website!
Template + Installation + Hosting: This builds from the single site license but adds along a year of hosting from HostGator, as well as OPTIONAL template customization courtesy TemplateTuning (will explain more later).
Template + Installation: This is exactly equivalent to the previous service option, except that it excludes the hosting. You still get the OPTIONAL professional installation courtesy TemplateTuning.
Exclusive License: This is a very pricey option that we only recommend for serious Web developers. It entitles you to all the rights to the theme/template, meaning only you will be using it.

TemplateTuning Options
Some of the purchase options let you take advantage of customization services from TemplateTuning at a significantly reduced price. Note that if you choose to adopt any of these customizations, you will pay beyond the static rate for whichever plan you select.
Template Implementation: With this service, you get a custom-made logo for your website. This is useful if you do not have an in-house graphics artist, or if you simply lack any artistic talent yourself.
WordPress Plugin Installation: With this service, the folks at TemplateTuning install a bevy of essential plugins onto your WP site. These will clear out spam, track your traffic, integrate your website with FB & Twitter and more.

Color Change: With this service, you get a custom color scheme for whichever template you choose. Usually, adjusting the color scheme isn't all that hard, but you do need to possess a few Web programming skills.
MotoPress Implementation: This unique service replaces the standard WordPress interface with a much more user-friendly MotoPress one. It lets you more conveniently add new posts and images.
SSL Certificate: This service is designed for e-commerce websites. It adds the SSL certificate to your online store to give your customers the safety and security they want when purchasing products.
Unique Customization: You can also invest in a completely unique customization. You'll have to contact the company directly to get a quote, but do realize upfront that this is not a cheap option.
Types of Paid Templates
Basic Templates
It should be noted very quickly that while the customization services mainly deal with WordPress sites (which are really popular these days), TemplateMonster offers a plethora of additional template types that we want to cover in detail:
HTML5 Templates: These rely on basic HTML, CSS and Javascript to create dynamic, animated websites that are easy to manage and maintain.
Flash Templates: These rely on the Flash platform to provide you with even more dynamic and exciting websites. They're pricey but powerful.

Photo Gallery Templates: These templates are absolutely perfect for photographers or designers who just want to share their portfolio with the world.
SwiSH Templates: These are like Flash templates, but they're not quite as complex and pricey. They're like budget-friendly alternatives.
PSD Templates: These are the cheapest templates. However, they require the capability to directly deal with raw source code.
eCommerce Templates
These types of templates are considerably more complicated. They upgrade from simple HTML pages and Flash designs by incorporating high-quality e-commerce technologies like Magento, VirtueMart, PrestaShop, Zen Cart and more. They in effect let you build full-fledged e-commerce platforms that you can then use to sell products to the general public.
CMS/Blog Templates
These templates rely on technologies in WordPress, Joomal and Drupal to provide you with an easy-to-manage platform that can be used to add more content. It's great for building content systems, i.e., websites that regularly put out content in the form of articles, press releases and/or blogposts.
Corporate Templates
These templates differ from the other ones. They cater to specific corporate needs. You can order corporate powerpoint presentations, logos and full identity packages with letterheads and business cards.
Facebook Templates
The last kind of template to keep in mind is the Facebook template. This is a great option for branding your Facebook page. It's ideal for those who want to build traffic to their online store by establishing a firm presence in major social networks like Facebook.
Free Templates
It should be noted that TemplateMonster also offers a few free templates. We do not recommend using these, because they are really simple and offer few customization options. They are not bad for getting a taste of how the templates work, but if you want to build a legitimate website, then we definitely recommend you invest in a paid template.

Insane Customer Service
The customer service options at TemplateMonster are quite insane. First, you get access to an Online Help Center with quick-start guides, tutorials and more. You also have access to 24/7 live chat support, not to mention a ticket system and a comprehensive FAQ. Overall, we were very impressed with the customer service options.
Frequently Asked Questions

How does the licensing system work?

For single-use licenses, you pay a one-time free and then can use that particular template as many times as you want. The stipulation is that it remains active on only one site. So you could build a site with the template and then later scrap it and build another site with the same template.

Is there a return policy?

There is no return policy because you get the product immediately upon receipt of payment. This makes it near impossible for TemplateMonster to ward off fraud, which is why refunds are therefore not permitted.

Is assistance offered for the installation and customization of themes?

You have access to a lot of resources on the website, including the Online Help Center and a Web Design Library. However, for in-depth help for specific problems, you'd need to invest in the servers of TemplateTuning, a TemplateMonster affiliate that'll provide you help at discounted prices.
Final Thoughts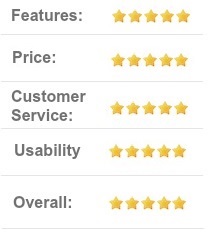 It's very obvious why TemplateMonster has become the most respected name in the templates industry. Its templates cater to practically everybody. It offers regular HTML templates, not to mention Flash templates, eCommerce templates, blog templates and even Facebook templates. It meets every single need, and it even offers discounted customization options through its affiliates.
If you are ready to build your first-ever website and want some assistance, then we wholly recommend that you choose TemplateMonster as your assistant. Its brilliant and dedicated staff members will provide you with a high-quality template and ensure that your website stands out from the crowd!