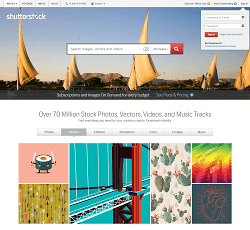 Shutterstock was founded in 2004 to give companies easy access to low-cost stock photography, music, and video footage. During the first month of operation, the website only offered photographs from the owner's collection. This consisted of about 30,000 images. As the company attracted more interest, it was able to grow its catalog. Toiday, it has about 70 million images and over two million video clips.
At first, Shutterstock operated on a subscription model. Anyone who wanted to purchase images had to pay a monthly subscription fee. By 2008, Shutterstock realized that it could reach more buyers by adopting an a la carte pricing model.

Over the past several years, Shutterstock has acquired several of its competitors.
I started using Shutterstock about five years ago after I became the editor of a small town newspaper. Not surprisingly, the paper wasn't doing very well financially. The entire industry was trying to learn how to reach online audiences without completely dropping print editions. Really, that's a struggle that publishers still face.
I knew going into the position that I would have to cut costs significantly. I really liked everyone on the staff, though. I didn't think anyone was dispensable, either. Each person played a unique roll.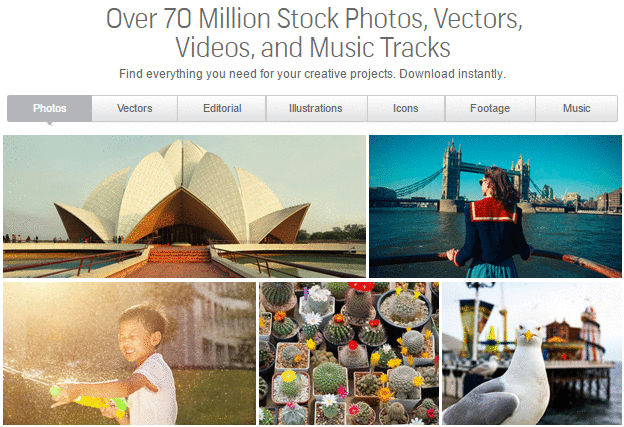 I started looking for other places in the budget to save money. I eventually made a lot of changes. Getting images from Shutterstock, however, was one of my first decisions. The paper was paying some talented freelance photographers who worked locally. As much as I liked their work, the paper couldn't afford their prices. I eventually had to face facts: either they had to go or one of my staff members had to go. I knew what choice I had to make.
I don't know whether that decision was enough to save the paper or not, but it certainly lowered the overhead. I've since moved on to another publication, but I still use Shutterstock pretty often to save money without lowering the quality of the content.
Top Features of Shutterstock.com
The thing I like most about Shutterstock is that I can get everything I need from one source. The company I work for now produces a lot of video content, so we often need stock music and video footage to enhance our products. It's really useful getting them from the same place that I get stock photographs.
That wouldn't matter much if the work wasn't good. Luckily, I've found that a lot of talented artists sell their pictures, drawings, and other works through Shutterstock.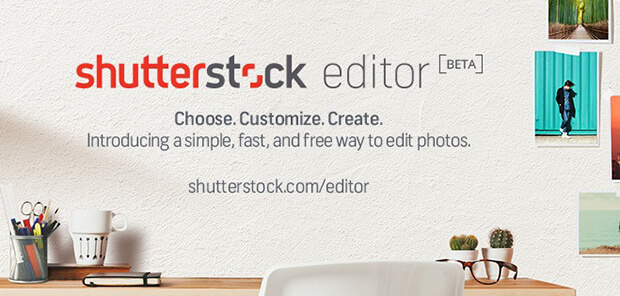 I also like that Shutterstock has an image editor that you can use online. The image editor lets you crop and customize pictures so they're just right for your website, publication, or other product. This is useful for me because I can find, edit, and add images to content while I'm sitting on the train on the way to work. I don't need a lot of fancy software to get the job done. That saves me at least an hour each day.
It helps a lot that Shutterstock uses extremely high resolution images. How it looks on your screen is exactly what it looks like when you publish. If you need to edit the images, they don't come out looking blurry. You've probably seen other stock photo sites that try to cut corners by keeping their files small. You won't have that problem with Shutterstock.

Shutterstock Prices
Shutterstock has a variety of price options. It may seem complicated at first, but it really isn't. I'll try to explain it as clearly as possible here.
Basic Image Packs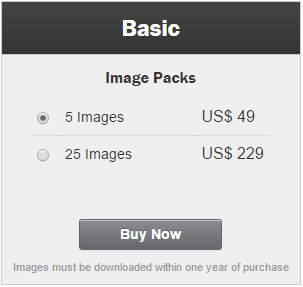 If you know that you only need to get a few images, then you will probably want to purchase one of the basic image packs.
The prices come to:
$29 for two images
$49 for five images
$229 for 25 images
Obviously you can save a fair amount of money by buying in bulk. The 25 image pack is, in my opinion, a pretty good deal for someone who doesn't need to use stock images daily. Of course, if you really only need two images, then it doesn't make sense to buy more than that.
Professional Image Packs
If you're a pro, then you're going to need a lot more than what the Basic Image Packs offer. Since you'll need to purchase more images, you get some significant price breaks.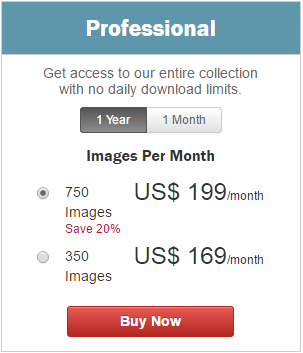 The exact price that you pay will depend on whether you plan to pay monthly or annually. You'll get a 20 percent discount by paying annually, but some individuals and small organizations may find the cost prohibitive. If paying monthly makes more sense for you, it's still a decent deal.
There are two image packages in this category:
The 350 Image Pack gives you access to (surprise!) 350 images per month. You have access to the entire collection and you can download as many as you want in one day. If you want to download all 350 images in one day, then that's your prerogative.
The annual price comes to $169 per month ($2,028 for the year). The monthly price is $199. If you continue using it for the whole year, then you will eventually spend $2,388. If you have any doubt that you only need one month of access, then you should think about using the annual membership. $360 in savings isn't something to scoff at in the publishing industry.
The 750 Image Pack comes to $199 per month if you take the annual payment option. That's a $2,388 payment for the year. If you prefer monthly payments, you'll pay $249 per month. That comes to $2,988 by the end of the year.

Team Image Packs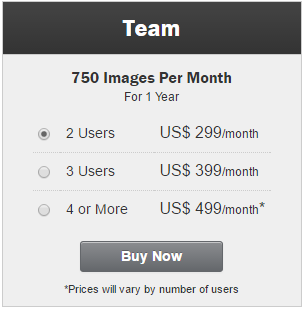 Do you work with a team of content producers and managers who need to access the Shutterstock database? You can use the team packages to give them up to 750 images per month for a year. The cost depends on how many people you users you plan to bring.
For two users, you pay $299 per month. That comes to $3,588 at the end of the year.
For three users, you pay $399 per month. That comes to $4,788 after 12 months.
For four users, you pay $499 per month. That's $5,988 by the end of the year.
If you need more than four users, you should contact Shutterstock to get a price quote. They'll usually cut you a break for giving them that much business.
Enhanced License for Images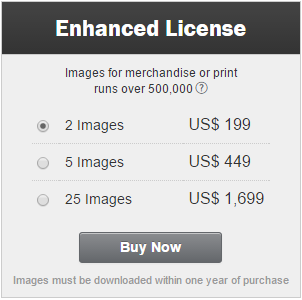 Images included in the above packages all come with standard agreements that limit how you use them. You can't, for instance, print them on things you expect to sell, like posters or greeting cards. You also can't print more than 500,000 copies of your publication.
If you want to do those things, then you will need to get an enhanced license. It shouldn't come as a surprise to learn that this costs more money.
For two enhanced license images, you'll spend $199.
For five images, you'll spend $449.
If you need 25 images, you'll pay $1,699.
If you think these are high prices, you should check out the competition. You're getting a good deal.
Criticism of Shutterstock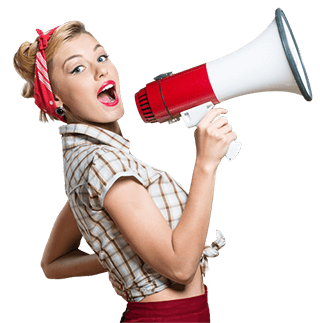 I don't have any real criticisms of Shutterstock. It has a great library at prices that are very competitive within the industry.
I guess some people probably won't like the idea that they can't buy images individually. You can't just buy one, in other words.
Two is as small as a package gets. As someone who has one of the professional subscriptions, though, this isn't a concern for me.
I can see why it would bother an individual who's making a family newsletter or something. If you're even remotely serious about publishing or website development, though, there's no way that you will only need one image.

Shutterstock Customer Support
I can't really say much about this. The only time I had to reach out to customer support, I had my assistant do it for me. She didn't say anything afterward and the (quite minor) problem was resolved almost immediately. It seems like things went pretty smoothly. We had just encountered a tech hiccup that confused everyone in the office.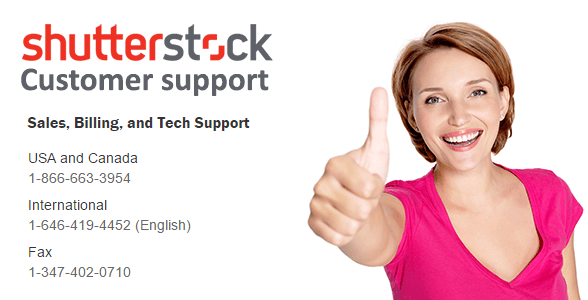 Conclusion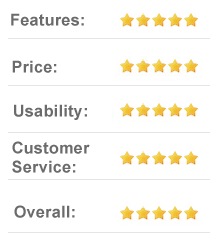 If you own or work for a company that does even minimal web publishing (and I'm including website development as publishing since there isn't a big difference when it comes to stock images, video, and music), I think you should stop by Shutterstock.com to see what you think of it. Spend a few minutes looking at the picture samples. I've always been impressed with them.
Of course, there are plenty of companies out there that offer services. Shutterstock is the one that meet my needs best. You may want something slightly different, though. That's why I think it makes sense to read several reviews and learn more about competitors. If you don't know what else is out there, then you'll never know whether you made the right decision. For me, at least, Shutterstock has been a helpful way to keep costs down while still producing high-quality material that doesn't look cheap.