About Templatic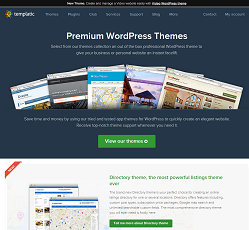 It used to be that just having a website made a small business or corporation on the cutting edge. Now having a website is a necessity and instead it all comes down to how smart and user-friendly the website is for its users. The Internet has made it easy for any business to have a website or blog. Many small businesses are using the services of WordPress which is beneficial because the service provides many key templates and features that allow for one to easily populate. However, the issue that many people have with WordPress is that the types of themes available are limiting or too basic.
As a result, website theme and template providers have started to pop up on the Internet in order to rid websites of boring or bland themes. One such company is Templatic. The company prides itself in providing:
Templatic was one of the first WordPress theme extension products. It was first introduced in 2009 under its current name, but was introduced in 2008 under the name Premium Themes.
Templatic is based in Surat, India and is composed of 5 people with R. Bhavesh as their founder and administrator. Starting out with only 25 themes, Templatic has continued to grow steadily and now have a wide array of awesome WordPress themes ranging from simple blogging themes to complete business and e-commerce integrated themes, making it possible to use WordPress as CMS and customize it to ones needs with ease.
Top Features Of Templatic
There are a number of key features that make Templatic stand apart in the marketplace. Since the company has been around for some time, it has a good rolodex of theme designs available for purchase. Templatic offers themes for every niche plus they make it a point to release at least 2 new themes every month. What's great about the company's themes is that all are built ready for advertising and other forms of website monetization. This is made possible through the theme control panel that comes with every WordPress theme that they release.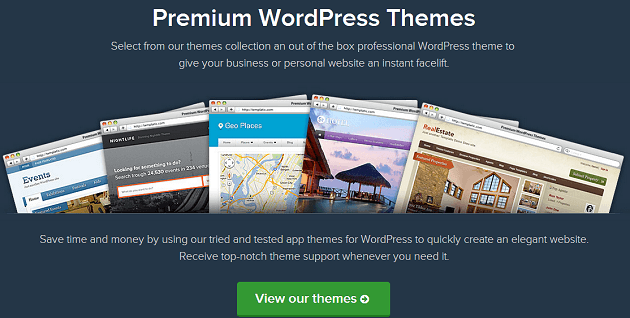 Another positive feature with regards to the functionality of the themes from Templatic is that each and every theme that they release is professionally designed and is specially coded to get the user the most needed search engine exposure. This means that using the purchased theme ensures more potential traffic to one's website SEO-wise. This is good news for many small businesses that want to create a brand online and generate traffic organically.
Templatic themes that will take your business on a loop forward since all of the themes are available for every niche and functionality. All of the themes are ready made designs that an individual can readily apply to a website to promote your business to the market. The new themes in the Templatic store will make one's websites more shiny and attractive.

The company's focus is on quality themes of great innovation. Some examples include: themes that boast feature quality of 3 color schemes, drop down navigation as well as custom controlled paneling among other great features exclusive to Template.
Templatic does not spare the scope of innovativeness in themes. They have created WordPress themes on everything website and magazines and in their recent productions they have invented Christmas themes, church themes, institution themes, business themes among other promotional themes.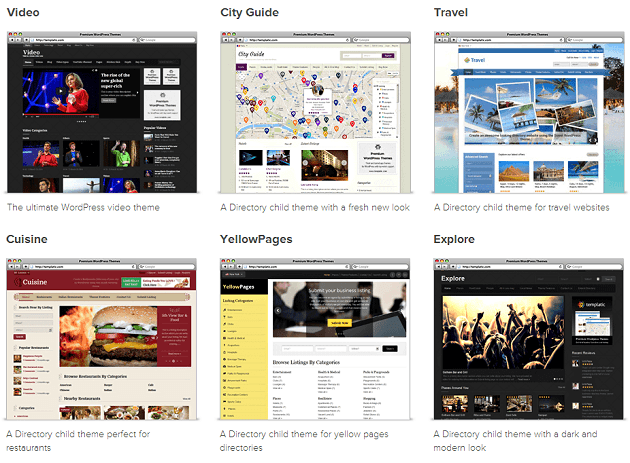 Upon purchase, each Templatic theme includes the coding systems to link website viewers to various other relevant and related content within the scope your site. Installing these coded -themes to an CMS website means that your website will be more user-friendly, easy to use and informative as well as an all-inclusive website experience. CMS can link visitors of your website to various other related links.
Templatic Prices
The cost for the WordPress templates varies depending on the theme. There are themes available for as low as $40 and other ones that cost as much as $300. For a club membership of $299 a year, you can enjoy the benefits of using unlimited theme licenses. You also get to enjoy unlimited access to all the WordPress themes that Templatic offers as well as access to all the themes and updates that would be released during the duration of your membership. This is a good deal for the frequent theme buyer. Otherwise, it is recommended to purchase each theme on its own.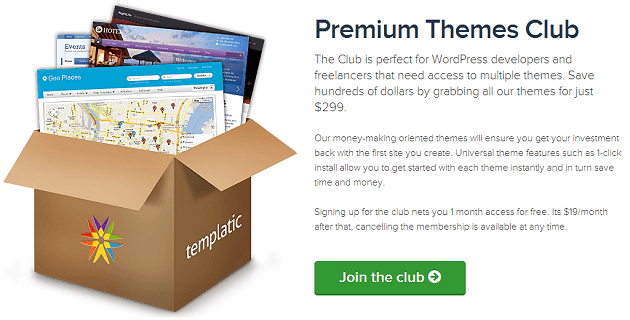 The site also provides coupons to captivate and retain buyers. The company offer coupons based on the customer frequency of buying from the company or generally as a marketing strategy to get more customers to their products. Templatic coupons come with up to 75% discount or more. The coupons will come as a cash back reward based on the original price of a WordPress. It's worth keeping an eye out for the discounts and deals prior to a purchase. Signing up for a newsletter or even e-mailing the company for a trial offer is beneficial.

Criticism of Templatic
While it may look like the themes that Templatic offers has every possible functionality, it is to the dismay of many users that some of the functions do not even work or work poorly. Their coding is hard to follow, let alone customization, which means that they often are not easily downloaded and implemented by the typical user.
The company has also been criticized for his vague customer service support and help. Although it appears that the a member of the customer support team always gets back to users, sometimes the explanations are confusing or not very helpful which means that users are still left without a solution. The general consensus from other review blogs is that it is also difficult to refund a purchase after you have downloaded a theme. As such, it is recommended that prior to purchase you are 100% certain that you want to download said theme.
Customer Support
Different types of support offered by Templatic should not overwhelm the user. The company offers support via phone and e-mail. Typically representatives from the company will get back to users within 24 – 48hrs. However, the company's support team are not all trained in addressing all theme issues. Since each theme's design and code is different it means that not each representative is verse in every design.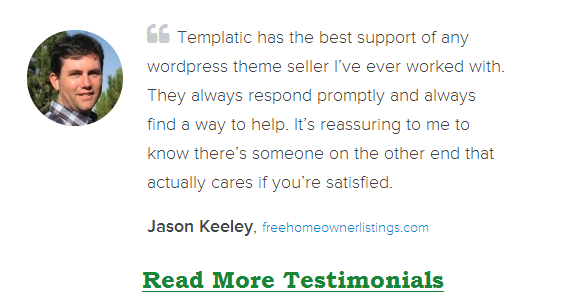 Sometimes it takes days to reply a simple question. For enquiries that touch on the theme structure and coding, it may never get resolved as they find it too troublesome to fix them. As such, you may need to continually persevere on a particular issue or inquiry. This is one area of the company that needs to be improved upon and as the company grows in staff and users it will hopefully continue to invest more into customer support.
Final Thoughts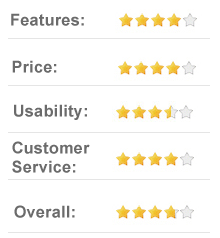 Templatic is a decent web design and theme service and it will work to help improve the site or blog of any small business. The company's themes are well organized and it makes a very good effort to regularly update old themes as well as release new themes, with an average of almost two updates a month. That's pretty good, regular service which means that you can have confidence that your company's website will be taken care of properly. While the customer service needs to be improved, it still is able to provide a number of high-quality themes, not to mention it comes with additional SEO support which will help generate more traffic to your business's website!