UniformDating.com Review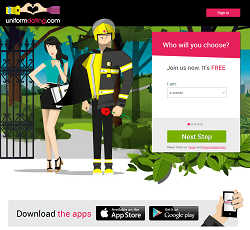 The birth of online dating on the Internet has brought about numerous niche dating websites. In today's age there seems to be every type of dating website for every type of person. Specifically, a dating site genre that seems to be starting to take off is uniform dating. Whether you work in a uniform yourself and are looking for like-minded singles or simply just fancy uniforms in general and want to find someone that usually wears one, UniformDating.com is the site for you. Not all of the singles registered on this site wear uniforms at work, but most people on the site like the idea of dating someone who wears one.
About UniformDating.com
Uniform dating seems to be the next big thing where professionals who wear uniforms to work (from policeman/woman through doctors to air crew members) look for like-minded singles. While this genre might not be one with numerous sites out there, there are more than a handful of places one can look to find a gathering of these types of people. However, there is no site out there that has as many profiles and members as UniformDating.com. The site has been around for the better part of a decade, and is specifically designed for uniform lovers of all shapes, sizes and professions alike. That said, one should not be surprised if they see a good number of members who are not uniformed since people are allowed to join the site even if they are not wearing a uniform.
It may sound like an awkward or strange requirement for a future partner: "I want them to wear a uniform to work." But for lots of people it makes sense. According to the site, UniformDating is the largest dating site in the United States, where anyone can register for free, build a profile, upload photos and look for a date. What is also so great about uniform dating is that it is also located in the USA, Canada, and Australia. So if you are stationed, living, or traveling to any of those countries, there will always be a potential date in uniform for you to potentially go on a date with. The site believes that the best way to find a compatible romantic partner is to spend time getting to know local singles. What better way to do this than through a site where you both already know off the bat that you share common interest of uniforms. Not only that, but by having a profile on the site there is also more of a chance that one will find educated individuals since typically those who wear uniforms have jobs that require some type of education.

Top Features
UniformDating.com is paradise for anyone who is attracted to men or women in uniform. Upon visit to the site, one will notice that the homepage of the dating site is laid out clear, concise and easy to use. The initial registration on the site takes only about a couple minutes and the site only requires basic information such as email, username, and password. What makes UniformDating authentic is that each profile is checked and approved. This helps moderate fake people or fraud bots or hoaxes. A key benefit of the site is that it is policed by a customer service support system, which is always there for its users to help protect them. If one interacts with someone whom he/she may suspect is not legit they can report him or her and the profile in question will be investigated and, if suspect, removed within 48hours.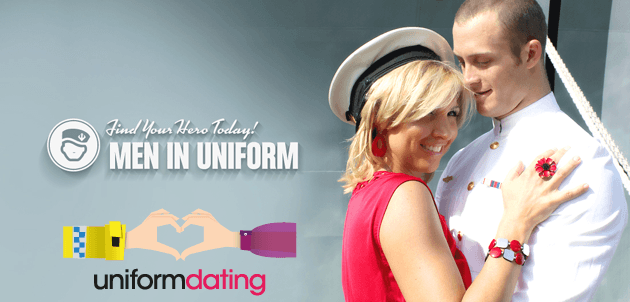 Other unique features of the site include some key communication functions such as: e-mail messaging, live chat and video chat. In addition, members are able to see who has viewed their profile, which can be very helpful when choosing which other members to pursue. The site also provides a favorites bar to each person's profile which allows one to add and save user profiles that they find attractive of worth pursuing. Once one has the guts to contact someone in their favorites one is also able to send notifications such as virtual winks, kisses, hugs and smile. In addition one can say hello and even send other gifts such as flowers and chocolate (virtual or real).
UniformDating Prices/Costs
The nice thing about UniformDating is that people are able to sign up and search the site for free. However, at this price one is unable to contact other members in any way. For full access features, the price is ~$20.00 per month. At this price point one is able to contact users as many times as one would like and can also send notifications and also add favorites to their profile.

One important thing to note about the site though is that upon registering for a paid subscription the site requires that one's credit card be charged automatically on a monthly basis. In this instance one needs to be conscious of the withdrawals from one's account. In addition, should one want to cancel at anytime, one needs to cancel within 30 days of the last payment or one will be charged for the upcoming month. For example, if you subscribe on the 28th, you need to cancel by the 27th for the next month. Luckily the site also has a customer service line that one can call should there be any issue with account billing.
Criticism of UniformDating.com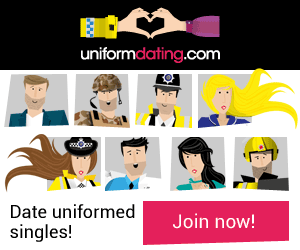 Like anything, there are pros and cons to the dating website. The biggest criticism that some have is that the site does not require all of its members to have a job that requires them to wear a uniform. While this would possibly be a novel idea, it would limit the number of eligible users on the dating site and would significantly reduce its scale. In addition, those who do not wear uniforms, but have a "thing" for those who do would have no outlet to peruse.
In addition, another common issue that people find with the site is that one is unable to see the last time someone logged in, which makes it difficult to know if one should contact a prospective date or not since for example, if you wrote to someone who recently got into a relationship but has a three-month subscription the profile might still be online but they might be unavailable. This can be a common problem with other dating sites as well and therefore there is always the possibility that one is wasting his/her time. This comes with the territory of online dating though.
Lastly, many people also find that there are too many options when sending virtual gifts. As stated earlier, one can send a smile, flowers, kiss, etc. The reason many users criticize these icons is that it causes one to overanalyze what each icon really means.

Member Communication System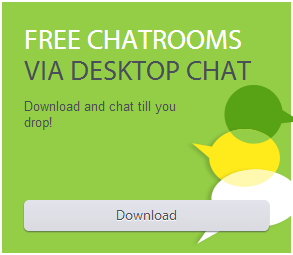 As mentioned earlier in this article, users are able to chat with one another through text, e-mail and video chat. However, users are only able to contact one another if they have a paid subscription to the site.
In addition, the overall site is very good with sending constant updates about new members, possible matches, and even new profile match notifications. The site is all about trying to connect people who have similar interests and as long as one allows the communications to be turned on, one can stay informed in real-time.
Final Review of UniformDating.com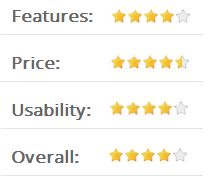 While finding a uniformed individual to date in the real world can be difficult or awkward to approach, UniformDating.com provides a safe, easy and effective way to connect with other like-minded individuals. Whether you want to be handcuffed by a real policeman, or ordered around by an Army Officer, one should try the site because within time presence on the site will lead to fulfilling one's uniform fantasy. UniformDating.com is also known to have more people looking for a long-term relationship (instead of a one-night stand) with numerous success stories that have resulted in marriage. Since searching profiles is free, there really is nothing to lose. So if you have a fixation for men or women in uniforms, don't wait, log-on to UniformDating.com today and create your free profile!