FXCM Review
Despite being so new, the fastest growing market today is the forex market. The forex (short for "foreign exchange") market has the largest daily trade volumes of any other form of trading. There is a daily turnover of about $4 trillion US dollars in forex trading. If you were to take all of the stock trading in the US and add them together, it would be 30 times smaller than the amount of forex trading.
With the popularity of forex trading, there have been a whole slew of online forex trading brokers battling for investors. Some of them engage in shading practices and are just out there take your money from you. Others are completely legitimate and offer a complete line of investing tips and ways for you to grow your money using forex trading.
I take a close look at these online forex trading brokers to see which ones are the real deal and which exist solely to get you to part with your money. I have experience trading forex on many different platforms and am knowledgeable about what makes one broker better than another. In this entry, I will put FXCM under the microscope to see if you can trust them with your money and how they can help you build your nest egg.
About FXCM
FXCM is based in New York City and had global offices in China, Italy, Australia, United Kingdom, Japan, Greece, France, Germany, Chile, Canada, Lebanon, and Israel. They are one of the world's leading forex trading and related services providers to institutional and retail customers. The first forex broker to be listed on the New York Stock Exchange was FXCM.

Founded in 1999, FXCM stands for Forex Capital Markets Limited. You can take advantage of one click order execution, trading from real time charts, and web and mobile platforms using FXCM's award winning Trading Station. Forex execution through their No Deal Desk is at the heart of what they do. They are able to offer competitive spreads on popular currency pairs thanks to their large network of forex liquidity providers, such as financial institutions, prime brokers, global banks, and other market makers.
FXCM has a long list of awards for their forex trading. These awards include "Best Sell Side Analysis Contributor" from FXstreet.com, "Best Proprietary FX Platform" from Forex Magnates, and "Best Retail Broker North America" from Global Financial Market Review among others. Their focus is on providing financial transparency to clients and investors alike. They believe it is important for investors to know FXCM's health and performance, so they provide all of their financial reports to the public on their website (FXCM.com).

Top Features of FXCM
There are two types of forex execution offered by FXCM: Dealing Desk and No Dealing Desk (NDD). Your trading spreads and experience are impacted by whichever one you choose. FXCM believes NDD provides the best all-around trading experience, so they recommend that. For twelve of FXCM's major currency pairs, they offer the Dealing Desk, which has lower spreads.

For all types of traders, FXCM has pricing and execution options. The spreads vary based on the type of execution and account you choose. For example, there is a spread of .8 pips for the EUR/USD currency pair if you have an Active Trader account (more on that later). This spread increases to 1.6 pips for Dealing Desk execution and 2.6 pips for the NDD execution. These differences in spreads are fairly consistent for all of the currency pairs.
Not all traders are the same. And, FXCM tries to offer options to traders no matter where they are on the experience spectrum. With just one login, traders can choose between three dynamic ways to trade with the flagship FXCM Trading Station. Trading Station Web comes with a professional charting package that allows traders to trade directly from the charts. You can access it without installing or downloading anything.
Trading Station Desktop is the most advanced of the three platform options. You get access to a versatile suite of automated and analytical trading tools, and you have the ability to customize the platform. You also have the use of advanced back testing functionality, detailed history, analysis, and strategy tools, and pre-loaded strategies.
I really enjoyed the Trading Station Mobile for use on mobile devices. I do not like being tied to a desktop or having to try to read websites on my smartphone. The mobile version allows you to analyze news, manage and place orders, deposit funds, access charts, and view live streaming rates. I cannot overstress the importance of picking a forex broker that offers mobile apps.

FXCM also offers a variety of platforms for traders with more specific needs. MetaTrader 4, the standard in the industry, is one of the options. Also available are Ninja Trader, Active Trader (for big money clients), ZuluTrade, and Mirror Trade.
FXCM offers trading on 56 currency pairs. To help with trading, they have developed the DailyFX PLUS Trading Signals. This is free to all FXCM account holders. Included among the signals are limits, detailed descriptions, and stops. And, to complement the automated trades, the DailyFX team, FXCM's research branch, also provides expert market commentary.
FXCM Account Types
Before I get into the accounts that deal with real money, I want to touch on FXCM's practice account. If you are just getting started in the forex game, a practice account is a priceless tool to have. With this account, you get $50,000 of virtual money to play with, and trading uses live sell and buy prices. It is virtually indistinguishable from the paid accounts.
FXCM offers three different account types for those ready to trade with real money. The account types are Basic, Premium, and Active Trader. All of the accounts come with online education materials and 24 hour a day, seven days a week live support. You also have your choice of using FXCM's Trading Station platform or the industry standard MetaTrader 4.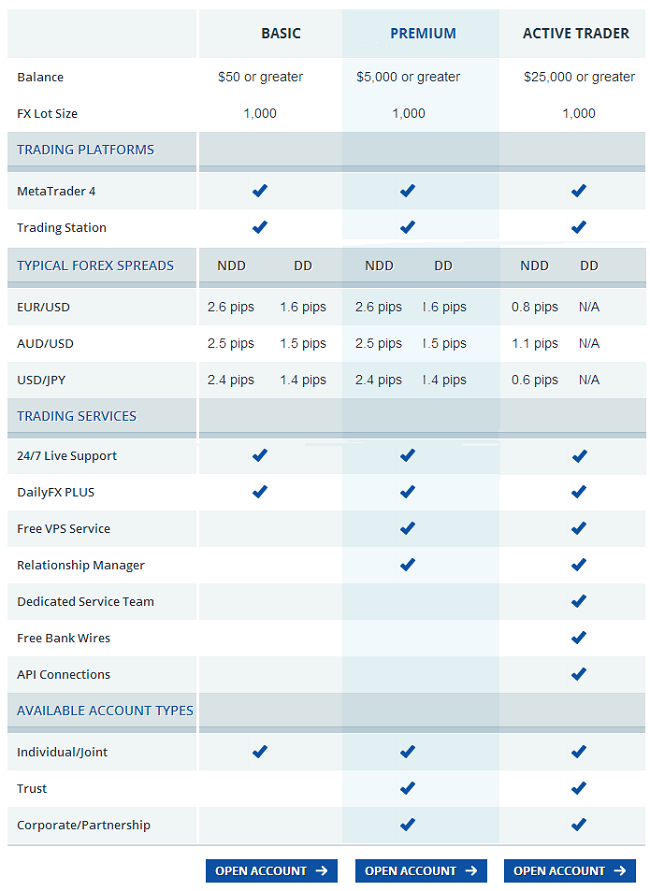 You can obtain a Basic Plan with an account balance of $50 or more. This is a bare bones plan with identical spreads to the Premium Plan for the currency pairs. The features start to improve with the Premium Plan, which requires a balance of at least $5,000. This plan includes a free VPS service and you will have a relationship manager.
The Active Trader account type is well worth the required $25,000 minimum balance. In addition to the Premium features, you get some of the lowest spreads in the industry. You will also have a dedicated service team for fast and knowledgeable answers, free bank wires, and API connections.
The Downsides of Using FXCM
For the most part, FXCM is the real deal. I found no major downsides to use them. They are a stable and reliable company. They would not be offered on the NYSE if they were not. One of the things that I noticed was lacking is other instruments of trading. They had a respectable 56 currency pairs. But, it would be nice if you could also trade stocks. Having to switch to a different broker for stocks can be a pain.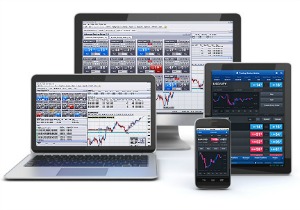 Many other forex brokers offer bonuses for making your first deposit or depositing a certain amount of money. FXCM does not do this. On the one hand, it would be nice to get a deposit bonus. On the other hand, bonuses tend to be offered by forex brokers who are less trustworthy.
To find out what others had to say about FXCM, I took to the discussion forums. For the most part, the feedback was positive. There were some people griping about the lack of an Islamic account option on their site (Sharia law forbids certain types of trading). And, there were others who did not like that there was no trading on US holidays.
FXCM Customer Support
FXCM takes serving their customers seriously. They offer toll free numbers, email, live chat, fax, and a wide array of support documentation to help customers. Their live chat is available 24 hours per day on weekdays. Other forms of communication are available around the clock every day of the year.

I gave them a ring on the phone early on a Sunday morning to see if there really were customer service representatives available. I was greeted by a friendly and knowledgeable agent who had all the answers I needed.
Conclusion
In an industry full of fly by night brokers who spring up one day and are gone the next, FXCM is a serious company. They are regulated by a variety of financial watchdogs around the world, plus they are listed on the NYSE. They have been doing this for a decade and a half. They offer great spreads, especially if you go with the Active Trader account type (I strongly recommend this.) Plus, I have to say I love that they offer a mobile app with their proprietary Trading Station platform. I strongly recommend FXCM to anyone interested in doing forex trading, whether you are new or a veteran trader.