Identity theft has become a serious problem in the United States and around the world. Thieves have discovered numerous ways to acquire the information they need to steal someone's identity. Some of the most common techniques include:
Dumpster diving for sensitive documents like bank account and credit card statements
Skimming credit card information from card readers
Hacking into computers and computer networks
Pickpocketing
Mail theft
Stealing checks
Using social media platforms to gather enough information to impersonate someone

Identity theft can result in damaged credit that takes years to repair. This can make it difficult for consumers to get low-interest loans and credit cards. It can even make it difficult for consumers to take advantage of services like free checking and savings accounts.
Since the victims of identity theft face an uphill battle that can require diligent research and legal fees, many consumers subscribe to identity theft protection services. Companies offer a variety of services, so it's important for consumers to explore their options before deciding which company can meet their needs best.
Introduction to Identity Guard
Identity Guard got its start in 2001 as a service offered by Intersections Inc. At first, Identity Guard only provided minimal services, such as monitoring personal information from the three major credit bureaus and alerting customers when it detected fraud alerts. Identity Guard quickly added more services to provide a wider range of protection features for its customers. Some of those services included anti-virus software and lost wallet protection.
These additions made it one of the most successful identity protection services. Several publications, including PC World Magazine, chose it as the top identity protection service of 2001.
Identity Guard joined forces with Experian in 2013 to offer deeper security services.
Identity Guard Services
Identity Guard has three membership plans to choose from. Customers who want basic identity protection services will probably want to choose the Identity Guard Essentials Plan. Those who want enhanced services should consider Total Protection and Platinum.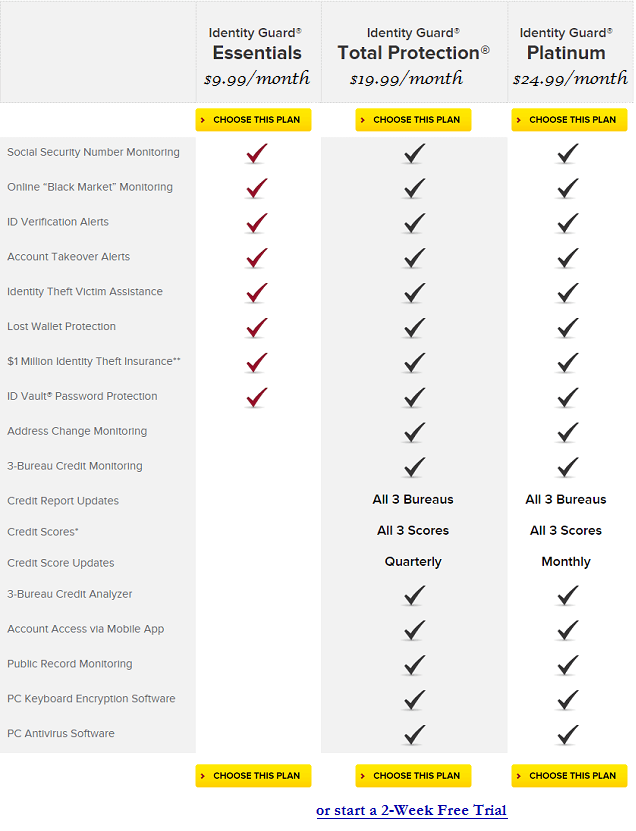 Identity Guard Essentials
This basic plan from Identity Guard includes social security number monitoring, $1 million in identity theft insurance, and ID verification alerts for $9.99 per month.




Identity Guard Total Protection
Total Protection is a comprehensive plan that includes public record monitoring, credit report updates from the three major credit bureaus, and quarterly credit scores. It also includes the services offered by the Essentials package. Cost is $19.99 per month.
Identity Guard Platinum
The Platinum plan includes services from Essentials and Total Protection, plus monthly credit scores and credit report updates. Cost is $24.99 per month.





Identity Guard Features
Identity Guard uses a combination of features to give customers the protection they need. Some of the most important service features from Identity Guard include those in the following categories.
Credit monitoring that alerts members when credit activity seems out of the ordinary for a member.
Identity Monitoring that searches for personal information, such as Social Security numbers, online.
Public Record Monitoring that monitors publicly available information that may indicate identity fraud or attempted identity fraud.
ZoneAlarm Internet Security Suite that offers protection from viruses, spyware, and other types of malware.
ID Vault, a password protection service that stores private information, such as credit card information, in a secure place so members can purchase items online without compromising their safety.
PrivacyProtect, a keystroke encryption service that makes everything you type unintelligible to malware that might hide on your computer.
Personal Recovery Assistance that gives members personal assistance so they can take the necessary steps to protect themselves after their identities have been compromised.
Identity Theft Insurance that offers up to $1 million in identity theft insurance so members don't have to pay for expenses resulting from identity fraud and theft.
Lost Wallet Protection that helps members cancel lost or stolen credit cards and gives them access to up to $2,000 in emergency cash.

Comparing Identity Guard With Competitors
Identity theft protection is a large, and growing, industry. LifeLock and TrustedID are two of Identity Guard's biggest competitors.
Trusted ID comes close to matching Identity Guard's services. Both companies offer credit reports, scores, and updates from all three major credit bureaus. Like Identity Guard, Trusted ID also has Social Security number monitoring, lost wallet protection, and ID verification alerts.
Trusted ID, however, does not offer public record monitoring, computer security software, or online financial tools. Identity Guard does cover those features. Trusted ID costs $14.00, so it may suit consumers who want to spend less for good coverage.
LifeLock, which costs the same as Identity Guard, doesn't come close to beating Identity Guard's depth of protection. Since LifeLock only works with TransUnion, it cannot provide a comprehensive summary of a person's credit report, score, or history.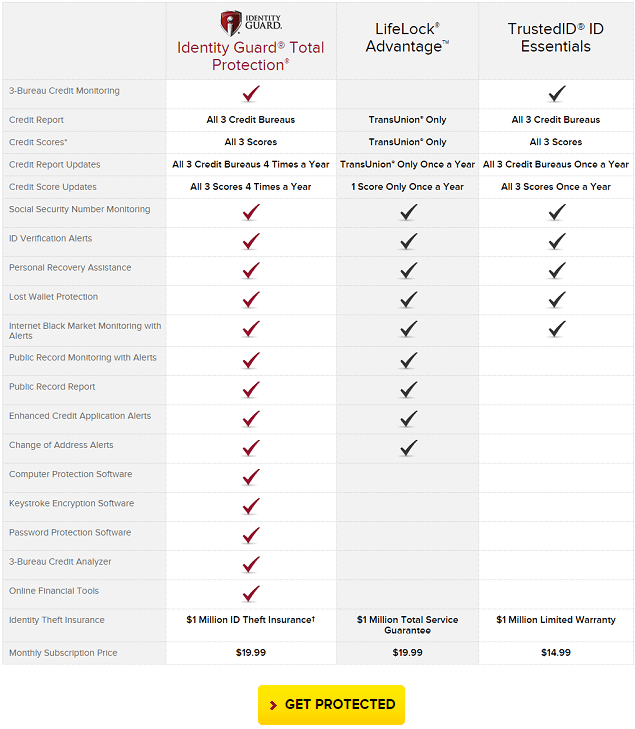 Identity Guard Customer Service
Customer service isn't one of Identity Guard's strong points. One would expect a company like this to have a 24-hour hotline to meet the needs of customers who have just realized that they have lost their wallets or had their privacy compromised. Instead, the customer service center is only open 15 hours Monday through Friday and nine hours on Saturday. It is not open on Sundays.
Emailing Identity Guard is a fruitless effort. The company refuses to answer even basic questions unless customers use the call center. This can make it difficult for modern people to get their questions answered.
In an industry that relies on addressing issues in a timely manner, Identity Guard's customer service can let members down.
Frequently Asked Questions About Identity Guard
[+] How often does identity fraud occur?
According to CNN, there were 13.1 million cases of identity fraud in the United States during 2013. That equals about one cases every two seconds. At that rate, it makes sense for people to consider how they can protect themselves.
[+] Does Identity Guard have a membership plan that protects everyone in the family?
No, Identity Guard's services are designed to match the needs of individuals. Each person in the household will need to get his or her own account. Identity Guard does, however, offer kID Sure, a plan that's designed to protect young people from identity theft.
[+] Does Identity Guard offer a free trial?
Yes. If you're interested in using Identity Guard, you can sign up for a free two-week trial. After that, the trial converts to a subscription that costs $19.99 per month. If you decide not to keep the service, make sure you cancel before the trial ends.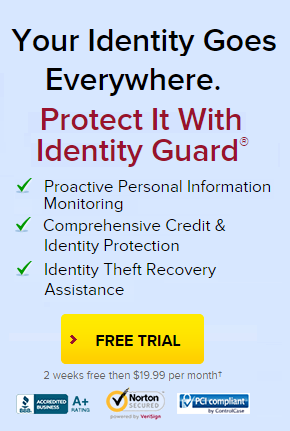 Pros of Using Identity Guard
Lost wallet protection offers up to $2,000 in emergency cash
Collaborating with Experian means Identity Guard can offer enhanced credit monitoring services
Works with all three major credit bureaus
Reviews public records for signs of fraud or theft
Advanced software that protects you and your computer from information theft
Cons of Using Identity Guard
Poor customer service options (no 24/7 hotline and some members report that email is useless)
Conclusion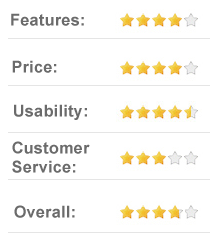 Identity Guard is one of the top companies in a very competitive industry. While there are some concerns that Identity Guard doesn't offer the level of customer service that today's consumers expect, all other aspects of the company exceed expectations.
Anyone who wants comprehensive identity fraud protection should consider Identity Guard. It stands out as one of the best options because it works with all three of the major credit bureaus, uses advanced antimalware to protect information on computers, and scours public records for signs of identity fraud.
Overall, it is a reliable company that can meet the needs of most consumers.