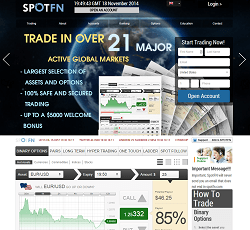 Binary options are investment vehicles designed to be a fixed amount of compensation depending on how you invest. Financial markets classify them as exotic options – these are just options that change over the holding period and do not run on a regular exchange – but they are easy to use and understand. To be successful with binary options, you need to pay attention to market trends.
This is where SPOTFN comes in. The website is a binary options broker that specializes with over 50 stocks and 28 indices from which investors can trade, and the company provides investors with an impressive set of resources. Some of those resources include education about market prices, binary options, and trading strategies. The company also offers plenty of support and brokers to assist you with any questions you have about your account or your investment strategy.
However, SPOTFN brokers are not financial advisors, so it is always a good idea to review your investment strategy with your financial advisor before taking on new investments.

About SPOTFN
SPOTFN is a London-based binary options broker with offices in Hong Kong and Sydney created in 2010, and run by CEO James Kingsley. According to SPOTFN's website, the founders created the company as a boutique brokerage specializing in binary options. They recruited brokers with extensive experience in financial markets to help investors achieve success. The founders created SPOTFN in response to the banking crisis from 2008-9 which left investors feeling vulnerable and disgruntled with brokerage firms in general.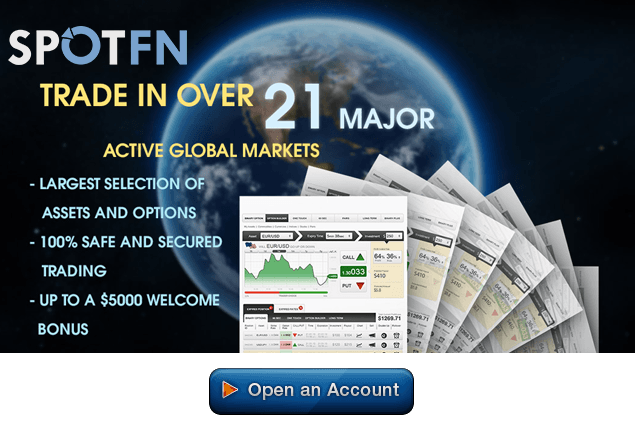 The company states that after the banking crisis, average investors demanded a safer and more transparent way to invest that still offered significant returns with flexibility. With those demands in mind, many option traders transformed regular options into binary options. The risks are transparent, but the rewards are significant enough that binary options trading has become extremely popular.
SPOTFN's goals are to help educate clients on how binary options work, and to help them become more successful. The company wants their clients to have a steady source of income, whatever that means to the client. Ultimately, the company seeks to offer a binary options trading service that fits the needs of every investor, from the conservative to the more aggressive.
Benefits of Using SPOTFN
One of the most impressive benefits SPOTFN offers its clients is the education portal. For those new to binary options, the education portal consists of money management strategies, information that teaches you how to read charts and work with indicators, calendars, and economic events. It also includes asset signals, market reviews, and analysis techniques.
For investors who are familiar with binary options, SPOTFN has brokers available five days a week, 24 hours a day. The extensive experience of the brokers makes them uniquely qualified to assist investors with applying their own knowledge, as well as offering additional support to improve returns.
The benefits of the platform include a web-based browser so clients don't have to download anything, diverse products, simple trading with easy to understand instructions, a user-friendly website, mobile apps, transparency from the beginning – clearly defined risks and rewards, and quick deposits and withdrawals.
Another benefit of using SPOTFN is that they have a large selection of assets to trade, including over 50 stocks such as HSBC, BP, and Nike. They also offer 13 currency pairs, 28 indices, and 8 commodities. In addition, Cyprus Securities and Exchange Commission regulates SPOTFN, and insures the accounts up to 20,000 pounds.

Features
In addition to the benefits of trading with SPOTFN, there are some additional features which make trading with the company easy.
Easy-to-use trade interface
Wide selection of banking options for deposit and withdrawal
Payout rate of 88% for trades that end in-the-money, and 10% rebate for those that end out-of-the-money
Refer-a-friend program – minimum $50, maximum $125
Minimum trade of $5 on the 60 second trade options, and $25 for all other trade options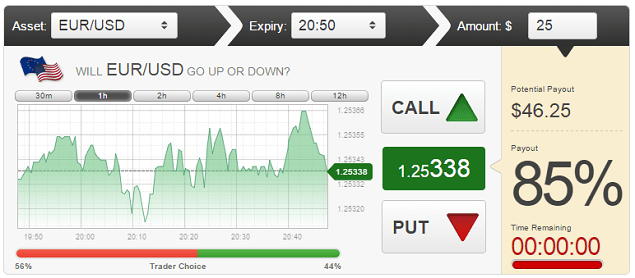 Benefits of Investing in Binary Options with SPOTFN
Controlled Risk:
The most valuable thing to investors is being able to control risk. With binary options, you know exactly how much you stand to lose, and you'll never lose more than your initial investment. You'll also know exactly how much you stand to gain, as well.
Simplicity:
Average investors have fear of investments because they don't understand the difference between stocks, options, hedge funds, indices, and so on. Binary options make it easy to understand what's involved with the process. Investors simply decide if they want to wage up or down from the strike price. It doesn't require in-depth experience, although a general sense of market movement will help you earn more profits.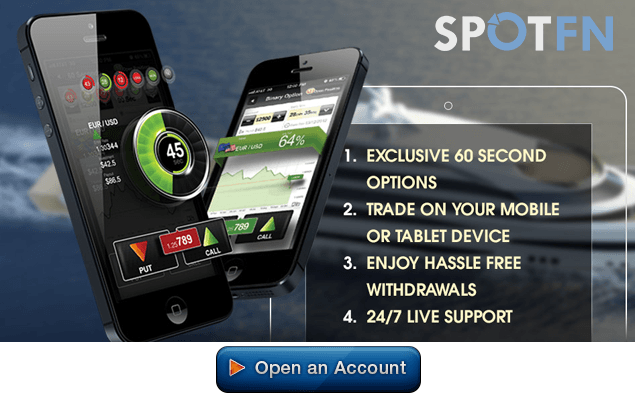 Availability:
Binary options are available around the clock, even when other markets are closed. In addition, you have the choice on how long you want the investment to last. Some binary options expire within minutes while others expire within months. You can build a short-term portfolio as part of a comprehensive investment strategy, or you can play for the long haul.
Profit:
The standard binary option gives you 70-85% return on your investment. Although there are a few products that offer well over 100%, you shouldn't expect that as the norm. The good thing about binary options is that many will allow smaller investments, such as $25, so that you can learn the way the market moves and still make a small profit. Over time you might decide to invest more and earn more. Your profit structure is completely in your hands.
Deposits and Withdrawals
As previously mentioned, SPOTFN makes deposits and withdrawals rather easy, and that is vital to being a successful binary options trader. The banking options available to you include credit cards such as MasterCard, American Express, and Visa, debit cards, MoneyGram, Western Union, wire transfer, and Skrill. The minimum deposit of an account is $200 and the max per day is $1,000. The minimum withdrawal is $100. SPOTFN doesn't charge for credit card withdrawals, but they do charge $25 for a wire transfer. The company uses an SSL (Secure Sockets Layer) security system to encrypt all credit card payments and protect your information.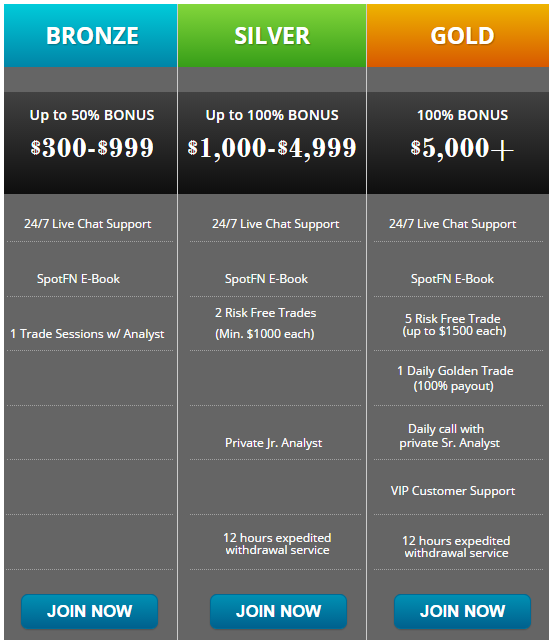 Customer Support
SPOTFN offers customer support via email, telephone, and live chat. The options make it convenient to reach them however you choose, and because they have offices in London, Hong Kong, and Australia, you can reach them at any time, day or night. The only drawback to their support structure is that it is only available 5 days a week. Given the structure of their binary options, you can trade 7 days a week, but only speak to support 5 days a week. This leaves investors in a position to miss out on opportunities that could be rather lucrative for them.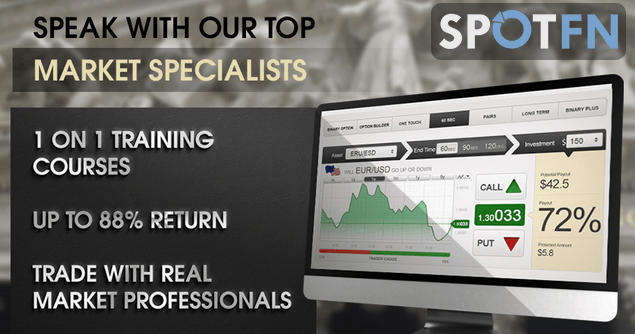 Conclusion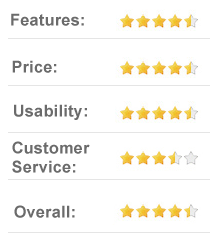 For a company that began in 2010 and has little information about its founders, it has become one of the leading binary option brokers in the world. Its website is clean and user-friendly, it offers apps to make trading even easier for clients, and it offers an impressive portfolio to trade from. The fact that the software is web-based makes it convenient to use anywhere at any time.
The education portal gives investors confidence in their abilities, and a good deal of control over what they can do. And, the easy deposit and withdrawal options make it simple to conduct business whenever you want. The only drawback to SPOTFN is that their support is not available 7 days a week. Investors should have access to support whenever trading options are available.