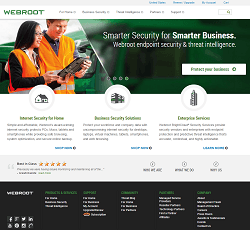 Webroot has been providing Internet security to individuals and companies for eighteen years, and since years in the computer industry are like dog years, that is an very long time to remain successful as a provider of computer protection services.
The firm started out by offering trace removal agent to the market, and it wasn't until 2002 that the company began providing spyware blocking and removal products, with antivirus protection being added to its product lineup in 2006. Firewall protection soon followed, and today Webroot is one of the major providers that consumers choose from when they purchase a computer, or if they become dissatisfied with a competitor.
Just to flesh out the rest of the firm's history, in 2008 they brought out a full security suite, which they released internationally in 2009. The company opened their global headquarters in Dublin, Ireland in 2010, but they haven't commented on whether that was for tax reasons or for the pleasure of enjoying the wonderful local beers.

Since then, they have gone mobile, offering protection for Android smartphones and tablets, both to protect against viruses and against the various threats that can arise when one of these devices is lost. They also now cover the iOS mobile operating system, and they've gone into the business market for the mobile sector as well.
In 2014, the firm brought out its BrightCloud Security Services, designed for enterprise-class businesses, and including Next-Generation Firewalls and SIEMs.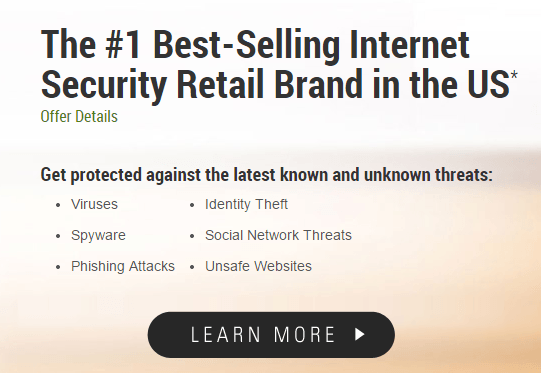 Main Products
For individual users, Webroot offers a three-tiered suite of products, starting with their basic SecureAnywhere product, and followed by the mid-tier Internet Security Plus and at the high end, their Internet Security Complete. Since 2011, they have been offering product versions that serve iOS mobile devices.
These home-use products encompasses a range of protective services, including anti-phishing, involving inspection of URLs for malicious web content and the blocking of fake websites that are designed to deceive users in order to elicit their personal information.
These products also offer identity protection by working in the background to protect security codes, usernames, account numbers, and other personal information. And after all, it is much better to protect this information before it gets out than to try to reclaim your identity after it's been stolen.
The firm's home security products also have a nifty system optimizer function that removes evidence of your online activity, and that then renders deleted files unrecoverable. We have to wonder what the NSA thinks of this capability. Presumably they don't like it. This feature also frees up hard drive space by removing browser cache, cookies, and temporary files.
Webroot's home product suite can be used on PCs, Macs, Android devices, and iOS devices, so your entire ensemble of devices can be protected through installation of a single product. You will also get automatic secure back service with 25 gigabites of online storage space, keeping you protected from crashes, and password management, through which your passwords are encrypted, simplifying secure account access.
The company, by the way, isn't shy about its own opinion of its products, which its website describes as protecting users from online threats "using the world's most powerful cloud security solution." The company asserts that they will keep users save no matter how or where they connect, and is further described as scanning faster, using fewer system resources, and protecting users in real-time through instant identification and blocking of new threats as they appear.
The anti-virus suite also allows users to safeguard against future viral and malware attacks by deleting temporary files and by ensuring that those deleted files were not subsequently recoverable.

Moreover, the products' interface design is, well, well-designed. As a result, new computer owners and older, non-savvy computer owners should have no trouble working out how to install and navigate the Webroot software, which can be a major headache for software products that are not designed with everyday users in mind.
The company entered the market for enterprise-class business in a big way in 2014, with their BrightCloud Security Services suite for business users. The firm offers separate product categories for small and medium business, and for enterprise security. Different products target endpoint protection, user protection, and mobile protection, and the firm offers businesses next-generation firewall solutions, SIEM solutions, and an entire separate suite of products for clients whose operations involve banking and finance. After all, they are the ones who need the most protection, and protecting the banks means protecting our information that has been stored with the banks.
The firm has also ventured into "threat intelligence," with security services for vendors, enterprise solutions, and Intelligence for industry, and developer API solutions. It all sounds very high-level, and possible suitable fodder for a future James Bond plot.

Pricing
The firm's basic anti-virus product sells for $39.00 per year, or $49.00 for three licenses. Their Internet Security Plus offering starts at $59.99 for up to three devices, and their Internet Security Complete costs $79.99 for up to five devices.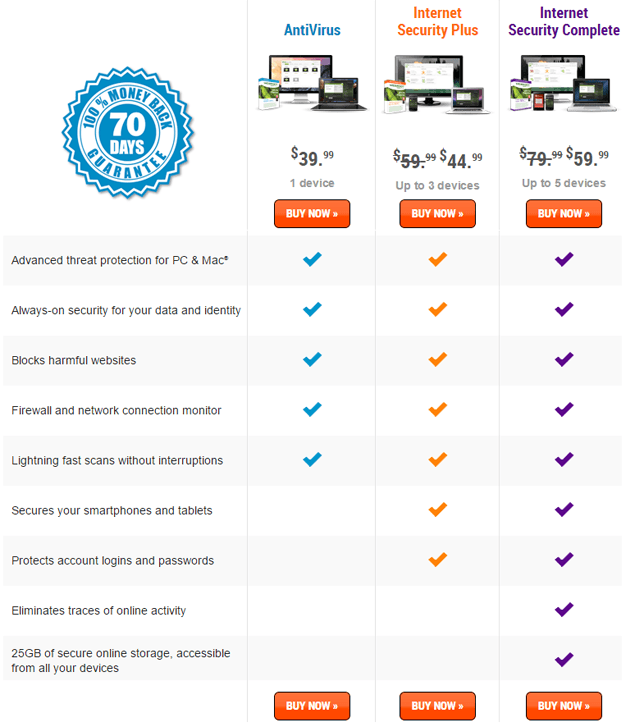 Now, it should be noted that the company has plumped for an annual fee structure for its pricing, and some consumers may not be willing to sign on for protection on this basis. After all, there are anti-virus providers out there who sell their protection suites for a one-time payment, and in some cases make their products available for no charge at all. We'll take it as a sign of the firm's confidence in the quality of its products, and in their value to users, which they have elected to use this form of pricing.

Criticism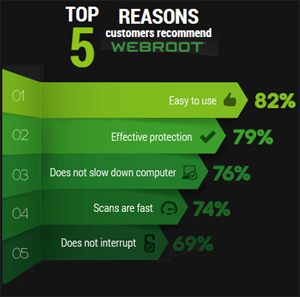 While in 2012, the firm received awards in an anti-phishing test, but separately scored low in a File Detection Test of Malicious Software. The company's products exhibited a low malware detection rate and highest rate of false alarms. It could fairly be said that this represented a temporary but real low moment for the firm.
The company took that lesson to heart, however, since from 2013 on, the firm has gained high scores in malware detection, malware removal, speed of scans, and installation speed. Whatever the problem was, it looks like Webroot got to the root of it.
The company is currently recognized as a leader in corporate web security, offering cutting edge tech that holds the power to dethrone current market leaders. Well, actually becoming a market leader is not exactly out of the question for the company, which has been gaining an ever-higher profile in the industry.
The firm's products have been repeatedly analyzed under multiple different benchmarks, and consistenly outperform competitors in a variety of metrics, including scan times, CPU usage and more.
Summing It All Up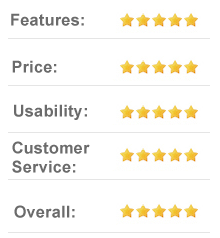 It's fair to describe Webroot as an Internet security company that has emerged to a justified prominence and strong reputation on the back of years of work in the vineyards of computer protection services.
It is not easy to break into the anti-virus game, given the high cost of producing a competitive product in an already maturing market. And along with battling their competitors, a computer security provider must do constant battle with the highly intelligent, if nefarious, hidden legions of virus makers who are endlessly toiling at their unscrupulous pursuit in their darkened basement dens of iniquity.
It therefore must takes quite a corporate effort to produce products that can equal the intelligence and determination of this universe of hackers and virus makers, and the computing world is lucky to have Webroot emerging as a champion on the field of battle, and as a major player in the computer security space.